Schletter releases the PvMini™ ballasted ground mount system with proprietary rails for longer spans and record levels of system efficiency
August 13, 2013—Shelby, North Carolina—Schletter, a global manufacturer of solar mounting systems, announces the release of the PvMini, a lightweight, ballasted ground mount system for landfills, brownfields, and areas with rocky terrain. The system's triangle supports and proprietary new ProfiPlus XT™ rail design allows for longer spans and decreased ballast weight.

The ProfiPlus XT rail is engineered to allow for more lightweight components and increased spans between foundations, thereby optimizing system efficiency—to near 100% in most instances. The new system is designed specifically for single-row vertical or two-row horizontal module configurations and arrives partially pre-assembled for fast installation with no heavy machinery required.
"The PvMini combines elements from two of our most popular systems: The PvMax™ and Windsafe™," explained Dr. Wolfgang Fritz, VP of Engineering for Schletter Inc. "Our engineering department continually evaluates systems to determine where we can be more efficient; to drive down costs while maintaining a high standard of quality. The PvMini is the latest innovation to come as a result of this commitment."
According to the company, the system comes with a standard 20-year warranty, PE stamped drawings, and features integrated, ETL-listed grounding with the Rapid2+™ module clamp. The PvMini is now available and is being manufactured in the United States and Canada. Learn more: http://www.schletter.us/featured-product.html
About Schletter Inc.
Schletter (www.schletter.us) has designed, developed, and manufactured solar mounting products in the U.S. since 2008, while backed with more than 20-years of solar mounting experience from Schletter GmbH. Since opening its United States facility in Tucson, Arizona, Schletter Inc. has manufactured more than 1 GW of installed PV mounting systems. Schletter Inc. offers products for roof mount and ground mount systems for residential, commercial, and utility scale photovoltaic systems. Schletter Inc. is an independent subsidiary of Schletter GmbH, which operates subsidiaries in eleven countries with more than 1,800 employees worldwide.
Featured Product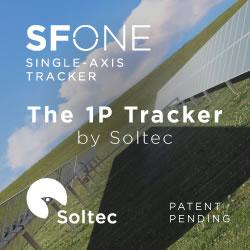 Soltec manufactures and supplies solar trackers designed and proven for extreme climate conditions, which is an ideal solution for any region's environment. Soltec's trackers are self-powered, requiring no additional PV module or grid-powered connection. Bifacial modules collect energy on both the front and rear sides, capturing reflected irradiance from the ground surface under and around the tracker and from other modules. Depending on site conditions, bifacial yield-gain can reach +30 percent.