SHANGHAI, Dec. 20, 2013 -- Hanwha SolarOne Co., Ltd. (the "Company", or "Hanwha SolarOne"), a top-10 global photovoltaic manufacturer of high-quality, cost-competitive solar modules today announced that the Board of Directors of the Company (the "Board") passed the following unanimous written resolutions in Shanghai, China today:

*Mr. Ki-Joon Hong is elected as Chairman of the Board;
*Mr. Ki-Joon Hong's term as Chairman of the Board shall remain effective until the earlier of December 19, 2015 or his successor is elected and qualified; and
*the number of Directors is fixed at five, until further adjusted by all the Directors from time to time in accordance with the Amended and Restated Articles of Association of the Company.
The Company also announces that Mr. Yinzhang Gu's term as a director of the Company has ended and he is no longer a director of the Company.
About Hanwha SolarOne
Hanwha SolarOne Co., Ltd. (NASDAQ: HSOL) is one of the top 10 photovoltaic module manufacturers in the world, providing cost-competitive, high quality PV modules. It is a flagship company of Hanwha Group, one of the largest business enterprises in South Korea. Hanwha SolarOne serves the utility, commercial, government and residential markets through a growing network of third-party distributors, OEM manufacturers and system integrators. The company maintains a strong presence worldwide, with a global business network spanning Europe, North America, Asia , South America, Africa and the Middle East. As a responsible company committed to sustainability, Hanwha SolarOne is an active member of the PV Cycle take-back and recycling program. For more information, please visit: www.hanwha-solarone.com.
Featured Product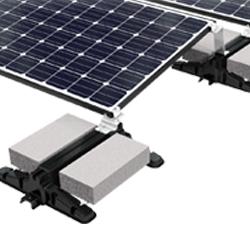 The Power Rail™ Commercial Mounting System is designed with the professional PV solar installer in mind. Both the XD/UD and LD/MD rails feature single tool assembly with the revolutionary patented RAD™ Lock-in-Place bolt for fast and secure module clamping. The high strength marine-grade aluminum rails include an integral wiring channel for securing cables and providing a professional finish.