Mersen has added a hinged-cover product to our line of SS enclosed disconnect switches
NEWBURYPORT, MA (January 22, 2014) -- Mersen (formerly Ferraz Shawmut) is

pleased to announce the newest product in our Enclosed Disconnect Switch
line, the EBGS403RS0-H
The food-service and chemical industries subject their equipment to extreme
conditions, from high-pressure steam and water wash-downs to
hydrogen-sulfide and other corrosive atmospheres. To meet the demands of
these applications, Mersen has added a hinged-cover product to our line of
SS enclosed disconnect switches, which are stocked items, ready for same-day
delivery.
EBFS403RS0-H Highlights:
. 304 Stainless Steel, 16-gauge thickness, corrosion-resistant and
extremely tough!
. Continuous hinged cover with secure latch
. Wide, Welded mounting flanges
. DIN rail welded directly to back of enclosure
. Foam-in-place polyurethane gasket
. Ground studs welded to door and enclosure
. Commonly used for 30A applications, but rated 40A!
About Mersen
Mersen, formerly Ferraz Shawmut, is a worldwide expert in high-performance
materials for extreme environments and in the reliability and safety of
electrical installations. Drawing on a century of experience-and an ongoing
commitment to critical research in electrical safety- it provides
industrial, commercial, and OEM customers with innovative products and
unsurpassed technical support. The electrical and circuit protection
division provides a comprehensive line of current-limiting fuses (low
voltage, general purpose, medium voltage, semiconductor, miniature and
glass, and special purpose) and accessories, fuse blocks and holders, power
distribution blocks, low voltage disconnect switches, surge protection, high
power switches, heatsinks, and more. Amp-TrapR High-Speed Class J (HSJ)
fuses, TPMOVR Technology, and the SmartSpotR open-fuse indicator are a few
of the company's latest innovations. For more information, call (978)
462-6662 or visit ep-us.mersen.com
.
Featured Product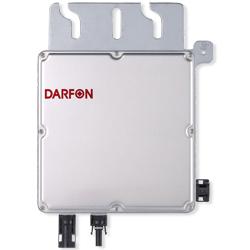 The Darfon G320 is the microinverter solution for today's high-power solar modules. The G320 handles 60- and 72-cell modules up to 350W DC and outputs up to 300W AC. The G320's 3-phase configuration accommodates the electrical distribution systems of most commercial buildings and to reduce, if not eliminate, the need for expensive transformers. The G320 comes in four voltage/phase configurations, so it can be installed in residential, commercial or utility applications.