Commercial solar outdoor lighting company wins Florida Governor's Innovators in Business Award
TALLAHASSEE, Fla., Jan. 23, 2014 -- Sol Inc., a global commercial solar outdoor LED lighting solutions company and the market leader in North America, announced this week that it has been awarded the 2013 Governor's Innovators in Business Award for the Innovation/Entrepreneurship category by Florida Governor Rick Scott. The award recognizes Sol for its leadership in working with government agencies, local and state governments and commercial entities to drive the adoption of solar commercial outdoor lighting across the United States and around the world.

In addition to its commercial success, Sol was recognized with the award for developing cost-effective, reliable, customized and high-quality off-grid lighting solutions that offer businesses and government organizations long-term savings while addressing safety concerns and sustainability goals. Sol was founded more than two decades ago, and the company has installed more than 60,000 systems on six continents. Sol is the largest commercial outdoor solar lighting company in North America and the preferred solar lighting supplier for the Department of Defense.
"For us, solar-powered commercial outdoor LED lighting systems symbolize an innovative infrastructure solution that not only saves governments and businesses money, but addresses the challenge of global warming by eliminating damaging carbon emissions," said Dibs Tailor, CEO of Sol Inc. "Last year was an important year for the growth of our company, as we brought several new products and projects online to meet growing demand among commercial and municipal customers throughout the country and the world. This award validates that growth and recognizes the novelty of our solar lighting technology."
In response to commercial demand from customers for solar lights that fit in with the traditional or historical esthetics of neighborhoods, Sol recently launched a new line of decorative LED lighting fixture and arm options. The new products expand on the company's already extensive and forward-looking technology offerings, while adhering to a 19th and mid-20th century design for a variety of applications, including lighting for streets, boardwalks, parks, recreational areas and commercial complexes.
Gov. Rick Scott, along with Secretary of Commerce and President and CEO of Enterprise Florida (EFI) Gray Swoope, announced winners at the governor's mansion in five distinct categories, including the Rising Star award, the Export Excellence in mid- and mega markets awards and the Innovation and Entrepreneurship in mid- and mega markets awards. This is the second time Sol has been recognized by the state of Florida. In 2008, Sol was recognized as a winner for the Florida Governor's Business Diversification Award for Export Excellence.
About Sol Inc.
Sol Inc. is a global leader in commercial outdoor LED lighting solutions powered by solar energy and the market leader in North America, and over the past two decades, the company has installed more than 60,000 systems in more than 60 countries on six continents. Sol Inc. has provided reliable, cost-effective, customized and esthetically pleasing solar lighting solutions for a wide range of lighting applications including roadways, parking lots, paths and trails, perimeter security, campuses, military bases, storage areas and for ad lights or monument signs. Sol's lighting solutions are less expensive than grid-tied lighting for many applications because they eliminate the cost of wiring, trenching and other electrical and utility costs. In many cases, payback can be achieved immediately. For more information, please visit www.solarlighting.com.
Featured Product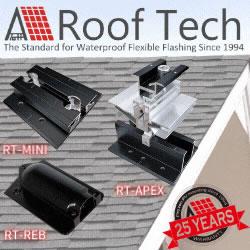 Now Roof Tech brings you the most innovative, watertight mounting systems ever developed for solar photovoltaic systems. Designed and manufactured exclusively for us by Japan's longtime leader in roofing technologies, Roof Tech products are 100% code-compliant and offer fast, simple installation and huge savings on shipping costs due to their compact, rail-less design. Learn more about our full line of versatile PV mounting solutions now available for residential installations. The next generation in rooftop solar mounting solutions."