The industry has matured considerably from the industry shakeout of 2012.
"In 2012, IHS forecast the decline in PV capital spending would bottom out by 2013. With the solar shakeout seeming insurmountable in the not too distant past, positive sentiment has returned to the industry as demand growth and stabilized pricing has led to improved market dynamics.

We predicted that global capital spending in 2014 by producers of photovoltaic (PV) ingots, wafers, cells, modules and polysilicon will rise by a robust 42 percent to reach $3.37 billion and another 25% to $4.22 billion by 2015.
The industry has matured considerably from the industry shakeout of 2012. Now that the market has come closer to equilibrium, companies are now looking to PV demand as the proxy for future strategy. The industry consensus is of a return to high installation growth in 2014. IHS predicted back in December 2013 that 2014 would see that strongest growth in three years with installations reaching 40-45 GW. These increasing demand forecasts are compelling leading manufacturers to expand production capacities in order maintain and improve their respective market shares.
While there are expansions underway in developed solar regions of the United States, European Union and China, PV manufacturers are gaining interest in running operations in emerging markets, a trend that is expected to result in new factory openings and boosting local capital spending in areas such as the Middle East, South America and parts of Africa in the long term."
Background
Chinese manufacturer Canadian Solar and U.S.-based SunPower have both confirmed their plans to expand production capacity and increasing capital expenditures. In SEC filings related to its latest stock offering to raise around US$200 million, Canadian Solar noted that one of the key reasons for raising capital was for further expansion of module manufacturing capacity to 3GW to meet growing demand. The same filing also revealed that the company had increased module assembly capacity at its plant in Ontario, Canada from 330MW at the end of 2013 to 530MW of as of January 31, 2014. Meanwhile, SunPower has guided that its capital expenditures in 2014 would nearly double that of 2013. The company reported that 2014 capital spending would be in the range of $150 million to $170 million, an increase of approximately 90% from its original guidance of $70 million to $90 million. IHS expects other manufacturers to make similar expansion plans throughout 2014.
Featured Product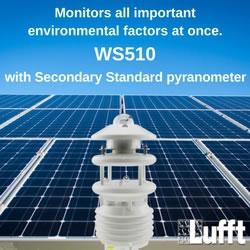 Professional weather sensors form the heart of large solar plants supporting their operation and performance. Lufft was the first manufacturer to combine several sensors in one housing, bringing the largest multiparameter weather sensor family with 19 members into being. Many of them are well-suited for solar site assessment and continuous monitoring. The most commonly used one is the WS600 delivering data on temperature, air pressure, wind, relative humidity and precipitation. Through its open protocol, it can easily be attached to radiation sensors e.g. from Kipp&Zonen. Other models have an integrated Silicon, Second Class or Secondary Standard radiation sensor.