$20 million of financing available to fund up to 5MW of solar capacity, 1,000 home installations
NEW YORK--CBD Energy Limited (CBD; OTCBB: CBDNF) today announced that Westinghouse Solar, its U.S. subsidiary, will begin offering financing of up to $45,000 on residential solar systems for qualified customers from $20 million of third-party funding capacity allocated to the company. CBD is a diversified clean energy company and leading global provider of solar systems, having completed more than 17,000 residential installations in Australia and numerous commercial and utility-scale systems worldwide. CBD Energy Limited markets its residential and commercial solar installations under the name Westinghouse Solar.

This financing option complements the imminent U.S. launch of Westinghouse Solar to offer residential solar systems in select U.S. markets. Westinghouse Solar residential systems sold in the United States will be backed by an industry-leading 20-year warranty.
"Our new loan facility lets Westinghouse Solar offer a zero-down solar offering with competitive financing terms that provide favorable economics for the customer. The loan program also allows our solar system customers to retain the full benefit of available tax credits and other renewable energy incentives, and to avoid potential issues involved with transfer of leases or power purchase agreements if/when they sell their homes. Use of our loan program by our customers will also ensure that local incentives benefit residents of the participating communities and enhance local economic growth. Consequently, we expect the demand for Westinghouse Solar system loans to be high. The $20 million in financing capacity CBD has arranged should be adequate to meet the needs of Westinghouse Solar customers for the next several months. We are already exploring ways to expand our solar system loan capacity to handle future growth and meet the needs of new solar system buyers," said James Greer, SVP of Westinghouse Solar U.S.
Solar system loans offered by Westinghouse Solar will be underwritten, serviced and owned by third-party financing sources and neither CBD nor its U.S. subsidiary, Westinghouse Solar, will retain financial exposure to loan delinquencies or defaults.
To learn more about Westinghouse Solar's systems and loan offerings, or to schedule a free Westinghouse Solar site evaluation, please visit us at: www.westinghousesolar.com.
About CBD Energy Limited (OTC: CBDNF)
Established in 1989, CBD Energy Limited, or CBD, is a diversified renewable energy company and a global leader in solar installations. Powered by a management team with deep experience in the energy sector and strong engineering capabilities, CBD is focused on the integration of residential solar, commercial and industrial solar, small utility scale solar and wind projects, in three principal markets - Australia, the U.S. and UK.
Headquartered in Sydney, with principal regional offices in London and New York, CBD has completed projects across four continents, in countries as far- reaching as Australia, Fiji, Germany, Italy, New Zealand, the UK and the U.S. CBD has installed more than 17,000 residential systems and developed large renewable energy projects such as the 107MW wind farm in Taralga, NSW. CBD markets its residential and commercial solar installations under the name Westinghouse® Solar, using the WESTINGHOUSE® trademark pursuant to an exclusive, long-term worldwide license. For further information on CBD Energy Limited and Westinghouse Solar, please visit: www.cbdenergy.com www.westinghousesolar.com.au www.westinghousesolar.com www.westinghousesolar.co.uk
Featured Product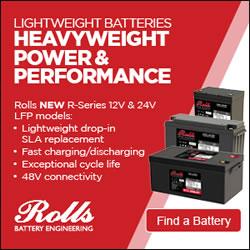 Designed for true drop-in replacement, Rolls new R-Series 12V & 24V LFP lithium models offer a maintenance-free lightweight flooded and SLA alternative in four popular BCI case sizes with fast charge/discharge capability. Rolls custom built-in BMS provides all necessary operating protections for safe operation and seamless integration for deep cycle replacement in 12V, 24V or 48V systems.