Wuxi Suntech today announced its modules have received the VDE Quality-Tested certification, attesting that the quality of Suntech modules exceed existing industry standards. Suntech is only the third brand globally to receive this quality ranking.
"We are honored to have our modules recognized by the VDE Institute, one of the world's leading testing and certification institutes," said Suntech CEO Eric Luo. "This recognition further validates our commitment to provide customers with solar panels of the highest quality and reliability in design and mass production."

The VDE created its VDE Quality-Tested seal of approval to recognize a level of quality control that goes beyond existing standards in the PV industry when validating PV modules. Low rates of degradation and high safety standards are essential aspects of attaining VDE certification.
Compared to other industry standards, such as the IEC61215 and IEC61730-2, the VDE Quality-Tested seal relies on a more rigorous examination of performance capabilities. The number of test samples is doubled, and testing periods increased. VDE Quality-Tested certified modules recognize a maximum total power loss of 5% over the enhanced test sequence, compared to 8% with other standards. These changes dramatically increase the confidence that a module will fulfill its performance requirements throughout its warranty period.
"The VDE Institute takes pride in providing our seal of approval to top-tier, quality products that show constant product reliability," said Burkhard Holder, Head of VDE's Energy and Smart Technologies Division. "We congratulate Suntech on its accreditation which singles out the company's products as best in class. VDE's Quality Tested certificate highlights products that go beyond normative standards, consistently ensuring reliable and bankable PV modules. The results of our comprehensive tests have shown that Suntech's PV modules have achieved a premium level of quality and safety, from design to manufacturing."
About Wuxi Suntech Power Co., Ltd.
Wuxi Suntech Power Co., Ltd., a company incorporated in the PRC in January 2001, produces industry-leading solar products for residential, commercial, industrial, and utility applications. Suntech has delivered more than 30 million photovoltaic panels or 8 GWs of installed capacity to more than 1 thousand customers in more than 80 countries. Suntech's pioneering R&D creates customer-centric innovations that are driving solar to grid parity against fossil fuels. Suntech's mission is to provide reliable access to nature's cleanest and most abundant energy source.
About VDE
Based in Germany, VDE is the Association for Electric, Electronic & Information Technologies and is one of the largest technical and scientific associations in Europe with more than 34,000 members. The VDE Institute is a nationally and internationally accredited institution, which tests various electrotechnical equipment, appliances, components and systems to protect the consumer and the general public against unsafe products and to support manufacturers and retailers in improving standards in the market with safe and high quality products.
Featured Product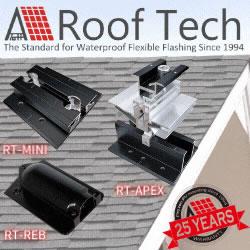 Now Roof Tech brings you the most innovative, watertight mounting systems ever developed for solar photovoltaic systems. Designed and manufactured exclusively for us by Japan's longtime leader in roofing technologies, Roof Tech products are 100% code-compliant and offer fast, simple installation and huge savings on shipping costs due to their compact, rail-less design. Learn more about our full line of versatile PV mounting solutions now available for residential installations. The next generation in rooftop solar mounting solutions."