CMT's premier event 5th Biomass Pellets Trade & Power returns to Seoul this 23-25 September, 2014 for a timely discussion on 'Tapping the Growing Biomass Demand in China, Japan & South Korea'.
The September summit kick-starts with presentations on Korea, Japan and China's biomass demand growth prospects, particularly – 'Development of Korea's Biomass Utilization Market & Growth Outlook' by Mr. Myung-Kyu Lee, President of Korea Wood Pellet Corporation, then followed by Mr. Tony Kawabe, Senior Managing Director, Summit Energy Corporation sharing an overview of 'FIT, Biomass to Power Development in Japan & Summit Energy's Itoigawa Biomass Power Station (SMP)' and session on 'Development of China's Biomass Power Generation – Opportunities & Commercial Viability' by Mr. Li Yonghua, CEO of Anhui Guozhen Biomass Power Generation.

Included in the agenda is a vital session on 'Waste Resources & Biomass Regulations: Imports of Palm Biomass (Solid Refuse Fuel) into Korea for Power Generation Purposes – Key Procedures & Quality Guidelines to Note'. This is to be delivered by senior representative from Ministry of Environment, South Korea, shedding light on the recent amendment by South Korea to allow import of Solid Refuse Fuel into the country.
Senior representatives from Korean gencos – KOSEP, KOSPO, KOWEPO, KOMIPO and EWP are also slated to present their perspectives on Co-Firing and/ or Dedicated biomass power generation projects and their expectations on Wood Pellet/Biomass Imports.
Besides, biomass feedstock suppliers PT Inhutani III (Persero), PT Trenergy Biomasse Indonesia, CellMark Asia Pte Ltd and Green Circle Bio Energy Inc. will share essential market analysis.
New at this 2014 event are:
1. Session on 'Dry Bulk Shipping Market & Freight Rates Outlook for Wood Chips & Pellets' led by Drewry Maritime Services (ASIA) Pte. Ltd.
2. Post Conference Workshop: Doing Business in the Korean Biomass to Power Market
3. Site Visit & Guided Tour of KOSEP Co-firing Power Plant at Yeongheung
Over 200+ delegates, sponsors, exhibitors and special guests are expected to attend this 'Global Biomass Buyers and Suppliers Meet'.
Contact Ms. Hafizah at +65 6346 9218.
Featured Product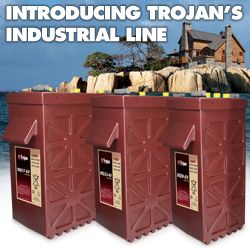 Trojan's deep-cycle batteries provide rugged durability, outstanding performance and long life for use in all types of solar energy installations. With over 90 years of experience, Trojan delivers the world's most reliable and trusted batteries in flooded, AGM, Gel, and Lithium types. These batteries enable solar equipment systems to operate at a peak level of performance in the harshest conditions or the most challenging of locations and are manufactured and tested to IEC standards.