Popple to highlight Proterra's alternative energy leadership, address importance of public private partnerships in advancing much-needed EV technology
GREENVILLE, S.C., July 21, 2014 - Proterra Inc., the leading provider of zero-emission battery electric transit solutions, has announced that the company's chief executive officer, Ryan Popple, will participate in the Driving Resources into Energy Innovation event in Washington, D.C. on Wednesday, July 23. The event, presented by the Bipartisan Policy Center's American Energy Innovation Council, will gather experts, business leaders, academics and policymakers to assess the state of American energy innovation.

Popple will serve as a member of a panel discussion entitled, "Unlocking Innovation Investment through Public Authorities." The session will discuss driving greater investment into the development and market entry of advanced energy technologies. Topics will include gaps in the financing supply chain by the public sector, the role public agencies can play in unlocking private capital and the factors that allow these investments to be successful.
"Proterra is honored to participate in this discussion, which only emphasizes the need to strengthen U.S. investment in advanced transportation technologies," said Popple. "These investments, particularly in heavy-duty EV infrastructure, enable cities across the country to save money, improve air quality and increase energy security and efficiency. Proterra's battery-electric, zero-emission buses accomplish these goals and will play a major role in this administration's push to promote innovative and sustainable transit solutions."
Proterra, which recently announced an additional round of funding to meet rapidly growing demand for EV transit technology, is playing a leading role in creating electric-powered transportation alternatives for mass transit systems. Proterra EV buses have logged more than 400,000 zero-emission miles of revenue service in cities such as Stockton, Calif.; San Antonio, Texas; Tallahassee, Fla.; Worcester, Mass. and Reno, Nev. By combining performance, efficiency and design, Proterra buses offer the lowest per passenger cost and environmental impact of any transit technology—electric, diesel, hybrid or natural gas.
About Proterra
Proterra is a leader in the design and manufacture of clean technology and clean energy, providing zero emission vehicles that enable bus fleet operators to significantly reduce operating cost while delivering clean, quiet power to the community. With unmatched durability and energy efficiency based on rigorous industry testing at Altoona, the Proterra product is proudly made in America and the company based in Greenville, SC. For more information about Proterra, please visit www.proterra.com.
Featured Product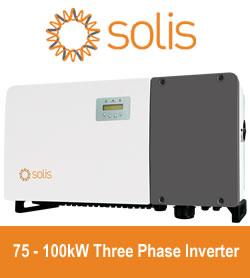 Solis75kW - 100kW series high-power string inverters are widely used in industrial and commercial rooftops. Solis's new three-phase string inverter is the first choice for industrial and commercial photovoltaics. 75-100kW three phase series string inverter have Maximum 28 strings input, support "Y" type connection in DC side. Maximum string input current 13A, support bifacial modules access.Supports anti-PID function to improve system efficiency.