More than 200 energy leaders gathered to share technologies and strategies in climate action and sustainable energy
On Wednesday of last week, John Porter, Chief Executive Officer and Founder of Clean Footprint, participated in Orlando Mayor Buddy Dyer's Climate and Energy Summit. The focus of the event was, 'How climate action spurs economic development and improves quality of life.'

More than 200 community, business, nonprofit and public sector leaders, including Clean Footprint, Central Florida's leading solar development and finance company, gathered to share technologies and strategies in climate action and sustainable energy.
Held at the Amway Center, the Summit featured Peter Lehner, CEO of Natural Resources Defense Council and Skip Laitner, Senior Fellow, American Council for an Energy-Efficient Economy.
"Orlando is already a national leader in how municipalities are managing environmental challenges," said Porter. "Incremental progress is ultimately what is going to make a difference long-term."
During the Summit, Senator Bill Nelson praised the steps that Orlando has taken to address climate change while Mayor Dyer detailed future initiatives that will respond to climate concerns and create a better quality of life and economic growth in Orlando. Some of the plans the Mayor illustrated were for the City to increase its commitment to solar energy, explore waste solutions that produce energy and also decrease dependence on foreign oil, and increase the tree canopy to a 40-percent tree cover.
About Clean Footprint
Located in Central Florida, Clean Footprint is fully engaged in development and solar financing, EPC, solar monitoring, and the operation and maintenance of solar farms. Clean Footprint works together with solar developers to bring utility-scale commercial solar PV projects to fruition that are reliable, cost effective, and sustainable. For more information, visit http://clean-footprint.com or phone (321) 613-4424.
Featured Product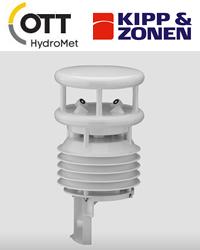 The WS50PV is an affordable, compact all-in-one weather sensor measuring the most critical parameters for commercial and industrial PV monitoring. Equipped with a suite of professional measuring sensors, the WS50PV can handle air temperature, relative humidity, barometric pressure, wind direction, and wind speed in one efficient housing to simplify mounting. Add an external temperature or rain sensor to the single-wire digital Modbus interface for fast and easy integration. The WS50PV is the tool you need for unlocking solar energy performance.