Solectria Renewables, LLC, a leading U.S. PV inverter manufacturer, announced today that it will supply 69 SGI 500XTM's to Entropy Solar Integrators for seven projects in North Carolina.
These projects are part of a portfolio being built by Entropy Solar Integrators and financed through affiliates of Entropy Investment Management.

North Carolina has one of the most ambitious solar programs of any US state. SEIA/GTM Research ranked North Carolina #3 on the top 10 solar states in the U.S. in 2013. In 2013, North Carolina installed 335 MW of solar electric capacity and $787 million was invested to install solar for home, business and utility use. This represents a 156% increase over the previous year, and is expected to grow again this year.
The seven projects are slated to be commissioned by the end of 2014, and are anticipated to generate 1.1 billion kWh, enough to power up to 130,000 homes. The projects will be the environmental equivalent of planting 4 million full size trees (offsetting 77.8 million pounds of CO2 from the atmosphere).
"Entropy has a strong relationship with Solectria and we are looking forward to working with them on our North Carolina projects. Their ability to supply high-quality inverters and competitive pricing is essential for the continued deployment of low cost solar energy in the United States," said Clay Hartman, COO of Entropy Solar Integrators, LLC.
"Solectria Renewables is committed to delivering the best, most reliable, efficient and cost effective products to its customers. Our 1000 VDC, utility-scale inverters, the SGI 500 and 750XTMs, deliver this promise to all of our customers. These inverters were designed, developed and tested to the highest standards available today. We also value long-standing customer relationships like that of Entropy Solar Integrators and appreciate their trust and commitment to Solectria and its solar solutions," said Phil Vyhanek, President of Solectria Renewables.
About Solectria Renewables, LLC
Solectria Renewables, LLC is a leading U.S.-based grid-tied photovoltaic inverter manufacturer. We offer residential, commercial and utility-scale inverters. Our versatile line of high efficiency products provide power solutions ranging from 1 kW residential systems to multi-megawatt solar farms. Solectria Renewables' products are backed by more than 25 years of experience in the power electronic and inverter industries and are supported by world class warranties. All of our three-phase central and utility-scale PV inverters are manufactured in the USA, ARRA compliant, and listed to UL 1741/IEEE 1547. To learn more about Solectria Renewables, please visit http://www.solectria.com.
About Entropy Solar Integrators, LLC
Entropy Solar Integrators, LLC is a full service solar development and finance firm that provides cost-effective, quality, and innovative solar energy. Built on the backbone of over 200 solar photovoltaic solar projects installed in the eastern US since 1999, today's Entropy is one of best capitalized and fastest growing renewable energy companies in the world. To learn more about Entropy Solar Integrators, please visit http://www.entropysolar.com.
CONTACT
SOLECTRIA:
Natalie Holtgrefe
Sr. Marketing Manager
978-683-9700 x157
natalie.holtgrefe@solectria.com
Bob Montanaro
Regional Sales Manager
904-238-9167
bob.montanaro@solectria.com
ENTROPY SOLAR:
Erik Lensch
CEO
919-636-8320
erik.lensch@entropysolar.com
Featured Product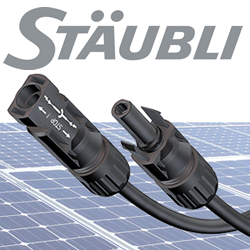 ​Stäubli Electrical Connectors are used on more than 300 GW, over 50% of the PV capacity worldwide. The MC4 family of UL and TUV listed products include connectors, in-line fuses, branch connectors, cable assembly and more.