District Energy in Cities Initiative announced at UN Climate Summit
Danfoss today announced a major milestone in the company's ongoing work with Sustainable Energy for All (SE4ALL), a global initiative to promote access to modern energy, energy efficiency and renewable energy, at the UN Climate Summit in New York City. As co-chair of the new District Energy in Cities Initiative, announced today under the Global Energy Efficiency Accelerator Platform of SE4ALL, Danfoss will lead efforts to support cities in developing, retrofitting or scaling up district energy systems.

"Danfoss is honored to help lead the charge for the District Energy Accelerator, as we see tremendous potential for the impact it can have on energy efficiency worldwide," said Lars Tveen, president of district energy at Danfoss, who spoke Monday at a High Level Event on Implementing SE4ALL . "What makes this initiative so promising is that our goals are all within reach. The technology exists and the results have been proven. Now, we are relying on governments to partner with us and commit to updating their energy infrastructures."
District energy, which integrates different sources of energy to achieve operational efficiency gains, is the most cost efficient and sustainable approach to heating and cooling homes and buildings. It already provides significant returns on investment for cities and regions across Europe and China, and can be readily deployed in countries like the United States to meet energy efficiency and renewable energy goals.
The District Energy in Cities Initiative, coordinated by UNEP and Danfoss, will support national and municipal governments in their efforts to develop, retrofit or scale up district energy systems, with backing from international and financial partners and the private sector. The initiative will bring together cities, academia, technology providers and financial institutions in a joint ambition to make real progress toward reducing emissions. This partnership will build the necessary capacity of technological education and transfer of know-how while engaging all stakeholders.
"In order to make real progress, solutions need to be transformed into actions at the city level," added Tveen. "Mayors play a vital role on the road from declarations to real, concrete action. To achieve measurable greenhouse gas reductions and energy savings, we must see clear commitments and incentives anchored in governments as well as local communities."
Thus far, 19 cities around the world have indicated interest in joining the initiative including St. Paul (U.S.), Vancouver (Canada), London (UK), Paris (France), Anshan and Jinan (China), Seoul (South Korea), and Nairobi (Kenya). In addition to Danfoss and UNEP, 11 other private sector partners and industry associations are willing to join the initiative, along with government organizations and networks including the US Department of Energy (DOE), ICLEI, UN-Habitat and the International Energy Agency.
In China, Danfoss is playing an instrumental role in helping the city government reach its goals to turn the city of Anshan into a champion city for district heating. Long known as China's "Steel Capital", Anshan will repurpose surplus industry heat from a local steel plant to be used as a primary heating source, combatting local air pollution and enabling the city to reduce its CO2 emissions by nearly 2 million tons and its coal consumption by 1.2 million tons each year. As China's economy continues on a fast track, cities like Anshan can serve as models of sustainable development where the city, citizens, enterprises, energy, and environment all enjoy the benefits.
"The District Energy in Cities Initiative will play a critical role in addressing climate change over the next decade through SE4ALL," said Tveen. "In order to tackle climate change, practical solutions are needed that both reduce emissions and boost the uptake of renewables. We encourage all governments and cities to take part in the Energy Efficiency Accelerator to progress the next generation of district energy infrastructure and deliver the sustainable cities of tomorrow."
Danfoss' involvement in the UN Climate Summit is part of the company's overall commitment to tackling climate change. Last week, Danfoss participated in a White House industry leader roundtable together with the Alliance for Responsible Atmospheric Policy and announced a voluntary commitment to reduce greenhouse gases from hydrofluorocarbons (HFCs). Danfoss is committed to convene and facilitate a task force to accelerate adoption of standards and building codes for sustainable refrigerants.
For more information:
Allison Oyster, Danfoss/APCO Worldwide; phone: 202-478-3808; email: aoyster@apcoworldwide.com
District Energy in Cities Initiative Participants
Private Sector
Danfoss (co-chair), Grundfos, Siemens, Vattenfall, Veolia, Empower, Climespace
Industry Associations
International District Energy Association (IDEA), Euroheat and Power (EHP), Global Wind Energy Council (GWEC), World Wind Energy Association (WWEA), World Bioenergy Association (WBA)
International Organizations
UNEP (co-chair), UN-Habitat (lead partner), International Energy Agency (IEA), Copenhagen Centre on Energy Efficiency,
Networks
ICLEI - Local Governments for Sustainability (lead partner) and Energies2050
Partners interested to join the initiative include:
National and Municipal Governments
Anshan (Liaoning Province, China), Betim (Brazil), Bogotá (Colombia), Focsani (Romania), Helsinki(Finland), Jinan (Shandong province, China), London(UK), Milano (Italy), Nairobi (Kenya), Paris (France), Quito (Ecuador), Recife (Brazil), San Jose (Costa Rica), Santiago de Cali (Colombia), Seoul, South Korea, Sorocaba (Brazil), St. Paul (USA), Department of Energy (USA), Vancouver (Canada) and Vaxjo (Sweden).
Partners are working together to prepare good policy, finance and technology guidance on district energy systems. More information on the District Energy in Cities Initiative at: www.unep.org/energy/des.
More Information on District Energy
• District energy systems achieve operational efficiency gains up to 90 percent.
• District energy infrastructure supplies nearly 10 percent of the total heat demand across Europe, resulting in approximately 113 million tons of CO2 savings each year.
• District energy has the potential to reduce carbon emissions by 35 giga tons over the next four decades.
• According to the International Energy Agency, the investment needed to maximize energy efficiency with district energy is $3.4 billion, with potential savings of $6 billion up to 2035.
Danfoss engineers technologies that enable the world of tomorrow to do more with less. We meet the growing need for infrastructure, food supply, energy efficiency and climate-friendly solutions. Our products and services are used in areas such as refrigeration, air conditioning, heating, motor control and mobile machinery. We are also active in the field of renewable energy as well as district heating infrastructure for cities and urban communities. Our innovative engineering dates back to 1933 and today Danfoss is a world-leader, employing 22,500 employees and serving customers in more than 100 countries. We are still privately held by the founding family. Read more about us at www.danfoss.com.
Featured Product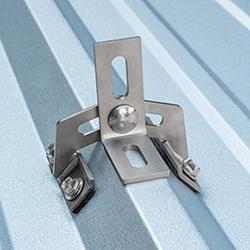 Explore new lines of income for your solar installation business with QuickBOLT's Stone Coated Steel roof mounts designed in partnership with metal roof manufacturers themselves. These SCS roof mounts work on all metal tile profiles and will help you bring in money you're missing out on. By not driving into the roofing material, QuickBOLT's Stone Coated Steel roof hooks maintain the integrity of the roof. Install with ease and confidence knowing your roof is protected against the harsh elements that these hooks are designed for.