Initial Orders to Be Used in New Innovative 100kW Turbines
AUSTIN, TX -- Ideal Power Inc. (NASDAQ: IPWR), a developer of a disruptive power conversion technology, announced today that it has received purchase orders for six of its 30kW battery converters for use in two innovative 100kW wind turbine installations. Ideal Power's battery converter was selected for its improvement in size, weight and efficiency in comparison to other solutions. Installation of these units is expected to be complete in early 2015.

This will be the first installation of Ideal Power's products in a wind energy application and represents another attractive market opportunity for the Company. The Company believes that this order provides further validation of its patented Power Packet Switching Architecture (PPSA) technology platform, which has demonstrated scalability in a number of vertical markets.
The global wind turbine market is dominated by large wind farms using turbines with capacity greater than 1MW; however, there is also a small but growing market for distributed wind turbines that are located near electrical loads. 30MW of new distributed wind turbines were installed in the United States in 2013, and according to the American Wind Association, a further 130MW of distributed wind capacity was under construction at the end of the year. Following recent announcements of third-party financing for distributed wind projects, which may accelerate market adoption, Ideal Power believes that the market for distributed wind converters integrating the Company's products may have significant growth potential.
Ideal Power believes there is a sizeable market opportunity for a 100kW class distributed wind turbine solution which leverages many of the advancements of MW scale turbines, but can be easily sited and installed for agricultural electrical load requirements. By integrating Ideal Power's battery converter with the wind turbine manufacturer's technology, the Company believes that these 100kW wind turbines will be able to achieve attractive five to six year paybacks when purchased by customers located in productive U.S. wind regions.
"Ideal Power is pleased to announce its entry into the market for wind applications," stated Dan Brdar, Chief Executive Officer of Ideal Power. "This is another indication that our highly efficient, low cost PPSA platform can support multiple vertical markets including photovoltaic, energy storage, electric vehicle charging infrastructure and distributed wind."
About Ideal Power Inc.
Ideal Power Inc. (NASDAQ: IPWR) has developed a novel, patented power conversion technology called Power Packet Switching Architecture™ (PPSA). PPSA improves the size, cost, efficiency, flexibility and reliability of electronic power converters. PPSA can scale across several large and growing markets, including solar photovoltaic generation, electrified vehicle charging, and commercial grid storage. Ideal Power also has a licensing-based, capital-efficient business model that can enable it to address these markets simultaneously. Ideal Power has won multiple grants for its PPSA technology, including a $2.5 million grant from the Department of Energy's Advanced Research Projects Agency - Energy (ARPA-E) program, and market-leading customers are incorporating PPSA as a key component of their systems. For more information, visit www.IdealPower.com.
Safe Harbor Statement
All statements in this release that are not based on historical fact are "forward looking statements" within the meaning of the Private Securities Litigation Reform Act of 1995 and the provisions of Section 27A of the Securities Act of 1933, as amended, and Section 21E of the Securities Exchange Act of 1934, as amended. While management has based any forward looking statements included in this release on its current expectations, the information on which such expectations were based may change. These forward looking statements rely on a number of assumptions concerning future events and are subject to a number of risks, uncertainties and other factors, many of which are outside of our control that could cause actual results to materially differ from such statements. Such risks, uncertainties, and other factors include, but are not limited to, whether the patents for our technology provide adequate protection and whether we can be successful in maintaining, enforcing and defending our patents, whether a demand for energy storage products will grow, whether demand for our products, which we believe are disruptive, will develop and whether we can compete successfully with other manufacturers and suppliers of energy conversion products, both now and in the future, as new products are developed and marketed. Furthermore, we operate in a highly competitive and rapidly changing environment where new and unanticipated risks may arise. Accordingly, investors should not place any reliance on forward-looking statements as a prediction of actual results. We disclaim any intention to, and undertake no obligation to, update or revise forward-looking statements.
Ideal Power Media Contact:
Mercom Communications
Wendy Prabhu
1.512.215.4452
www.mercomcapital.com
Email Contact
Investor Relations Contact:
MZ North America
Matt Hayden
1.949.259.4986
www.mzgroup.us
Email Contact
Featured Product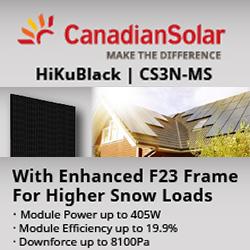 Aesthetic appearance for residential systems: With black backsheet & black frame, Power range 380 ~ 405 W, Low power loss in cell connection. Enhanced reliability: · Low temperature coefficient (Pmax): -0.34 % / °C, LID LeTID less than 2.0%, Lower hot spot temperature, Better shading tolerance.