Solar Power International 2014 in Las Vegas, Nevada, October 21st -23rd, 2014.
NEWBURYPORT, Mass. (October, 2014) — Mersen, a global leader in the field of electrical protection, will display its latest innovative solar power protection solutions at Solar Power International 2014 in Las Vegas, Nevada, October 21st -23rd, 2014.

Sources estimate rising demand from consumers, commercial and utilities will translate into tremendous growth for the solar energy market in the coming years. And while the market for solar energy grows and the technology and equipment used to harness and distribute photovoltaic power continue to evolve, the one constant is the need to protect workers and equipment from potential electrical hazards. Mersen has invested countless resources, expertise, and initiative contributing toward developing the proper codes, standards, and products mandated by the solar power industry.
Visit Mersen at booth # 2709 to view recent solar innovations developed by Mersen:
HelioProtection fuse line, the industry's first UL 2579 listed range of dedicated photovoltaic fuses, provides superior overcurrent protection at the combiner box and inverter levels and covers applications ranging from 1 to 400A, up to 1500VDC. The enhanced fuse construction of the HelioProtection series makes it ideal for continuous temperature and current cycling withstand adding to system longevity. Low minimum breaking capacity capabilities of 1.35 times the fuse-rated current value allow for safe circuit interruption under typical low-fault current conditions produced by PV arrays. The HelioProtection fuse line includes the HP6M, HP10M, HP15M, HP6J, HP10J, HP10NH and HP15NH series.
HP10J photovoltaic fuses: the newest and most efficient UL 2579 listed photovoltaic fuse – the HP10J, an exciting addition to the existing HelioProtection fuse line, which already includes the HP6M, HP10M, and HP6J. The new HP10J photovoltaic fuse line provides superior overcurrent protection at the re-combiner box and inverter levels and covers applications ranging from 70A to 400A, 1000VDC.
The New PV Safety System featuring Greeneye and Greenbrain devices. The Mersen PV safety solution provides an individual, remotely controlled shutdown feature per PV module, meeting the requirements of NEC690.12 and safeguarding against potential electrocution hazards of PV installations. The shutdown feature can be remotely controlled two ways: manually by hitting the emergency stop button or automatically by a DC arc detector or any other safety system to shut down the PV array. In case there is a need for urgent shutdown, when activated, the Mersen PV Safety Solution brings the output current and voltage of the individual PV modules to zero. The PV installation therefore becomes fully disconnected; safe for electrical workers performing construction and maintenance or, in the event of fire, safeguarding responding firefighters from risk of electrocution.
PV String Monitoring Solution: In mid- and large-scale photovoltaic (PV) installations, it is mandatory to properly monitor the string level production over time to guarantee long term power performance by maximizing energy production, optimizing facility management, and decreasing operations and maintenance costs. Mersen delivers a string monitoring solution to be installed in the string combiner box.
USGM-HEL Fuseholders are equipped with industry-proven and patented CAGE CLAMP technology. Mersen is the first manufacturer to offer this technology in a power fuseholder. This screw-less, spring pressure, wire termination technology has over 25 years of field experience and acceptance and can reduce wire installation time and cost by up to 75%. CAGE CLAMP technology significantly improves system reliability by maintaining a very low contact resistance easily withstanding corrosion, vibration, and temperature cycling. The technology also eliminates the need for routine torque maintenance required by standard screw-type terminations.
Surge-Trap Modular and Pluggable Surge Protective Devices (SPDs) are specifically designed with the photovoltaic industry in mind. Surge-Trap Modular and Pluggable SPDs are DIN-rail mountable and feature Mersen's patented TPMOV technology inside. No additional overcurrent protection required.
Visitors to the booth can also view a demonstration of the new PV safety system as well as test their knowledge of electrical protection with an interactive Protection Intelligent Quotient (PIQ) Quiz.
About Mersen
Mersen is a global expert in electrical specialties and graphite-based materials. Drawing on a century of experience—and an ongoing commitment to critical research in electrical safety— it provides industrial, commercial, and OEM customers with innovative products and unsurpassed technical support. Mersen Electrical Power provides a comprehensive line of current-limiting fuses (low voltage, general purpose, medium voltage, semiconductor, miniature and glass, and special purpose) and accessories, fuse blocks and holders, power distribution blocks, low voltage disconnect switches, surge protective devices, high power switches, heatsinks, laminated bus bars, and more.
For more information, call (978) 462-6662 or visit ep.mersen.com.
Featured Product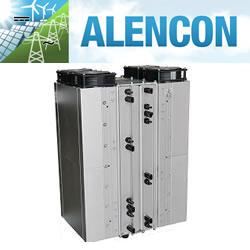 Alencon Systems is the premier manufacturer of high power, high voltage DC:DC optimizers for alternative energy applications including solar, battery energy storage, Microgrids, Fuel Cells and Electric Vehicle charging. Alencon's DC:DC converter offerings include the SPOT, BOSS and CUBE series DC:DC converters. The SPOT is a modular, uni-directional DC:DC solution ideal for solar applications. The BOSS is a modular, bi-directional unit for use with battery energy storage. The CUBE is a monolithic DC:DC converter which is available in both uni-directional and bi-directional modalities. Pictured above, is the Alencon SPOT.