Demonstrated at Solar Power International Expo 2014, 'Mono X AC' Expands LG Flagship Solar Module Series
LAS VEGAS, Oct. 21, 2014 – Led by new integrated, max-performing AC-powered solar modules, LG Electronics USA is exhibiting a host of solutions from the LG Mono X® monocrystalline module series here this week. At the Solar Power International (SPI) Expo 2014, LG is displaying new solar module upgrades, combining a new level of performance and flexibility for both home and business owners seeking lower utility bills and energy independence.

LG Solar headliners at SPI at the Las Vegas Convention Center include:
· Mono X ACe module, designed to maximize AC-power output and provide a new level of installation flexibility;
· Mono X NeON, which is among the lightest DC modules on the market at only 37 pounds; and
· Mono X Black, LG's iconic module incorporating higher efficiency and durability for convenient installation and an aesthetic interior.
"We recognize that solar panels give homeowners a path toward energy independence, while providing convenience and exceptional functionality," said Ellen Kim, senior vice president, Energy Solutions, LG Electronics USA "Our carefully-designed solar panels aren't just about saving money, but allowing consumers to become a more sustainable member of society."
For the first time at SPI, LG is highlighting its solar charging and energy storage system (ESS) for electric vehicles. The first-ever Cadillac ELR electrified luxury coupe featured in LG's booth showcases how LG solar solutions provide cost-effective charging for homes and offices. LG's ESS is a sleek, smart battery designed for solar panels and buildings, which pairs with inverters to convert the direct current from the solar panel into alternating current that can be used around the house both day and night to help make consumers' lives easier. The alliance with Cadillac at SPI builds on LG's relationship with General Motors; LG Chem produces batteries for GM, while LG Electronics manufactures On-Star electronics for all GM vehicles.
As solar energy is predicted to grow globally at a gross rate of at least 20 percent, according to the 2013 U.S. Solar Market Insights Report, LG continues to develop its solar products with consumers and businesses in mind, helping them lower their electricity costs, Kim said.
Max Performing Mono X ACe Module
The new LG Mono X ACe solar module – previewed earlier this year and officially introduced for the U.S. market at SPI 2014 – is designed to generate maximum AC (alternating current) power per square foot thanks to its high-efficiency micro-inverter.
Building on the success and proven technology of the LG Mono X NeON module, this AC solar module with maximum output at 305 watts (continuous output power of 285 watts) combines a new level of performance and installation flexibility. Its optimized design improves user safety by minimizing connectivity work and creates easier installation by combining the module and inverter in a single unit, significantly reducing cable work and increasing its energy yield.
The LG Mono X ACe includes an all-in-one design, the max performing AC output and a "monitoring anywhere" capability – a web-based monitoring solution that allows users to check power generation on a smartphone, tablet or PC at any time.
Continued Success with Mono X NeON
LG's award-winning DC (direct current) Mono X NeON has a 60-cell panel design, delivering high-efficiency output of up to 310 watts with 18.9 percent module efficiency, combining LG's N-Type cell technology into one cutting-edge unit. Its double-sided cell structure allows the light reflected from the rear of the module to be reabsorbed, also generating additional power.
The Mono X NeON module is more than 11 percent lighter than previous models, offering the opportunity for installation by one technician rather than two. Additional features of LG's flagship unit include selective emitter and fine electrode technologies as well as LG's unique anti-reflection coating technology.
Expanded U.S. Distribution for Commercial Applications
To expand the presence of LG's high-efficiency solar modules in the U.S. commercial market, LG has joined forces with solar industry leader Borrego Solar Systems Inc. The collaboration aligns with the market's maturation and the move toward higher efficiency products in the commercial sector, while bringing North American customers the greatest value and highest quality photovoltaic modules on the market.
For more information on LG products featured at SPI, visit booth #2303. Information on the complete portfolio of LG's Solar solutions can be found at www.lgsolarusa.com.
* California Energy Commission list, June 2014; single module connection micro-inverters
Featured Product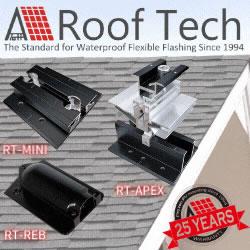 Now Roof Tech brings you the most innovative, watertight mounting systems ever developed for solar photovoltaic systems. Designed and manufactured exclusively for us by Japan's longtime leader in roofing technologies, Roof Tech products are 100% code-compliant and offer fast, simple installation and huge savings on shipping costs due to their compact, rail-less design. Learn more about our full line of versatile PV mounting solutions now available for residential installations. The next generation in rooftop solar mounting solutions."