PV industry veteran Martin Prest to steward Upsolar's growth in UK solar market
MILTON KEYNES, UNITED KINGDOM – December 16, 2014 – Upsolar, a leading provider of solar PV modules, today announced the appointment of Martin Prest as UK National Sales Manager.

In his new role, Prest is responsible for the growth of Upsolar's UK sales division, coming to Upsolar with 25 years of experience in direct and solution-based sales. Prior to joining Upsolar, he played an instrumental role in Enphase Energy's UK expansion and also served as Sales Manager for the distribution arm of Solar Energy Centre (SEC). Prest's deep sales and distribution experience qualifies him to lead Upsolar's expansion in both the commercial and residential sectors in the UK.
"In an established solar market such as the UK, partnerships play a crucial role in ensuring successful operations and client happiness," said Prest. "Upsolar already works with a robust network of distributers and installers and I look forward to further strengthening these relationships to offer high quality solutions for smart, long-term investments."
"Moving into 2015, we see tremendous growth opportunities for the UK's PV sector," said Bob Mills, UK Country Manager for Upsolar. "As we continue to expand our operations, Martin's experience will be pivotal as we offer smart modules to the UK market. Coupled with his positive and energetic approach, it will serve as a valuable asset for our customers and partners alike. We are delighted to have Martin on board."
Featured Product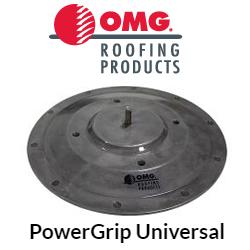 PowerGrip Plus Roof Mount System, a watertight structural attachment system used to secure ballasted solar racks and other equipment to roofs covered with thermoplastic (TPO and PVC) membranes. PowerGrip Plus is designed with wind performance in mind and offers ultimate tensile strength of 2,000 lbf. and ultimate shear strength of 1,075 lbf. Properly installed PowerGrip Plus units reduce rack movement and remaining watertight. PowerGrip Plus units are easy to install, saving both time and labor when compared to alternative options. A wide membrane skirt promotes easy welding in place, and the 15/8 diameter and 1/2 inch tall mount provides an optimal perch for securing brackets or struts. The exposed 1 inch tall and 3/8 inch diameter bolt and mounting stand are made from corrosion-resistant stainless steel and aluminum alloy for superior long-term performance.