The Application Deadline for all certification programs- PV Installation Professional, PV Technical Sales Professional, Solar Heating Installer- is January 23, 2015.
The opportunity to join the ranks as a NABCEP Certified Installation Professional only comes twice a year so apply today! The fall exam will be held on April 11, 2015.

This upcoming spring certification exam will be the last opportunity for candidates to test using the 2011 NEC®.
It can take some time to gather the necessary documentation for certification, so we strongly recommend starting the process now.
NABCEP Certified Professionals are in demand by state incentive programs, employers, insurers and projects around the country.
If you have any questions regarding your certification application please feel free to contact Kathryn Casey, Applications Coordinator, at: kcasey@nabcep.org OR applications@nabcep.org
Featured Product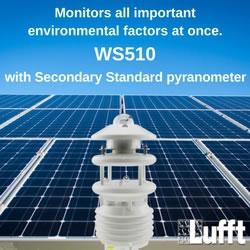 First and only Smart Weather Sensor with integrated Kipp & Zonen CMP10 Pyranometer (secondary standard). From the WS product family of professional intelligent measurement transducers with digital interface for environmental applications. Integrated design with ventilated radiation protection for measuring: Air temperature, relative humidity, air pressure, wind direction, wind speed and radiation. One external temperature or rain sensor is connectable.