February 25-27, 2015, Tokyo Big Sight, Japan
December 9, 2014 (Tokyo, Japan) – Reed Exhibitions Japan will be holding the 8th edition of PV EXPO – Int'l Photovoltaic Power Generation Expo http://www.pvexpo.jp/en/ and 6th edition of PV SYSTEM EXPO – Int'l Photovoltaic Power Generation System Expo http://www.pvs-expo.jp/en/.

Growing show and growing competition
PV system installation continues to increase in Japan and the solar boom endures. As thought to portray the booming market condition and increasing competition, the scale of Japan's largest PV industry event - PV EXPO http://www.pvexpo.jp/en/ and PV SYSTEM EXPO http://www.pvs-expo.jp/en/ is expanding and exhibitors are generally participating with bigger sized booths. The net exhibit space of the two exhibitions combined will in fact a record breaking size. 500 exhibitors and 80,000 visitors (including visitors of concurrent shows) are expected to participate.
Latest solar cells, modules, manufacturing equipment, components, materials…
PV EXPO 2015 is Japan's largest B-to-B exhibition specialising in solar cell/module manufacturing technologies, devices, components, materials and finished solar cell/modules. The exhibition will continue to be the best venue to seek the latest products, technologies from Japan and the world and for firms with such exhibits to expand sales in Japan and the Asia-Pacific. Major firms exhibiting from Japan include SHARP, KYOCERA, SOLAR FRONTIER etc. From overseas, YINGLI GREEN ENERGY, TRINA SOLAR, CANADIAN SOLAR, JINKO SOLAR, JA SOLAR, HANWA Q CELLS, HANERGY, RENESOLAR, SOLARWORLD etc. will be exhibiting. From the materials and components sector DU PONT, TOKYO OHKA KOGYO, NIPPON ELECTRIC GLASS etc. Major manufacturing technology related exhibits will be showcased by NORITAKE, NPC, ASAHI DIAMOND INDUSTRIAL etc. Evaluation, testing and analysis related exhibitors will also be participating including EKO INSTRUMENTS, WACOM ELECTRIC, MEDIOTEC etc.
China will be participating with 2 large scale national pavilions. Taiwan and Korea will also be participating with larger sized pavilions gathering various products and technologies.
Integrating and installing PV systems
As the number of installations of solar panels continues to increase, the needs for technologies and products to integrate and install PV systems are on the rise. As though to reflect this condition, exhibit space for Japan's only and largest B-to-B exhibition specialising in PV system integration and installation - PV SYSTEM EXPO 2015 has also been growing. By August all the exhibit spaces were sold out and as a result, Show Management was required to expand the show space to accommodate the overflowing number of applicants. The exhibition is expected to exceed last year's scale by at least 24% at this rate. The international profile is also expanding and the area covered by exhibitors from overseas is expected to increase by 1.5 folds. This year, China will be holding 2 pavilions at PV SYSTEM EXPO for the first time.
Various power conditioner manufacturers such as SMA, ABB, OMRON, TOSHIBA MITSUBISHI ELECTRIC INDUSTRY SYSTEM, TABUCHI ELECTRIC, SCHNIDER ELECTRIC, YASUKAWA DENKI, SANSHA DENKI, SHINDENGEN KOGYO will be exhibiting. Increasing number of system integration related firms will be participating for instance POWER ELECTRONICS, IBC SOLAR, MARTIFER SOLAR, INGETEAM. Participation of firms with mounting systems and installation related exhibits such as SCHLETTER, MOUNTING SYSTEMS, CLEANERGY, RBI SOLAR are also on the rise. HUAWEI will be exhibiting for the first time showcasing smart mega solar solutions.
Latest technology, industry trends, outlook unveiled at the Technical Conference
A Technical Conference will be held concurrent to the exhibitions offering attendants to catch the latest industry trends, outlook and information about various technologies.
The PV EXPO Keynote Session will be held on February 27, 2015 10:00-12:00 at the Conference Tower at Tokyo, Big Sight, Japan. Nobuhiro Watanabe, Director, Renewable Energy Promotion Office, Agency of Natural Resources and Energy of MINISTRY OF ECONOMY, TRADE AND INDUSTRY (METI), Jifan Gao, President of China Photovoltaic Industry Association (CPIS) and Chairman & CEO of TRINA SOLAR and a representative from BSW-SOLAR (GERMAN SOLAR INDUSTRY ASSOCIATION) will be discussing "National Initiatives and Future Vision of Solar Power Generation".
Other topics to be covered at this year's Technical
Conference include: "Latest Technology Trends in Crystalline Silicon Solar Cells", "Eye-opening New Applications of PV Technology", "Latest Technology Trends and Challenges in PV System Reliability", "Current Status and Future Prospects of Thin-film Solar Cells", "Current Status and Future Outlook of Mega Solar Power Generation Business", "O&M Technology for a Safe and Secure Solar Power Generation", "New Business Model and Market Development for PV Technology", "Trends and Issues in Grid Connection and Peripheral Technologies", "Solar Power Generation Market at a New Phase of Further Growth" etc.
During the show period, numerous product/technology seminars will also be held by exhibitors of PV EXPO and PV SYSTEM EXPO within the exhibition halls. The full conference program is to be released by mid-December.
For further information: http://www.pvexpo.jp/en/seminar/
Part of the world's leading comprehensive renewable & smart energy show
PV EXPO 2015 and PV SYSTEM EXPO 2015 is a part of World Smart Energy Week 2015 http://www.wsew.jp/en/ – the world's leading comprehensive B-to-B renewable & smart energy trade show.
Including PV EXPO and PV SYSTEM EXPO, the entire show will be composed of 9 independent, world-class exhibitions covering various energy sectors and every stage of the energy business from power generation to electricity retail.
This year, a new exhibition ENERGY LIBERALISATION JAPAN 2015 - 1st Energy Market Liberalisation Expo has been launched as part of World Smart Energy Week in order to provide a platform for industry players seeking to enter the new Japanese electricity retail market starting in 2016. Various services and technologies related to electricity retail business will be showcased opening up new windows of opportunities for this field of new business. The announcement of the launch has attracted much attention of industry professionals and major firms looking to invest in this field such as IBM, HITACHI SYSTEMS POWER SERVICES, TOSHIBA PLANT SYSTEMS & SERVICES, NISSAN, ENERES, EPCO, WARTSILA etc. have already confirmed their participation. For further information: http://www.e-jiyuka.jp/en/
In order to aid participating professionals to catch industry and technological trends of the other energy sectors, various Technical Conference sessions will be held in parallel to the exhibitions throughout the show period where renowned industry leaders will reveal new policies, latest technology trends and industry outlook. For instance, "National Policy for Energy Conservation and Renewable Energy in Japan and U.S." will be revealed by the MINISTRY OF ECONOMY, TRADE AND INDUSTRY (METI) of Japan and U.S. DEPARTMENT OF ENERGY (DOE) at the World Smart Energy Week Keynote Session. TOKYO ELECTRIC POWER, TOKYO GAS, ENNET and ENERES will be discussing about the liberalisation of the Japanese electricity retail market at the ENERGY LIBERALISATION JAPAN Keynote Session titled "Electricity Deregulation in Japan: Business Strategies by Industry Leaders".
215 sessions will be held during the show period overall.
Reception parties will also be held on the first day of the show allowing exhibitors, visitors, conference speakers and attendees from across the 9 exhibitions to acquaint, share ideas and build new connections.
Save the dates – February 25-27, 2015, Tokyo Big Sight, Japan
With the line-up of exhibitors, comprehensive conference sessions and networking events, PV EXPO and PV SYSTEM EXPO is sure to be an ideal venue to find new business and hints for future success.
Register for a free invitation ticket online http://www.pvexpo.jp/en/inv/ (PV EXPO) http://www.pvs-expo.jp/en/inv/ (PV SYSTEM EXPO) and save the dates for February 25-27, 2015 to take advantage of this indispensable opportunity.
For further details: http://www.pvexpo.jp/en/ (PV EXPO) http://www.pvs-expo.jp/en/ (PV SYSTEM EXPO) or contract Show Management pv@reedexpo.co.jp
Featured Product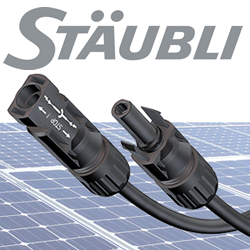 ​Stäubli Electrical Connectors are used on more than 300 GW, over 50% of the PV capacity worldwide. The MC4 family of UL and TUV listed products include connectors, in-line fuses, branch connectors, cable assembly and more.