Solar technology company's licensing model offers low-cost R&D innovation for PV industry
FREMONT, Calif.—February 16, 2016—An innovative, optics-based solar technology platform from Banyan Energy offers manufacturers, developers and systems integrators an accelerated pathway to ultra-low-cost PV modules and manufacturing. The companys affordable licensing model allows Banyan-designed modules to be easily manufactured in local factories without investment in research and development, greatly reducing productization costs and technology risk.

Using Banyans patented OptiwaveTM technology, companies can leverage their existing production infrastructure to manufacture PV modules for less than 30 cents per watt, well below the current industry cost-per-watt benchmarks for crystalline silicon modules. The optically enhanced, low-cost module architecture uses 80% less silicon than mainstream solar panels and eliminates the need for module lamination, the most expensive process on the assembly line. As a result of the innovations, manufacturers can dramatically increase the capacity of their existing factories for a fraction of the normal cost.
Banyan modules, used with standard single- or dual-axis tracker systems, provide a low-cost, low-concentration photovoltaic alternative in utility-scale projects in high insolation regions. Because of the minimal module cost and ready integration with existing balance of systems components, the Banyan platform can deliver lower levelized cost of electricity (LCOE) and more profit per installed megawatt than traditional silicon PV module-based systems in targeted markets.
"Banyan Energy brings very-low-cost solar manufacturing within reach for expansion-minded companies," said Paul Clayson, CEO of Banyan Energy. "We are much more than a solar technology provider; we offer a way for companies to license innovation and keep their R&D spending in check. Our patent-protected low-concentration PV module design can help our partners achieve extremely low LCOE, earn robust double-digit returns on their project investments, and shift the industry into a new era of post-subsidy economics."
ABOUT BANYAN ENERGY
Banyan Energy enables very-low-cost solar module production through licensed innovation. Banyans OptiwaveTM patented technology has been integrated into several module designs, which are available for licensing to global industry partners. Based in Fremont, Calif., Banyan provides engineering and manufacturing support, and works with partner companies to ramp and optimize high-quality, low-cost module production. To learn more about Banyan, go to www.banyanenergy.com.
Media Contact
Nick Richardson
Impress Labs (for Banyan Energy)
nick@impresslabs.com
+1 480 409 0775
Featured Product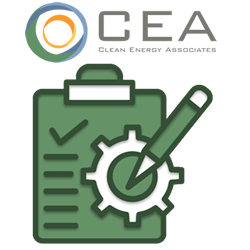 Clean Energy Associates provides a complete quality assurance solution that covers the entire product lifecycle of PV modules, storage systems, and every Balance of Sy stem (BOS) component. CEA's experienced on-the-ground and international team of quality control engineers and account managers offer an unparalleled quality assurance presence that can protect solar and storage investments and ensure future energy-producing viability for the life of the product.