Community Green Energy signs agreement with the City of Taylors Falls, Minnesota to develop Community Solar for the benefit of City and its residents and small businesses.
Lake Geneva, Wisc. (2/22/2016) - Community Green Energy, LLC (CGE) today announced that it has entered into a Community Solar Development Agreement with the City of Taylors Falls, Minnesota. CGE will be developing a 300 kW solar array on city-owned property as the future host of the Community Virtual Solar Garden.

Under this agreement to develop a community solar program, CGE will lease a site from the City near the retention ponds and business park on Military Road and develop the community solar project in accordance with Xcel Energys Solar Rewards Community MN (SCRMn) program.
Prior to operation, CGE will offer area residents and small businesses the opportunity to become a subscriber in the solar garden by purchasing production ownership rights in solar PV panel units. In return, subscribers will receive credit on their monthly Xcel Energy electric bills for the amount of electricity that their panels produce. Subscribers will not have to pay upfront for their subscription either, as CGE will allow subscribers to purchase the solar energy credits at a discount as it is produced each month.
"The City of Taylors Falls sees this as an opportunity to benefit from the Xcel community solar program and to share those benefits with our residents and small businesses as well," said Taylors Fall Mayor Michael Buchite.
Through the Community Virtual Solar Garden, the opportunity to own and benefit from solar will be extend to everyone currently receiving electricity service from Xcel Energy, including those that have been prevented from going solar in the past, such as renters and those with shaded roofs. Participants in the program will receive all the long term benefits of solar ownership, minus the liabilities associated with physical system ownership, such as installation and maintenance.
"Our Community Virtual Solar Garden program is designed to make solar more easily available and affordable to residents and small businesses alike," said Community Green Energys President, Fritz Kreiss. " Now everyone in Taylors Falls will have the opportunity to go solar, including the those who are unable to install solar because they have no roof of their own, or are too shaded or poorly oriented, or just find it too expensive., and save money on their monthly electric bill"
"Were excited to be able to take part in such a project that is so community oriented," Buchite concluded, "and look forward to the positives it will bring our residents."
CGE will be working with Taylors Falls to finalize site selection and receive project approvals from Xcel Energy. Anyone interested in participating in the Taylors Falls Community Virtual Solar Garden may reserve their spot at myvirtualsolar.com/taylorsfalls. Participation in solar PV panel subscriptions is limited and will be available on a first-come, first-serve basis. Further details on the project and participation will be announced as they become available.
Community Green Energy develops and finances renewable energy and energy efficiency projects nationwide, including community solar gardens, community choice aggregation and utility scale solar development. www.communitygreenenergy.com 262-248-0927
Featured Product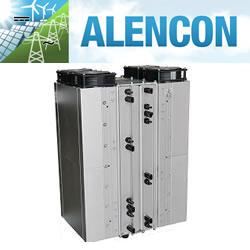 Alencon Systems is the premier manufacturer of high power, high voltage DC:DC optimizers for alternative energy applications including solar, battery energy storage, Microgrids, Fuel Cells and Electric Vehicle charging. Alencon's DC:DC converter offerings include the SPOT, BOSS and CUBE series DC:DC converters. The SPOT is a modular, uni-directional DC:DC solution ideal for solar applications. The BOSS is a modular, bi-directional unit for use with battery energy storage. The CUBE is a monolithic DC:DC converter which is available in both uni-directional and bi-directional modalities. Pictured above, is the Alencon SPOT.