Saga to commence production at its Saint Paul factory, bringing solar panel manufacturing back to the State's capital city.
Saga Solar, SBC, a Public Benefit Corporation and manufacturer of durable, dependable home and commercial solar panels, announced it has opened a new facility and will begin production in St Paul, Minnesota. As a Minnesota based solar panel manufacturer, Saga Solar has also recently been admitted to the 2016 'Made in Minnesota' incentive program, a program administered by the MN Department of Commerce to support the state's budding solar industry.

"We are delighted to begin production in our home state of Minnesota, and look forward to giving back to our community that has given so much to us", said Saga Solar founder and CEO R. Marie Zola. "We see participating in the Made in Minnesota incentive program as being a vehicle to address energy poverty in our own state and beyond, and are truly excited to get started."
Saga supplies 60-cell and 72-cell solar panels with a standard form factor, with the 72-cell type of panel being the globally preferred panel for commercial applications. Saga's panels are UL listed for 1000VDC operation, which allows them to be integrated with modern 600V or 1000V inverters, as well as used in lower voltage off-grid operations. Saga Solar panels carry a three-part warranty, including 12 years workmanship and a 25 year linear power output guarantee, all backed by deductible free third-party insurance.
About Saga Solar
Saga Solar is a Specific Benefit Corporation (SBC) committed to social responsibility and community outreach. Saga's mission, simply put, is to support the adoption of carbon free energy solutions in Minnesota and throughout the United States. Saga does this by sponsoring events that advance solar such as the MidWest Solar Expo, supporting local solar organizations, promoting pro-solar legislation like the Made in Minnesota solar incentive, as well as through charitable contributions.
To facilitate community involvement and charitable giving in 2016, Saga partnered with RREAL and launched an Indiegogo campaign to allow Saga to hire more people with disabilities on their manufacturing line as well as to raise money for local low-income housing projects. Saga plans, for the life of the company, to continue partnering with organizations like RREAL, who like Saga works tirelessly to combat myths that solar isn't a viable component of everyones energy future.
About RREAL
Saga has partnered with RREAL, a nonprofit solar installer, to complete projects throughout Minnesota in coordination with various local community and state grant programs. The Rural Renewable Energy Alliance (RREAL), was founded in 2000, to solve fuel poverty with solar energy, balancing the use of advanced technology with the interests of the environment while bringing lasting independence, economic, and social change to communities. RREAL is a 501(c)(3), tax-exempt nonprofit organization that has been delivering solar energy to low-income individuals and communities since inception.
Featured Product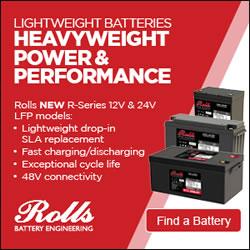 Designed for true drop-in replacement, Rolls new R-Series 12V & 24V LFP lithium models offer a maintenance-free lightweight flooded and SLA alternative in four popular BCI case sizes with fast charge/discharge capability. Rolls custom built-in BMS provides all necessary operating protections for safe operation and seamless integration for deep cycle replacement in 12V, 24V or 48V systems.