Celebrates global market leadership in monitoring systems for utility-scale PV segment
Berlin, June 14, 2016. skytron® energy, a First Solar company and the global market leader in utility-scale photovoltaic (PV) monitoring, today announced the launch of version 2.3 of its PVGuard® Supervision Platform.

The updated version will be showcased at Intersolar 2016, and features a new integrated control function, allowing operators to directly connect to a plant via a customized dashboard, activating and deactivating individual inverters, sections, or the entire plant. This direct connection to the PV plant allows selected data to be displayed live on the dashboard and makes the effects of switching operations visible in real-time.
PVGuard 2.3 also allows operators to store high-resolution data from metering devices and the power plant controller for up to six months in a database, thereby enabling long-term, in-depth analysis of system performance. Version 2.3 is now optimized for use in 64-bit environments, especially with Windows 10 and Java 8.
"Customer satisfaction is our first priority," said Hendrik Hoffmann, Director Software, Service and O&M at skytron energy. "Our aim is to develop new products and improve existing ones. The PVGuard® Supervision Platform is the heart of our monitoring technology. The new 2.3 version makes it easier for owners to handle the most varied data from the PV plant and simplifies recurring processes like sending reports and emails."
Global Leader in PV Monitoring
skytron energy is also celebrating the fact that it has retained its position as the worlds top provider of monitoring systems for utility-scale PV plants, according to GTM Research. GTMs 'Global PV Monitoring 2016-2020: Markets, Trends and Leading Players report compared 26 companies and awarded skytron energy the top position in the utility-scale segment, a position it has held since 2014.
"Were pleased to have, once again, retained our leadership position in the prestigious GTM Research rankings. We see the 6,600 MW of global installed capacity that is optimized by PVGuard, as a reflection of the confidence that plant owners and investors have in our technology," said Lino Garcia, Director Business Development and Sales at skytron energy. "The fact that weve retained the top position demonstrates just how much value our customers place in the differentiated services were able to provide. What truly sets us apart from the competition is our ability to deliver high quality analytics that provide the granular views that asset owners and operators need, when they need it."
skytron energy will exhibit at Intersolar Europe, the worlds largest solar trade fair, and will be co-located with First Solar at Booth 160 in Hall A1.
About skytron® energy
skytron® energy has been developing integrated monitoring, control and supervision systems since 1977. Now one of the leading suppliers in the industry, specializing in utility-scale and commercial power plants, it has installed monitoring and control systems in more than 1,000 plants with a total capacity of 7.5 GWp. The companys core competencies are plant condition monitoring, power plant control, remote plant supervision, system migration of existing power plants, operation & maintenance and PV asset management. As a technology leader, it has received a number of prestigious awards, including the highly coveted Solar Industry Award for the skylog® Data Logger System and the InterSolar Award for the PVGuard® Supervision Platform and for the StringGuard® string current measurement system. skytron® energy is a subsidiary of First Solar, Inc. For more information, please visit www.skytron-energy.com.
Featured Product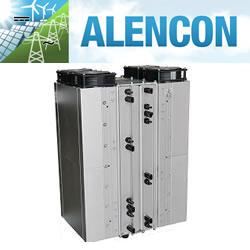 Alencon Systems is the premier manufacturer of high power, high voltage DC:DC optimizers for alternative energy applications including solar, battery energy storage, Microgrids, Fuel Cells and Electric Vehicle charging. Alencon's DC:DC converter offerings include the SPOT, BOSS and CUBE series DC:DC converters. The SPOT is a modular, uni-directional DC:DC solution ideal for solar applications. The BOSS is a modular, bi-directional unit for use with battery energy storage. The CUBE is a monolithic DC:DC converter which is available in both uni-directional and bi-directional modalities. Pictured above, is the Alencon SPOT.