Deutsche Messe launches its first-ever energy-themed exhibition in the USA
Hannover. Deutsche Messe is launching its first-ever energy-themed exhibition

in the US market, Hydrogen + Fuel Cells NORTH AMERICA, which will be
staged alongside Solar Power International at the Mandalay Bay Convention
Center in Las Vegas from 10 to 13 September 2017. Solar Power International
with its 650 exhibitors and 18,000 visitors is North America's biggest trade
show for the solar energy industry. Also taking place alongside Solar Power
International is Energy Storage International, America's biggest energy storage
exhibition as well as the Smart Energy Microgrid Pavilion. "Hydrogen + Fuel
Cells NORTH AMERICA is therefore a perfect fit for Solar Power International.
The respective technologies covered by the shows are closely interrelated and
growing in importance," commented Benjamin Low, the International Director in
charge of Energy shows at Deutsche Messe.
Deutsche Messe has been organizing for more than 20 years the Group Exhibit
Hydrogen + Fuel Cells + Batteries as a distinct showcase at HANNOVER
MESSE. In 2016, the showcase featured more than 160 exhibitors from 25
nations. "We want to offer this international community a new platform in the
highly attractive US market," Low said.
Hydrogen + Fuel Cells NORTH AMERICA is being organized via Deutsche
Messe's subsidiary Hannover Fairs USA in cooperation with Tobias Renz FAIR.
Deutsche Messe also operates several other energy-themed trade shows outside
of its home market of Germany, including CANWEA and SOLAR CANADA,
both of which are held in Canada, and Eletrotech EURASIA and ICCI, which
are held in Turkey. All of these shows are international offshoots of Energy,
which is held annually in Hannover, Germany, as part of HANNOVER MESSE
and which, with 1,200 exhibitors, is the world's biggest trade show for energy
technologies.
HANNOVER MESSE - Get new technology first!
The world's leading trade fair for industrial technology will next be staged from
24 to 28 April 2017 in Hannover, Germany. With its core focus on "Integrated
Industry - Creating Value," HANNOVER MESSE is the world's leading showcase
for the digitalization of production (Industry 4.0) and energy systems
(Integrated Energy). The upcoming HANNOVER MESSE will feature seven
parallel shows: Industrial Automation, MDA - Motion, Drive & Automation,
Digital Factory, Energy, ComVac, Industrial Supply and Research & Technology.
Poland will star as the Partner Country of HANNOVER MESSE 2017.
Deutsche Messe AG
From its headquarters in Hannover, Germany, Deutsche Messe AG plans and
stages leading capital goods trade fairs around the globe. The company ranks
among the five biggest trade show organizers in Germany, with revenue of
329.3 million euros and a net profit of 9.4 million euros in 2015. The
company's event portfolio includes such world-leading events as CeBIT (digital
business), HANNOVER MESSE (industrial technology), LABVOLUTION with
BIOTECHNICA (lab technology and biotechnology), CeMAT (intralogistics and
supply chain management), didacta (education), DOMOTEX (carpets and
floor coverings), INTERSCHUTZ (fire prevention, disaster relief, rescue, safety
and security), and LIGNA (woodworking, wood processing and forestry). With
approx. 1,200 employees and a network of 66 representatives, subsidiaries
and branch offices, Deutsche Messe is present in more than 100 countries
worldwide.
Featured Product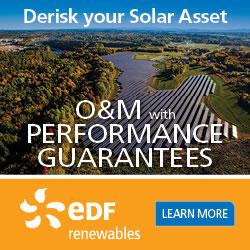 EDF Renewables offers the same innovative solutions that maximize the performance of our own 5.2 GW of installed projects. Because we're not an equipment manufacturer, our recommendations are transparent and data-driven. We cover the entire project lifecycle: from pre-commissioning support, through warranty and post warranty operation, to late stage and decommissioning.