In addition to delivering energy cost savings, residents in remote locations without reliable grid electricity service are expected to use this technology to meet basic daily needs, report finds
BOULDER, Colo.--(BUSINESS WIRE)--A new report from Navigant Research examines the global market for distributed solar PV plus energy storage (DSES), providing an analysis of market issues and market forecasts for capacity and revenue, through 2026.

The rapid growth of distributed solar PV in recent years has helped drive the transformation of a grid system that is increasingly affected by distributed energy resources (DER). Many residential and commercial and industrial (C&I) sector customers are beginning to shift away from solely purchasing electricity from their local utilities to procuring a diverse suite of onsite technologies that includes solar PV coupled with energy storage. Click to tweet: According to a new report from @NavigantRSRCH, the global annual market for the deployment of DSES is expected to reach 27.4 GW and $49.1 billion by 2026.
"An emerging confluence of technical, economic, and regulatory factors is beginning to drive growth in the residential, C&I, and remote, off-grid DSES markets," says William Tokash, senior research analyst with Navigant Research. "Beyond this, coupling battery energy storage technology with solar PV and virtual power plant (VPP) software technology will allow this class of DER to be dispatchable from a grid operator standpoint to address intermittency and provide grid services as well."
Distributed solar PV has grown to become a valuable part of the global power generation mix and is forecast to grow substantially in the next several years, according to the report. While the value of standalone solar PV systems is contentiously debated throughout the United States and in other grid regions, in remote locations without access to electricity or reliable grid electricity service, many residents are expected to turn to DSES to meet their basic daily needs.
The report, Distributed Solar PV Plus Energy Storage Systems, analyzes the global market for DSES systems in three key segments: residential, C&I, and remote, off-grid. The study provides an analysis of the market issues, including drivers and barriers, associated with DSES. Global market forecasts for capacity and revenue, broken out by segment, battery technology, and region, extend through 2026. The report also examines the key DSES trends by geography, with a focus on the three key market segments. An Executive Summary of the report is available for free download on the Navigant Research website.
About Navigant Research
Navigant Research, the dedicated research arm of Navigant, provides market research and benchmarking services for rapidly changing and often highly regulated industries. In the energy sector, Navigant Research focuses on in-depth analysis and reporting about global clean technology markets. The team's research methodology combines supply-side industry analysis, end-user primary research and demand assessment, and deep examination of technology trends to provide a comprehensive view of the Energy Technologies, Utility Transformations, Transportation Efficiencies, and Buildings Innovations sectors. Additional information about Navigant Research can be found at www.navigantresearch.com.
About Navigant
Navigant Consulting, Inc. is a specialized, global professional services firm that helps clients take control of their future. Navigant's professionals apply deep industry knowledge, substantive technical expertise, and an enterprising approach to help clients build, manage and/or protect their business interests. With a focus on markets and clients facing transformational change and significant regulatory or legal pressures, the Firm primarily serves clients in the healthcare, energy and financial services industries. Across a range of advisory, consulting, outsourcing, and technology/analytics services, Navigant's practitioners bring sharp insight that pinpoints opportunities and delivers powerful results. More information about Navigant can be found at navigant.com.
Featured Product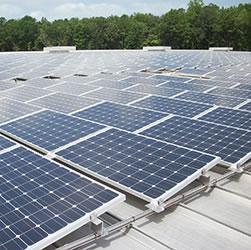 The Power Rail™ Commercial Mounting System is designed with the professional PV solar installer in mind. Both the XD/UD and LD/MD rails feature single tool assembly with the revolutionary patented RAD™ Lock-in-Place bolt for fast and secure module clamping. The high strength marine-grade aluminum rails include an integral wiring channel for securing cables and providing a professional finish.