The two systems installed utilize a total of 1,224 panels, and is sized at 412 kW (DC). Combined, the buildings use 1.35 million kWh annually, and the arrays will meet approximately a third of that total annual electricity usage.
RED BANK, NJ, May 23, 2018 - IGS Solar and St. James Parish, Red Bank have announced that one of the largest solar projects for the Diocese of Trenton is now fully operational. This project addresses the electricity needs of: St. James Elementary School, Red Bank Catholic High School (RBC), the RBC Eck Student Center, St. James Church, Rectory, and Convent housing the schools Sisters of Mercy.

The project not only involved the installation of the solar panels on a number of the buildings, but also included the replacement of a number of facility roofs in preparation for the solar panels to be installed. St James Parish was represented by Don Faistl, a member of the parishs Finance Council. After much investigation the parish contracted with IGS Solar, a turn-key commercial and residential solar provider, in an effort to integrate solar energy into their energy portfolio to better control the long-term energy costs for their campus. And by 'Going Green they are providing a positive example to their students of how to be good stewards of our planet.
Green Energy Construction and Consulting was IGS Solars Engineering, Procurement, and Construction partner on the projects. The Team also included outstanding efforts by Brooks Roofing and also SolarMite, as well as superb efforts by the Maintenance group at St. James. All participants functioned in a cohesive manner to accomplish this major initiative, with minimal disruption to our school students and parishioners.
The two systems installed utilize a total of 1,224 panels, and is sized at 412 kW (DC). Combined, the buildings use
1.35 million kWh annually, and the arrays will meet approximately a third of that total annual electricity usage.
IGS Solar has financed, and will own and operate the system. St. James will purchase 100% of the power generated through a long-term Power Purchase Agreement (PPA) with IGS Solar, which will allow them to utilize on-site generated renewable electricity.
The arrays were built while school was in session which meant logistics were critical to the projects success.
"We were very impressed by the quality of logistics and craftsmanship, the IGS Solar and GECC teams provided," stated Robert Abatemarco, principal of Red Bank Catholic High School. "Whenever you are doing a large complex project with permits and significant work coordination, its a large task. But considering that the work was done on school grounds while classes were in session, this team provided a seamless experience with how materials were brought on site and how the project was built during class hours. This team was truly exceptional to work with."
The parish and its schools have a rich history in growth and expansion over the last one and a half centuries. The original school opened in the 1870s, and by 1927 the parish saw an opportunity to build an elementary and high school to support a Catholic education for its parishioners. Since then, the schools campus footprint has been expanding and evolving with a dedication of the grammar school and gymnasium in 1960, a high school addition in 1967, and most recently, the building of the RBC Vincent J. Eck Student Center in 2011 and the purchase of the RBC Fine and Performing Arts Center a few years ago.
"Every building on Red Bank Catholics campus stands as a testament to enthusiasm, vision, imagination, and enduring faith," stated Rev. Msgr. Philip Lowery, pastor of St. James Parish Church. "Our campus has continually evolved but through it all, it has kept one soul."
Today, Red Bank Catholic and St. James Elementary School educate around 1,300 students annually from multiple surrounding counties and has approximately 13,000 alumni.
"We are very excited about what this solar projects enables us to offer our students from a learning perspective" stated Abatemarco. "At Red Bank Catholic, we strive to educate the whole person. We believe there are teachable moments inside and outside the classroom, and this project offers us great opportunity to teach our students about energy efficiency, carbon footprint, environmental obligation, and fiscal responsibility."
"As a parish, with two large schools located on a concentrated campus, we are always looking for opportunities to reduce our costs and provide a positive environment for our students to thrive. Not only will this project save money, it will allow our students of both schools the ability to monitor the energy generated by the panels. This will provide a valuable learning experience for our parish family. We have been interested in the possibilities afforded by solar for about 5 years now," stated Don Faistl, St. James Parish Finance Council Member, "The market is much more stable today than it was years ago. The technology has advanced so much that the parish decided to make the investment and help control their long-term costs.
According to Nathan Jovanelly, Region Manager of IGS Solar, this is one of more than 36 commercial projects the provider has completed in the state. "Opportunities for solar in New Jersey continue to expand. Working with St. James and the local team to help control the Parishs energy costs by utilizing the clean, renewable power of the sun has been a great success. We look forward to being a long-standing sustainability partner to the St. James Family and the Diocese of Trenton."
About St. James Church
The parish of St. James began in 1856 under its first pastor, Rev. Killeen. The materials for the building were delivered by barge from Jersey City. From those humble beginnings the parish has grown and has added a convent that houses the Sisters of Mercy, along with an elementary school and a high school dating back to 1879. It continues to be a thriving parish in the center of downtown Red Bank.
About IGS Solar
IGS Solar, a turn-key commercial and residential solar provider with significant solar assets under development, provides businesses, homes, and communities with an opportunity to participate in creating a sustainable energy future with no upfront investment. As an affiliate of IGS Energy, IGS Solar is dedicated to delivering innovative solar energy solutions. For more information, contact Nathan Jovanelly, at 717-439-0786 (nathan.jovanelly@igs.com) or visit IGSsolarpower.com. Connect with IGS Solar at linkedin.com/company/igs-solar.
About Green Energy Construction and Consulting
GECC is a family owned company with years of Renewable Energy development, construction and design experience in the Mid-Atlantic Region and Caribbean. With this experience GECC has grown to be a premier provider of renewable resource technologies and services. GECC and its affiliate development, installation, and financial partners have developed and/or installed over 100 MW of Solar PV in the US and Caribbean. GECC is proud of its partnership with IGS Solar in bringing Solar PV to the Catholic Churches of New Jersey.
Featured Product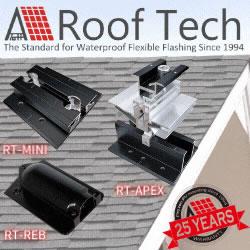 Now Roof Tech brings you the most innovative, watertight mounting systems ever developed for solar photovoltaic systems. Designed and manufactured exclusively for us by Japan's longtime leader in roofing technologies, Roof Tech products are 100% code-compliant and offer fast, simple installation and huge savings on shipping costs due to their compact, rail-less design. Learn more about our full line of versatile PV mounting solutions now available for residential installations. The next generation in rooftop solar mounting solutions."