Expanding availability in Europe, Tigo brings Energy Intelligence (EI) Residential Solar Solution for fast, flexible, and dependable residential solar-plus-storage to Spain.
Tigo Energy, Inc. ("Tigo" or the "Company"), a leading provider of intelligent solar and energy storage solutions, will showcase and launch the Tigo EI Residential Solar Solution to the Iberian market at the Genera Energy and Environment Fair in Madrid on Wednesday, February 22, 2023. Tigo business and engineering representatives will attend the conference to meet with Spanish PV professionals and to show them the peculiarities of the new Tigo all-in-one system.

The Tigo EI Residential Solar Solution for the European market consists of Tigo TS4 Flex MLPE products, a new line of single-phase and three-phase inverters, modular DC-coupled energy storage components, and the Tigo EI Link, which acts as the communications hub and central connection point for all grid, inverter, PV, and battery connections. Through module-level monitoring, energy data from the EI Residential Storage System is processed by Tigo Energy Intelligence software, allowing installers to monitor and manage their fleet of customer systems with a few mouse clicks. Tigo customers in the EU will also benefit from industry-leading warranties and a skilled, multilingual support team to ensure that installers are never on their own with Tigo products.
"The solar market in Spain is expanding rapidly, in terms of installed PV capacity as well as residential sector installs, so Tigo's release of the EI Residential Solution here could not be timed more perfectly," said Pablo Campo Martínez, CEO at DSP Solar. "What makes Tigo so beneficial in the eyes of Spanish installers is the modular and scalable architecture: fast installations and smooth commissioning means more running systems, all managed with a user-friendly monitoring platform characterized by absolute data granularity."
Genera Energy and Environment Fair attendees can learn about the EI Residential Solution by attending one of a series of presentations during the conference. These sessions include participation by Tigo engineers and will be hosted by Grupo Noria (Tuesday, February 21 at 15:00, Wednesday, February 22 at 11:00, and Thursday, February 23 at 15:00 in booth 8-8B04) and by DSP Solar (Wednesday, February 22 at 16:30 in booth 8-8D15).
"Every aspect of the installation process of the EI Residential Solution is shaped around the installer, combining the simplicity of a plug-and-play system with a streamlined process, from installation to commissioning," said Ángel Marrero, renewables product manager at Grupo Noria. "With a stackable architecture, the EI solution brilliantly solves the problem related to space constraints faced by our residential customers. For us as installers, the EI Solution provides detailed remote monitoring with powerful software to make operations and maintenance very efficient. Finally, Tigo's Reclaimed Energy technology is a powerful tool to maximize return on investment and quantify the benefits of optimization in all kinds of PV installations, which benefits installers as well as homeowners."
In addition to an introduction to the new Tigo EI Residential Solution, Genera attendees can also learn more about the Tigo TS4 Flex MLPE platform. Company representatives will also participate in two panel discussions about the benefits of optimization on commercial and industrial (C&I) solar, which are scheduled to take place on Thursday, February 23 at 11:00 at the Technosun booth (8-8B22) and again at 13:00 at the Albasolar booth (nr 10-10G37). Both discussions will be moderated by Gianluca Pieralli, the Tigo Business Development Manager Iberia and Large Project Coordinator.
To learn more about the Tigo Flex MLPE product family and the Tigo EI Residential Solar Solution, please visit the Genera International Energy and Environment Fair (Ifema, Madrid) from February 21 to 23, 2023. To view a list of partners showcasing Tigo solutions or schedule an appointment with a Tigo representative ahead of time, please visit the Tigo scheduling page here.
About Tigo Energy
Founded in 2007, Tigo is a worldwide leader in the development and manufacture of smart hardware and software solutions that enhance safety, increase energy yield, and lower operating costs of residential, commercial, and utility-scale solar systems. Tigo combines its Flex MLPE (Module Level Power Electronics) and solar optimizer technology with intelligent, cloud-based software capabilities for advanced energy monitoring and control. Tigo MLPE products maximize performance, enable real-time energy monitoring, and provide code-required rapid shutdown at the module level. The company also develops and manufactures products such as inverters and battery storage systems for the residential solar-plus-storage market. For more information, please visit www.tigoenergy.com.
About DSP Solar
Founded in 2007, DSP Solar was born from the commitment with the society and the environment, given the incipient climate change. More than a decade later, many professionals in the sector guide their knowledge and good practices under the protection of the maximum "closeness and trust" to the personalized advice of each client, together with the after-sales technical service has led it to become a benchmark in the sector with a portfolio of more than 10,000 professional clients and 1 million items sold as of 2022.
About Grupo Noria
Grupo Noria is the purchasing center that provides service to a group of brands dedicated to the purchase, sale and distribution of electrical, climate, plumbing, telecommunications and renewable material. Among its associates, up to now, there are three outstanding brands: Novelec, Sinelec and Muntaner Electro. The main objective of Grupo Noria is to collaborate with its clients in improving their business processes, offering them a personalized service of the highest quality. The constant search for new and innovative solutions has led the company to offer a continuous improvement of its services, supporting lighting projects, air conditioning, home automation, automation, fluids, pipes, conductors, energy efficiency and VDI networks. The group was formalized in 2013 and has professionals with extensive experience in this sector. Today it works with an ambitious agenda to accelerate its growth, new commitments and entry into new markets. At the beginning of 2022, he joined UNEF as a result of its strategy of commitment to renewable energies. Grupo Noria has a dedicated team and resources that allow it to manage the service to its customers faster.
Featured Product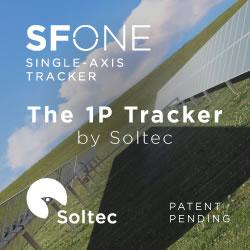 SFOne is the 1P single-axis tracker by Soltec. This tracker combines the mechanical simplicity with the extraordinary expertise of Soltec for more than 18 years. Specially designed for larger 72 an 78 cell modules, this tracker is self-powered thanks to its dedicated module, which results into a lower cost-operational power supply. The SFOne has a 5% less piles than standard competitor, what reduces a 75% the labor time.