New inexpensive, environmentally friendly solar cell shines with potential
The limitations of conventional and current solar cells include high production cost, low operating efficiency and durability, and many cells rely on toxic and scarce materials. Northwestern University researchers have developed a new solar cell that, in principle, will minimize all of these solar energy technology limitations.
In particular, the device is the first to solve the problem of the Grätzel cell, a promising low-cost and environmentally friendly solar cell with a significant disadvantage: it leaks. The dye-sensitized cell's electrolyte is made of an organic liquid, which can leak and corrode the solar cell itself.
The Northwestern cell exhibits the highest conversion efficiency (approximately 10.2 percent) so far reported for a solid-state solar cell equipped with a dye sensitizer. This value is close to the highest reported performance for a Grätzel cell, approximately 11 to 12 percent. (Conventional solar cells made from highly purified silicon can convert roughly 20 percent of incoming sunlight.)
Comments (0)
This post does not have any comments. Be the first to leave a comment below.
---
Post A Comment
You must be logged in before you can post a comment. Login now.
Featured Product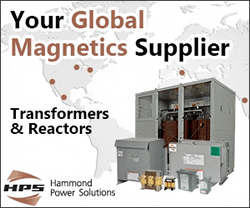 HPS is the largest manufacturer of dry-type transformers in North America. We engineer and manufacture a wide range of standard and custom transformers that are exported globally in electrical equipment and systems. We support solid industries such as oil and gas, mining, steel, waste and water treatment, and wind power generation. HPS leads the industry in these markets through its technical design strength, breadth of product, and manufacturing capabilities, making HPS a stronger company both fundamentally and financially.