California adopts first-in-nation energy storage plan
In a bold move being closely watched by utilities, environmentalists and the clean technology industry, California adopted the nation's first energy storage mandate for utilities Thursday.
State regulators with the California Public Utilities Commission, meeting in Redding, unanimously approved Commissioner Carla Peterman's groundbreaking proposal that requires PG&E, Southern California Edison and San Diego Gas & Electric to expand their capacity to store electricity, including renewable energy generated from solar and wind.
"The decision lays out an energy storage procurement policy guided by three principals: optimization of the grid, integration of renewable energy and reduction of greenhouse gas emissions," said Peterman, a rising star who was appointed to the agency by Gov. Jerry Brown in late 2012.
The state's three investor-owned utilities must collectively buy 1.3 gigawatts, or 1,325 megawatts, of energy storage capacity by the end of 2020--or roughly enough energy to supply nearly 1 million homes. The ambitious 1.3 gigawatts is a capacity target, because different storage technologies have different rates at which they can accept and discharge energy, and the mandate aims to be technology neutral.
Comments (0)
This post does not have any comments. Be the first to leave a comment below.
---
Post A Comment
You must be logged in before you can post a comment. Login now.
Featured Product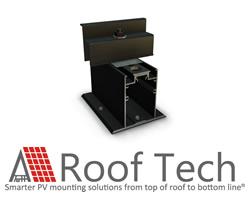 The most compact versatile rail-less PV mounting system under the sun. Instead of placing solar panels on top of long rails, simply attach E Mount AIR to rafters or the roof decking. Once panels are fastened to the roof, the system array is electrically bonded. The result is a visually seamless PV installation that stands the test of time. - Truly "One With The Roof". - PE stamped cert. letters available, UL 2703 Classified, ASTM 2140 fully waterproof. The one and only with integrated flexible flashing certified by the ICC! All the best quality. Only from Roof Tech