NREL Publishes Landmark Residential Solar PV + Energy Storage Cost Breakdown
Joshua S Hill for CleanTechnica: The US National Renewable Energy Laboratory has published a landmark report extensively detailing component and system-level cost breakdowns for residential PV solar systems equipped with energy storage.
The decreasing cost of solar systems has been well documented over the last several years, with increased innovation and decreasing manufacturing costs combining to make solar PV a competitive and economic choice for residents and utilities across the United States, and in fact the world. As such, the costs attributed to the development of residential and utility-scale solar projects has been well defined for some time — even though that figure keeps decreasing.
However, in the same way that technological innovation and manufacturing has helped to lower the costs of solar PV projects, the same catalysts have acted on energy storage technology. As a result, the attractiveness and economic viability of energy storage systems has increased dramatically over the last year or two, to the point where energy storage options are more and more frequently being considered to run in tandem with solar systems.
Researchers from the US Department of Energy (DOE) National Renewable Energy Laboratory (NREL) have therefore published what is currently the most detailed component- and system-level cost breakdowns for residential solar PV equipped with energy storage. The report, Installed Cost Benchmarks and Deployment Barriers for Residential Solar Photovoltaics with Energy Storage: Q1 2016, also serves to quantify the previously unknown or uncertain soft costs for combined solar PV and energy storage. Full Article:
Comments (0)
This post does not have any comments. Be the first to leave a comment below.
---
Post A Comment
You must be logged in before you can post a comment. Login now.
Featured Product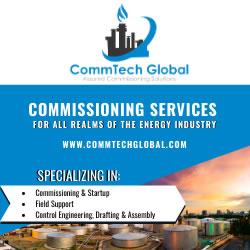 CommTech Global Solutions, LLC, provides professional and reliable commissioning services to customers in all realms of the energy industry. We blend our skills in engineering and technology with innovative business models, offering a complete range of services to assist you for a successful and in compliance operational startup. Consolidation of all our service domains gives our clients a comprehensive set of expertise and far-reaching experience on each project.