First Batch of World's Largest Tidal-Flat 300MW Utility Scale Solar PV Plant Successfully Connected to the Grid
The first batch of units of world's largest tidal-flat utility PV plant (300 MW), contracted by the 12th Bureau of Hydropower, have been successfully connected to the grid for power generation. This completed the annual grid connection goal safely, efficiently and satisfactorily.
The project, which is now the world's largest coastal tidal flat solar PV plant, has an installed capacity of 300MW, spread across a water surface area of 4,516 acres. The project has been constructed using a total of 685,216 440 Watt monocrystalline silicon modules combined with Solis-(215-255)K-EHV-5G 1500V string inverters. A new 220kV booster station has also been built for the site.
This project uses Solis-(215-255)K-EHV-5G 1500V string inverters. The solution is comprehensively optimized and protected from the aspects of waterproofing, sandproofing, corrosion prevention, structure and internal electrical arrangement and protective algorithm. This ensures the inverter can operate for a long time, efficiently, safely and stably in the harsh environment. The system solution is high voltage, so the power transmission loss is small, delivering good economic benefits in energy savings and emission reductions.
The PV power station comprises 75 PV generation unit arrays. The electricity generated from each array is converted into AC power using Solis 255kW string inverters, before being boosted to 35kV by a box-type substation. This is then connected to the distribution room of 35kV/220kV booster station through 35kV collector lines for grid connection and transmission.
In terms of quality management, all materials were inspected in accordance with relevant requirements before entering the site and the quality of raw materials was strictly controlled in accordance with relevant requirements. Before construction began, tight quality boundaries were set, solutions were sought for identified project challenges and scientific methods were used to effectively control the quality of the project. In terms of safety management, Solis strictly adhered to the policy of "safety first, prevention first, and comprehensive management", clarified safety responsibilities, and implemented various preventive measures.
As the power plant is located in the tidal flat area, in order to cope with the tidal fluctuations, the string inverters were installed at a greater than normal height of at least 5 meters above the ground. The inverters also needed to meet demanding conditions, and the Solis inverters, which boast IP66 protection level, excellent design, adaptation and technical benefits perfectly matched this project.
"This project was extremely tight scheduled and as the construction was on a tidal flat, the construction progress was affected by tidal fluctuations which made the construction more difficult." Said the Site Manager, "we increased the investment of personnel and equipment and optimized the construction plan to ensure that the project was completed on time."
"The stability and reliability of inverters is especially important in PV systems. Electrical and electronic products are easily corroded in tidal flats because of the high content of salt and water vapor in the air", Said Charles Hua, Senior Product Manager at Solis, "Our inverter's protection level is NEMA 4X with corrosion resistance to meet the requirements of high strength salt spray and prevent aggressive liquids from entering the body of the inverter even in force 12 winds."
After the project is put into operation, the generating capacity is estimated to be 400,000,000 kW •h / year and deliver a reduction of 350, 000 tons of CO2, 12,000 tons of SO2, and 110,000 tons of Carbon dust. Solis commercial scale string inverters boast an abundance of technological features which can adapt to a variety of environments. We look forward to seeing more applications utilizing Solis inverters. We stand committed to our mission - Developing Technology to Power the World with Clean Energy.
About Solis
Established in 2005, Ginlong (Solis) Technologies (Stock Code: 300763.SZ) is one of the most experienced and largest manufacturers of PV string inverters. Presented under the Solis brand, the company's portfolio consists of innovative string inverter technology with first-class proven reliability in the field and 3rd-party validation. Armed with a global supply chain, world-class R&D and manufacturing capabilities, Solis optimizes its inverters for each regional market, servicing and supporting its customers with its team of local experts. For more information on how Solis delivers value while maximizing reliability and cost-saving for residential, commercial, and utility customers, visit solisinverters.com
Comments (0)
This post does not have any comments. Be the first to leave a comment below.
---
Post A Comment
You must be logged in before you can post a comment. Login now.
Featured Product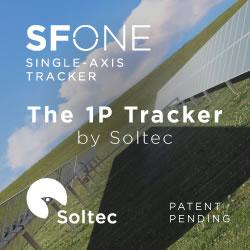 SFOne is the 1P single-axis tracker by Soltec. This tracker combines the mechanical simplicity with the extraordinary expertise of Soltec for more than 18 years. Specially designed for larger 72 an 78 cell modules, this tracker is self-powered thanks to its dedicated module, which results into a lower cost-operational power supply. The SFOne has a 5% less piles than standard competitor, what reduces a 75% the labor time.