The wheelchair's fuel-cell system is a 24V 250W PEFC Air Cooling External Humidifier. It drives at a max. speed of 6km/h and the driving range is 10hours, 60km (H2 Storage 190g/4 canisters) and 5hours, 30km (H2 Storage 100g/2 canisters). With the Japanese population aging rapidly, the fuel-cell wheelchair and cart applications have a bright future. Promoted as "Eco" fuel-cell powered means turning the "silver market" into green. Read the full story at TreeHugger.
Starting next year drivers in the Los Angeles and New York areas will be able to lease a fleet of 500 all-electric Coopers from BMW's Mini division. The Mini E, as it's called, will be able to travel 150 miles on a single charge with a top speed of 95 miles per hour. The Mini E will be a two-seater. The space usually taken up by back seats in a gas-powered Mini will be taken up by lithium-ion batteries. While the initial start may be quick, the Mini E will accelerate up to 62 miles (100 kilometers) per hour in 8.5 seconds, which is about average for a modern car. CNN report.
Records 1756 to 1757 of 1757
Featured Product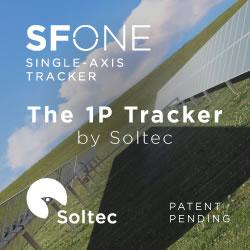 Under the slogan "engineered for greatness", the SF8 tracker aims to revolutionize the photovoltaic market with its new minimum 2x60 configuration and 4 to 6-strings. This tracker is elegantly designed while it reinforces its structure to perform in any terrain. In addition, the SF8 tracker increases the rigidity of its structure by 22% more than the previous generation of Soltec trackers, the SF7. The SF8 is specially designed for larger 72 and 78 cell modules, an increasing market trend.