With major increases in availability of solar energy worldwide, financing models continue to gain in importance. Intersolar Europe, the world's leading exhibition for the solar industry and its partners, and the Intersolar Europe Conference are therefore taking on this topic on 30 May to 2 June 2017.
The extremely versatile SimpleBlock provides a variety of options through compatibility with any rack manufacturer's connection points (L-feet, posts), and will fit any double-lock standing seam.
Intersolar Europe is presenting new developments in financing
The company will present its innovations to the public in June at the leading international trade fair Intersolar Europe in Munich
Energy Lab 2.0 demonstrates how a successful global energy transition is possible at Intersolar Europe
Intersolar Europe, the world's leading exhibition for the solar industry and its partners, and the accompanying Intersolar Europe Conference are taking an in-depth look at large-scale power plants and the opportunities and challenges they bring, including operation and maintenance (O&M), financing and
The Rapid 16 module clamp on show at Intersolar sees the Schletter Group introducing a module clamp family that has been completely re-designed from scratch. With just a handful of product variants, this intelligently designed clamp covers the entire range of applications. Thanks to rotatable clamps and flexible clamping widths, it is suitable for mounting all standard module sizes - with both vertical and horizontal clamping.
The energy storage market is evolving. Thanks to innovative technologies, batteries and energy storage systems are increasingly able to store large quantities of energy from renewable sources. The potential for storing or distributing power from photovoltaic (PV) systems is far from exhausted, and ever more market opportunities are being created, for example with the help of mobile storage systems.
Intersolar Europe is once again set to serve as the most important industry meeting point for the solar industry and its partners. Manufacturers, distributors, service providers and suppliers will gather in Munich to discuss the latest trends, technologies and products.
Today, it is primarily homeowners who benefit from installing photovoltaic (PV) systems on their roofs. New models, however, intend for tenants to also share in what is known as the direct power concept and, in turn, take part in the urban energy transition. This topic will therefore be under the spotlight at Intersolar Europe, the world's leading exhibition for the solar industry and its partners, which will be held from May 31-June 2, 2017 in Munich.
The energy storage industry is evolving: ees Europe, the continent's largest exhibition for batteries and energy storage systems, is setting a new exhibitor record, an achievement which is also being felt at the accompanying ees Europe Conference.
Intersolar North America 2017 will be the event's 10th anniversary; registration now available on the Intersolar and ees North America websites
Records 76 to 87 of 87
Featured Product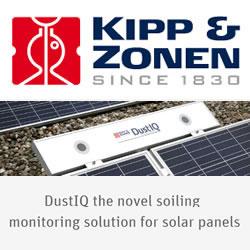 Soiling of the panel glass is one of the major problems in the rapidly expanding solar energy market, with the attendant loss of efficiency and reduction in performance ratios. Now, there's a new, simple and very cost-effective alternative. Based on Kipp & Zonen's unique Optical Soiling Measurement (OSM) technology, DustIQ can be easily added to new or existing solar arrays and integrated into plant management systems. The unit is mounted to the frame of a PV panel and does not need sunlight to operate. It continuously measures the transmission loss through glass caused by soiling, so that the reduction in light reaching the solar cells can be calculated.