A study by the Oak Ridge National Laboratory concludes that with targeted deployment policies, focusing first on New York City and Los Angeles, fuel cell vehicles could achieve 50 percent market share by 2030.
Fuel Cell Technology Update
A study by the Oak Ridge National Laboratory concludes that with targeted deployment policies, focusing first on New York City and Los Angeles, fuel cell vehicles could achieve 50 percent market share by 2030.
Fuel Cell Technology Update - March 2008
---
MESSAGE FROM THE US FUEL CELL COUNCIL
A new report from Oak Ridge National Laboratory entitled Analysis of the Transition to Hydrogen Fuel Cell Vehicles and the Potential Hydrogen Energy Infrastructure Requirements, identifies the Los Angeles area as one of two ideal urban centers where a transition to hydrogen as a motor fuel will take shape. The report was made available to the public this week without much fanfare, and we thought you might be interested in taking a look.
The study presents readers with analysis on early hydrogen infrastructure scenarios for New York City and Los Angeles. Specifically, the study concludes that with targeted deployment policies, focusing first on these two metro areas, fuel cell vehicles could achieve 50 percent market share by 2030. Achieving this would require supportive policies, including federal cost sharing for vehicles and infrastructure, but also including policies like California's ZEV regulations, which currently anticipate tens of thousands of fuel cell vehicles over the next 10 years, in California and in states that have adopted ZEV.
Cumulative governmental costs for such a transition strategy are estimated to be as low as $10 billion over 14 years, more than the federal government now invests in fuel cells and hydrogen but relatively affordable and much less than the current incentives for ethanol. The analysis concludes that hydrogen can be produced at a highly competitive price compared to gasoline from natural gas, biofuels or other feedstocks. With fuel cell test vehicles achieving about 70 miles per gallon equivalent, the hydrogen transition promises lower prices at the pump for American drivers: less than $1.50 per gallon equivalent on a dollars-per-distance-travelled basis.
Dramatic reductions in carbon emissions are also forecast, depending on feedstock and what the report calls "carbon policy." There is also the prospect of affordably gasifying biomass, with the attendant possibility of sequestering CO2 – a system that would actually draw down CO2 from the atmosphere.
The title of the report is: Analysis of the Transition to Hydrogen Fuel Cell Vehicles and the Potential Hydrogen Energy Infrastructure Requirements. A copy is linked here.
TRANSPORTATION APPLICATIONS
Morgan to Unveil LifeCar at Geneva Motor Show.
Morgan Motor Company is slated to unveil its new hydrogen-powered LifeCar, based on the design of its Aero-8 roadster, at the Geneva Motor Show next week. The vehicle combines fuel cells and an energy storage system for a driving range of 250 miles (400km) per tank of hydrogen. Morgan™s collaborators on the project were Oscar Automotive, Cranfield University, Oxford University and Linde AG.
Virgin to Offer Limo Service in Fuel Cell Equinoxes from LAX.
Virgin Atlantic will offer passengers a Chevrolet Equinox Hydrogen Fuel Cell car as part of its Upper Class limo service. Initially passengers in Los Angeles will take part in the trial but the service is expected to be extended to New York City later this year. Initially three Equinox vehicles will become part of the fleet of cars used to transport Upper Class passengers to and from Los Angeles International Airport.
Airbus Successfully Tests Fuel Cells in Aircraft.
Airbus has successfully tested a fuel cell system for the first time on a civil aircraft, powering the back-up hydraulic and electric power systems. During the test, the fuel cell generated up to 20 kW of electrical power to the aircraft's electric motor pump, the back-up hydraulic circuit and the aircraft's ailerons.
H2 Logic to Supply Vehicles and Fueling Stations to Denmark Project.
H2 Logic A/S has been selected to supply seven fuel cell hybrid vehicles and six hydrogen filling stations to a $2.5 million project called Hydrogen Link West Denmark. The vehicles and stations are to be delivered and opened in June 2008.
Ballard Signs Five Year Agreement With New Flyer.
Ballard Power Systems has signed a five-year agreement with New Flyer Industries Inc. to supply fuel cell modules for use in New Flyer shuttle buses and work on joint preparation of bids for transit agency shuttle bus programs, with an initial focus on publicly-funded programs in Canada. Under the agreement, New Flyer will develop and manufacture a shuttle bus specifically suited for Ballard's fuel cell technology and Ballard's existing fuel cell module will be integrated into the New Flyer shuttle bus chassis.
South Carolina Welcomes First Hydrogen Vehicle.
The Center for Hydrogen Research in South Carolina and URS Washington Division rolled out the state™s first hydrogen fueled vehicle, the eTec Hydrogen Internal Combustion Engine (HICE) vehicle, a 2007 Chevrolet Silverado 1500. The vehicle was converted to be fueled by pure hydrogen from gasoline by Electric Transportation Engineering Corporation (eTec) with technical assistance from project partners Roush Industries and Powertech Labs. A $175,000.00 grant provided by URS Washington Division was used to fund the project.
Versa Power Systems Integrates SOFC into UUV.
Versa Power Systems, Inc. successfully integrated its solid oxide fuel cell (SOFC) technology into an experimental propulsion system for stealth Unmanned Undersea Vehicles (UUV) under development by the US Navy. In tests by the Naval Undersea Warfare Center (NUWC) in Newport, R.I., the SOFC stack would allow a UUV that is 21 inches in diameter and approximately 20 feet long to run continuously for 30-60 hours, depending on the power demand.
Adaptive Materials Receives Military Funding.
A Phase II SBIR grant of $2.35 million was awarded to Adaptive Materials to fund the continuing development of its portable solid oxide fuel cell technology for unmanned aerial vehicles (UAV), military robots and communications devices. This award is an extension of Adaptive Materials' DARPA-sponsored project through the Air Force Research Laboratory at Wright-Patterson Air Force Base to improve power sources for UAVs, including integration and flight testing.
STATIONARY APPLICATIONS
CFCL Receives Potential 50,000 Unit Order, Invests in New Manufacturing Plant.
Ceramic Fuel Cells Ltd (CFCL) has received a volume order from Nuon, The Netherlands™ largest energy company. CFCL and Nuon have agreed on a set of performance targets for a commercial unit and on CFCL™s achievement of these targets, Nuon will order 50,000 fuel cell systems, to be delivered over a five year period from June 2009. CFCL is also investing '¬12.4 million in the construction of a manufacturing plant in Heinsberg, Germany for the commercial production of its fuel cell systems.
New Residential Fuel Cell Program in Japan.
The Fukuoka prefectural government in Japan will start an experiment using fuel cells at 150 households in two housing complexes, claiming to be the world's first example of setting up household fuel cell systems on such a large scale, with 100 units in a single concentrated area. The program will be conducted jointly along with Nippon Oil Corp and Saibu Gas Energy Co.
Wrtsil to Deliver SOFC Fueled by Landfill Gas.
Wrtsil will deliver a fuel cell power plant based its planar SOFC technology fueled by biogas or methane originating from a nearby landfill to the Vaasa Housing Fair site in Western Finland. At the first stage, it will produce an electric output of approximately 20 kW and a thermal output of 14 to 17 kW. The fuel cell will produce both electricity and heating for the fair site.
HydroGen Ships 400 kW Module.
HydroGen Corporation has produced and delivered its first phosphoric acid fuel cell (PAFC) 400 kW module ahead of schedule. The module was shipped to the Company's 400 kW commercial demonstration power plant at the chlor-alkali facility owned and operated by ASHTA Chemicals, Inc. in Ohio.
Ansaldo Enters Partnership with Enel.
Ansaldo Fuel Cells has signed a partnership agreement with Enel to develop, build and test an integrated trigeneration system with a molten carbonate fuel cells generation plant using Ansaldo Fuel Cells technology. The agreement covers the joint construction of a 0.5 MW power plant by mid-2009 at Enel™s research center in Livorno, Italy.
Acumentrics Selected for CAN$6 Million Project.
The Ontario Centres of Excellence (OCE) Inc. and its partners will invest CAN$28 million in the research and development of six groundbreaking clean energy projects for Ontario. Acumentrics has been selected for a $6 million project to install a 50kW SOFC fuel cell system to provide heat and power for the University of Toronto at Mississauga™s Hazel McCallion Academic Learning Centre.
PORTABLE/BACKUP POWER
New Mexico National Guard Installs Fuel Cells.
The New Mexico National Guard has installed 20 Plug Power GenCore® fuel cell units, most of them at the Guard's headquarters, along with some at its Rio Rancho armory and at Santa Fe Aviation,
to provide backup electricity in emergencies for statewide communications and computer systems.
The demonstration project will be monitored by the U.S. Army Construction Engineering Research Laboratory, as partners to the National Automotive Center.
Emerson to Integrate ReliOn Fuel Cells into Outside Plant Enclosures.
ReliOn and Emerson Network Power have entered an agreement that will integrate ReliOn™s fuel cell products to the Emerson suite of NetXtend"¢ Integrated Enclosure Solutions for backup power.
IdaTech Provides Power for Motorola Exhibit.
IdaTech plc installed and operated its ElectraGen"¢5 XTR system in Motorola™s "Real World Showcase" exhibit at the GSMA Mobile World Congress conference in Barcelona, Spain a few weeks ago. The IdaTech fuel cell powered Motorola's telecommunications equipment - including a BTS station, LCD display and a PC - for the duration of the event.
ElectroPS to Introduce New Unit.
Electro Power Systems (ElectroPS) will be introducing the Electro7"¢ 19 rack mountable power system, at an upcoming trade show. The Electro7 19 has been specifically designed for streamlined integration with the new generation of shelters being deployed within the telecom industry, and can deliver up to 7-kW of 24/7 on-demand power for critical backup applications in any number of business sectors.
SFC Smart Fuel Cell Joins with Two More Manufacturers; Awarded Another Defense Contract.
Two electric vehicle manufacturers have opted to integrate SFC Smart Fuel Cell™s EFOY fuel cell as serial equipment in their vehicles. The Dutch bicycle company van Raam and Veloform GmbH, the German manufacturer of the well-known CityCruiser Velotaxi, will both start manufacturing particular product lines with EFOY power supply as standard equipment. SFC Smart Fuel Cell AG has also been awarded another commercial order worth 350,000 Euros for its portable fuel cells in a defense application for an international peace-keeping mission.
MICRO FUEL CELLS
MTI Unveils New Prototype.
MTI MicroFuel Cells (MTI Micro) unveiled its new Mobion® powered direct methanol fuel cell (DMFC) camera-grip prototype that works like a camera battery-pack grip for digital single-lens reflex (DSLR) cameras. The prototype is designed to provide twice the power as existing camera battery-pack grips and can be refilled with methanol for instant power.
H2Go RC Car Wins 2008 ToyAward.
Corgi International™s H2Go hydrogen-powered remote-controlled (RC) car has won the 2008 ToyAward in the Electronics & Technology category. A total of 24 products in eight categories were nominated for the innovation award. The car incorporates a fuel cell from Horizon Fuel Cell Technologies " it is very cool, I saw it first hand at the FC Expo in Tokyo.
FUELS/REFORMERS/STORAGE
NHA Launches New Website.
The National Hydrogen Association's Hydrogen Education Foundation has launched www.H2andYou.org to increase understanding about hydrogen. The site will answer common questions; present examples of market-ready hydrogen products that provide real energy solutions today; and offer video, podcasts and links to hydrogen news stories.
MATERIALS/COMPONENTS/TESTING
IKTS Opens SOFC Test Center.
The Fraunhofer-Institute for Ceramic Technologies and Systems (IKTS) in Germany has recently opened its new SOFC test center for verifying the practical performance of SOFC stacks and systems using FuelCon™s Evaluator-S test stations.
REPORTS/MARKET STUDIES
Fuel Cells: A Global Strategic Business Report.
"Fuel Cells: A Global Strategic Business Report", published by Global Industry Analysts, Inc., provides a comprehensive review of market trends, major developments, mergers, acquisitions, profiles of major players and other strategic industry activities. Analyses are presented for major geographic markets such as US, Canada, Japan, France, Germany, Italy and the UK for the period 2003 through 2012.
MISCELLANEOUS
Pacific Fuel Cell Relocates.
Pacific Fuel Cell Corp. is relocating its Riverside, California-based membrane electrode assembly (MEA) research and development facility to its 24,000-square-foot Willoughby, Ohio-based plant.
CONFERENCES
For a complete list of conferences, please go to http://www.fuelcells.org/news/conf.html
European Fuels Conference.
The 9th Annual Meeting of The European Fuels Conference and Alternative Fuels Symposium will take place March 11-13, 2008, in Paris, France.
25th International Battery Seminar and Exhibit.
The 25th International Battery Seminar and Exhibit: Primary & Secondary Batteries - Small Fuel Cells - Other Technologies will be held March 17-20, 2008, at the Broward County Convention Center in Fort Lauderdale, Florida.
NHA Annual Hydrogen Conference & Hydrogen Expo US 2008.
The National Hydrogen Association™s National Conference 2008, œRamping Up Commercialization and the Hydrogen Expo US 2008 exhibition will be held at the Sacramento Convention Center in Sacramento, California on March 30-April 4, 2008.
Group Exhibit H2/FC at Hannover Messe 2008
The Group Exhibit H2/FC is a specialized exhibit area inside the Hannover Industry Fair, which will be held in Hannover, Germany from April 21-25, 2008.
Small Fuel Cells 2008.
The 10th Annual International Conference Small Fuel CellsSM 2008: Portable & Micro Fuel Cells
For Commercial & Military Applications will be held at the Omni Hotel at CNN Center in Atlanta, Georgia, from April 30-May 2, 2008.
2008 Ohio Fuel Cell Symposium.
The 2008 Ohio Fuel Cell Symposium: Energy through Synergy: Industry, Entrepreneurship and Academics Fueling Economic Growth will be held May 13-14, 2008, at the Quaker Square Inn at the University of Akron..
Fuel Cell 2008.
The 2008 Fuel Cell Conference will take place May 21-22, 2008, at the Hyatt Regency Long Beach in Long Beach, California.
Hydrail Conference.
The Fourth International Hydrail Conference will be held on June 9, 2008, at The Oceanographic City of Science in Valencia, Spain.
Hydrogen on Islands.
An International Conference on Hydrogen on Islands will be held in Bol, Island of Bra , Croatia, on October 22-25, 2008.
The content & opinions in this article are the author's and do not necessarily represent the views of AltEnergyMag
---
Comments (0)
This post does not have any comments. Be the first to leave a comment below.
---
Post A Comment
You must be logged in before you can post a comment. Login now.
Featured Product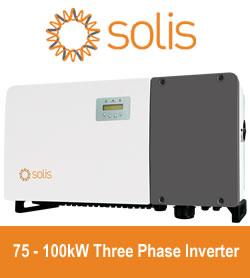 Solis75kW - 100kW series high-power string inverters are widely used in industrial and commercial rooftops. Solis's new three-phase string inverter is the first choice for industrial and commercial photovoltaics. 75-100kW three phase series string inverter have Maximum 28 strings input, support "Y" type connection in DC side. Maximum string input current 13A, support bifacial modules access.Supports anti-PID function to improve system efficiency.