Lithium vanadium phosphate batteries add vanadium to the cathode of electric vehicle batteries. The result is a power source capable of producing more than six times the power of the typical lithium-ion batteries in such electric vehicles as the Chevrolet Volt or the Nissan LEAF (210 watts of power as opposed to 33 watts).
Why is vanadium important to the renewable energy sector?
Bill Radvak | American Vanadium Corp.
What is vanadium and why is it important to the renewable energy sector?
Vanadium is the 23rd element on the periodic table, and is classified as a soft silver-grey ductile transition metal. Most vanadium - about 90% globally - is used as an additive to improve steel. Recently, however, it is vanadium's status as a strategic metal with "green energy" applications that has many powerful people excited, including President Obama.
Leading the way in new grid scale renewable energy storage solutions are vanadium flow batteries. These batteries allow inherently intermittent energy supplies to be regulated from moment to moment. The electricity industry refers to such energy as 'dispatchable energy' or 'dispatchable power', which enables the grid to balance the amount of energy being put into the wires with the demand arising from consumers. These mass energy storage solutions are designed to help America deliver on its objectives for clean energy, energy independence and self-sufficiency, as well as targets for the reduction of CO2 and greenhouse gases.
Vanadium flow batteries utilize vanadium's unique characteristics for rechargeable energy storage, which is critical to renewable and dispatchable power systems. Research facilities around the world are investing in vanadium flow battery research and development to meet the projected global demand. The vanadium flow battery has virtually unlimited storage capacity with the ability to scale the batteries. As a result, the vanadium flow battery's value to the emerging renewable energy technology sector is compelling for many utility companies and grid operators.
How is vanadium important to the electric vehicle market?
Lithium vanadium phosphate batteries add vanadium to the cathode of electric vehicle batteries. The result is a power source capable of producing more than six times the power of the typical lithium-ion batteries in such electric vehicles as the Chevrolet Volt or the Nissan LEAF (210 watts of power as opposed to 33 watts). According to the head of global research with Torontobased Byron Capital Markets, Jon Hykawy, Ph.D., MBA, at six times the power rating of other electric vehicle (EV) batteries, lithium-vanadium batteries are relatively simple method of producing much greater power and range for the next generation of electric vehicle batteries designed to compete with 'internal combustion'.
Subaru chose a lithium-vanadium battery for its prototype G4e all-electric vehicle, significantly increasing the car's range while doubling that of their previous advanced EV. With a range of 120 miles, the G4e's range far surpasses that of the Chevy Volt's 35 miles (56 km) on electric power alone. In addition to increasing range, lithium-vanadium batteries can also be recharged faster: 10 hours for the Chevy Volt versus 8 hours for the G4e and only 15 minutes for an 80% quick charge.
How do vanadium flow batteries work?
Vanadium flow batteries are distinguished from fuel cells by the fact that the chemical reaction involved is reversible – meaning that that they can be recharged without replacing the active chemicals. Also, it is the only battery where the same metal is on both the positive side and the negative side – thereby requiring a significant amount of vanadium. An important factor in the vanadium flow battery is that, in contrast to rechargeable secondary batteries, the power and energy density are independent of each other, making them a more easily scalable technology. Nearly an unlimited capacity is attainable simply by using larger and larger storage tanks, which can be left completely charged or discharged for long periods of time with no negative effects, making it perfect for UPS backup and dispatchable power solutions for facilities.
What is the history of the vanadium flow battery?
Importantly, the vanadium flow battery is not a new technology; it is the product of over 25 years of research, development, testing and evaluation in Australia, Europe, North America, China and Japan.
The present form of the vanadium flow battery (with sulfuric acid electrolytes) was patented by the University of New South Wales in Australia in 1986. An earlier German patent on a titanium chloride flow battery was registered and granted in July 1954 to Dr. Walter Kango, but most of the development of flow batteries was carried out by NASA researchers in the 1970s. The first known successful demonstration and commercial development of the all-vanadium flow battery employing vanadium in a solution of sulfuric acid in each half of the battery was by Maria Skyllas-Kazacos and co-workers at the University of New South Wales in the 1980s.
Who is developing and commercializing vanadium batteries?
There are a number of very large corporations around the world whom have made, and that are seriously considering major investments into dispatchable power solutions including Sumitomo of Japan which has been working on vanadium flow batteries for over 20 years. In China there are a number of companies developing vanadium flow batteries and two are scaling up their production: Dalian Rongke Power Co., Ltd, and Prudent Energy (www.pdenergy.com). Additionally, there are currently a number of suppliers and developers of these battery systems including Ashlawn Energy (www.ashlawnenergy.com) in the United States, Ireland's Renewable Energy Dynamics (RED-T) (www.poweringnow.com), Cellstrom GmbH (www.cellstrom.com) in Austria, and Thailand's Cellennium (www.vanadiumbattery.com).
Why do you believe vanadium is a critical element?
The U.S. government has listed vanadium as an element to watch and recognizes that it needs to take a serious look at obtaining a secure supply of vanadium. The general "street" knowledge about vanadium has increased dramatically of late as the U.S. clearly understands the new critical uses that vanadium will play in our everyday life. The U.S. Department of Energy said that "the electric grid is the world's largest supply chain without a warehouse." There is a need to build these "warehouses", and one of the most advanced mass storage batteries available today is the vanadium flow batteries, which is essentially a massive vat of vanadium in dilute sulphuric acid. Allowing the continuous storing and discharging of dispatchable energy; mass storage batteries enable utilities to deliver specific amounts of electricity at specific times, making renewables such as wind and solar grid-friendly.
What is the global market for vanadium?
It is important to understand that current market forecasts do not build in any future demand due to the adoption of grid scale energy storage and the related use of vanadium in flow batteries for mass power storage, which could dwarf all other uses combined. In that market, China is leading the charge to adopt energy storage for renewable energy applications and is specifically investing in vanadium flow batteries. China has a target of 15% of their energy coming from renewable resources by 2020, a target they will likely surpass. In one project alone they will invest $2 billion into 600 MW of renewable energy coupled with 110 MW of energy storage.
In the past 10 years, world consumption has grown at approximately 6.4% while in China alone the growth has been about per year 20.5%. With the BRIC countries widely expected to significantly increase their specific use of vanadium and even without building in demand from vanadium battery applications, global vanadium consumption is predicted to double by 2020. Vanadium consumption growth is fuelled by use of high strength low alloy steels, which are replacing low strength carbon manganese steels in many applications due to economic drivers (lower total cost, less energy consumption, less pollution, less capital employed). International competition for vanadium is climbing, the global demand for vanadium is approximately six times that of the U.S., and growing at a faster rate as emerging economies realize the value of using vanadium alloys and as they develop their own renewable energy economies. As recently as 2005, a simple change in building codes turned China from the world's largest vanadium exporter to a net importer, causing a 450% increase in vanadium prices in less than a year.
To date, China has regarded vanadium as a strategic national interest while being quite restrictive and protective in terms of vanadium exploration and mining. Currently, around 85% of vanadium consumption demand in China stems from the steelmaking process. A major pillar of China's 12th five-year economic plan, meanwhile, is the production of higher quality steel, which will further increase that nation's demand for vanadium. In the future new buildings designed in China will no longer be able to utilize Grade II rebar, which does not include vanadium in its composition. While China's current rebar products include Grade II, Grade III and Grade IV, the most widely used rebar in China remains Grade II, a trend that is behind that of other advanced economies such as the U.S., Japan, and the U.K., which use Grade III and Grade IV rebar. By taking China's current production level of Grade II rebar, and then calculating the amount of vanadium required to replace that production with Grade III and Grade IV rebar, an additional 27,000 MT of vanadium demand will exist per year. Forecasted vanadium production won't be able to meet the forecasted consumption levels until 2017.
When and why was American Vanadium founded?
American Vanadium, www.americanvanadium.com, (TSX.V: AVC) was founded in 2006 to develop the Gibellini Project, a vanadium deposit located in Nevada. Vanadium is growing in importance as an alloying metal used to strengthen steel, as well as in emerging uses with mass storage cells for renewable energy and lithium vanadium batteries for electric vehicles. The company's Gibellini Vanadium Project is unique in its ability to be able to produce vanadium for the steel and alloying industries as well as vanadium electrolyte for use in vanadium flow batteries for grid scale energy storage. American Vanadium has recently completed a Feasibility Study on its Gibellini Project and is now engaged in the permitting process. Once in production, the Gibellini Project will be the only vanadium mine in the United States, producing approximately 25% of the U.S. needs and 4-5% of the world's current vanadium supply.
Bill Radvak, President & CEO American Vanadium Corp.
As the President & CEO of American Vanadium, Bill Radvak oversees the development of the company's Nevada-based Gibellini Project and business development for all strategic vanadium market related opportunities. A highly experienced, strategic leader with a successful track record of delivering new projects to market, Mr. Radvak brings over 20 years of management experience in both mining and technology to his senior operating executive role.
Prior to joining American Vanadium as President and CEO in January 2010, Mr. Radvak was a Founder and CEO of Response Biomedical, a publicly listed medical device company that commercializes rapid immunoassay diagnostic tests. Over a period of 16 years, Mr. Radvak led Response Biomedical from its evolution to a 90-employee company with marketing partnerships with 3M and Roche Diagnostics, and raised in excess of $50 million in public offerings. Response Biomedical was ranked as #100 on the 2005 Deloitte Technology Fast 500, which is a ranking of the 500 fastest growing technology companies in North America.
Mr. Radvak received a Bachelor of Applied Science, Mining and Mineral Process Engineering Degree from the University of British Columbia in 1986. Mr. Radvak lives and works in Vancouver, British Columbia, Canada.
The content & opinions in this article are the author's and do not necessarily represent the views of AltEnergyMag
---
Comments (0)
This post does not have any comments. Be the first to leave a comment below.
---
Post A Comment
You must be logged in before you can post a comment. Login now.
Featured Product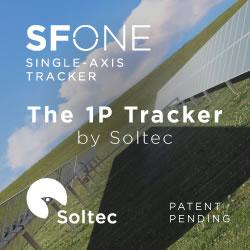 SFOne is the 1P single-axis tracker by Soltec. This tracker combines the mechanical simplicity with the extraordinary expertise of Soltec for more than 18 years. Specially designed for larger 72 an 78 cell modules, this tracker is self-powered thanks to its dedicated module, which results into a lower cost-operational power supply. The SFOne has a 5% less piles than standard competitor, what reduces a 75% the labor time.