A path to ensure profitable installation for residential solar
Will You Survive Solar Grid Parity?
Patrick McCabe | GreenLancer.com
For many years, the solar energy industry in the U.S. was criticized for being impractical and too expensive. This is no longer the case. Recent falling hardware costs and innovative financing methods are expected to grow the residential solar market from $1.3B in 2012 to $5.7B in 2016. The companies that are in the best position gain market share during this growth period are those who can profitably install retail solar at $2.50 per watt. This rate is considered to be the benchmark for solar grid parity for many residential consumers throughout the country. Mass consumer adoption will separate those contractors who are able to reduce their development costs to at or below grid parity and those that cannot. The key to achieving these prices is to leverage internal efficiencies to reduce soft costs like project acquisition (CPA) and permitting costs to remain profitable.
What would it take to get your comp​any to profitably sell at $2.50 per watt now?

That will depend on your organization's structure and business model. An example of this business model is the e-commerce platform innovation by GreenLancer.com of Detorit. GreenLancer.com offers a set of predefined technical and engineering services that speed up project development by eliminating bottlenecks in PV system engineering. GreenLancer.com works with installers and contractors nationwide to help them gain efficiencies and reduce 'soft costs' associated with these projects. Some of the most profitable residential solar companies we see are owner operators with a small operation. That's because fixed costs for employees that are not fully utilized result in high overhead and makes it difficult for most installers to profit without inflating prices.
To be profitable in the solar industry, you need the smallest team possible in order to leverage standardization, business infrastructure, and operational efficiencies to focus 100% on closing customers and installing high quality projects. This team needs to be able to build sustained project pipelines and reduce inventory and wasted time. From what we've seen at GreenLancer.com, the fastest ways to grow pipelines is to get deep into a community and offer attractive financing programs. The best way to maintain margins is to have all the engineering and permits delivered right the first time. This can be done by standardizing the material selection used in the installations, pre-designing system kits that can be installed quickly. Fewer kit configurations empowers the entire team, from inside sales to installation, to be become experts on application. This also streamlines document flow which can be automated or externalized.
Develop and budget digital and direct marketing campaigns that don't rely on passive lead generation. This means you need to have a strategy that not only identifies ideal customers, but also proactively targets homeowners that don't realize they are candidates for solar.
Leads should flow directly into a sales funnel managed from a customer relationship management system (CRM) where prequalification screenings and preliminary proposals can be created efficiently by an internal sales team. Sales personnel should only go onsite when they have the information necessary to close the sale in the first visit. Collecting detailed information and pictures facilitated by mobile devices streamline the communication of project data to the designers instantaneously. Once a deal is signed, the utility interconnection applications and the permit drawings must be submitted to the authority having jurisdiction (AHJ) immediately to take into account the inefficiencies of bureaucracy. Coordinating these technical documents can be labor intensive, especially if operating in several different cities with vastly diverse permit procedures and familiarity. These are the exact types of activities that can be externalized to specialized firms like GreenLancer.com in order to simplify the internal workload, increasing throughput and successful submission rates.
The Solar Foundation estimates that there are over 5,600 solar installers in the country. Often, the smallest solar installer can be the most profitable, but they must optimize operations and logistics to keep employees fully utilized. In order for installation crews to be a profit center for your company, project managers must have a tight grip on logistics and minimize installation times. Crews should be efficient and well scheduled between new installations and existing system maintenance.
Most small installers are reluctant to reduce their prices for obvious reasons, but today we have the tools to make these small installers the most profitable. To reach $5.7B in residential sales by 2016, each of the industry's 5,600 current installers have to install about 80 solar PV systems – or less than 7 systems per month. Finding the formula will allow every installer to succeed at selling solar profitably for $2.50 per watt by 2016 and the resulting standardization will bring more financing to the table as the industry grows.
Key Takeaways:
Tools exist to bring operational efficiency
Standardization leads to repetition which lead to lower costs
Profits come from subscribing to best practices and achieving an optimal volume of sales
Lead generation is important and every installer has to control their own destiny
Financing will always be paramount to gaining mass consumer acceptance of residential solar energy
The content & opinions in this article are the author's and do not necessarily represent the views of AltEnergyMag
---
Comments (0)
This post does not have any comments. Be the first to leave a comment below.
---
Post A Comment
You must be logged in before you can post a comment. Login now.
Featured Product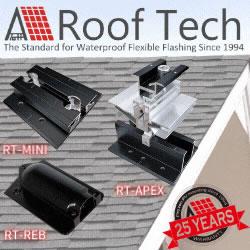 Now Roof Tech brings you the most innovative, watertight mounting systems ever developed for solar photovoltaic systems. Designed and manufactured exclusively for us by Japan's longtime leader in roofing technologies, Roof Tech products are 100% code-compliant and offer fast, simple installation and huge savings on shipping costs due to their compact, rail-less design. Learn more about our full line of versatile PV mounting solutions now available for residential installations. The next generation in rooftop solar mounting solutions."