The demand on electrical power systems, causing shortages, quality problems, rolling blackouts, and price spikes have caused utility customers to seek other sources of high-quality, reliable electricity.

Len Calderone for | AltEnergyMag
According to the Pew Charitable Trusts the international clean energy industry has run into problems because of global recession, changes in the energy markets, and uncertainty surrounding international policies.
Investment in global clean energy has fallen, but is still a $250 Billion market. The cost of wind and solar energy has been dropping yearly; causing investor's to question the long-term future of renewable energy. In the fast-growing developing countries there is a move from costly transmission systems to distributed generation.
Presently, electricity is mainly produced at large generation facilities and shipped though the transmission and distribution grids to the consumers. The move now is to distributed generation where electricity is produced next to its point of use. This makes for efficiency, reliability and the reduction of greenhouse gas emissions.
The demand on electrical power systems, causing shortages, quality problems, rolling blackouts, and price spikes have caused utility customers to seek other sources of high-quality, reliable electricity. Small-scale power generation sources- located close to where electricity is used-provide an alternative to or an enhancement of the traditional electric power grid.

Types of distributed energy resources and technologies courtesy of the California Energy Commission
This is a less expensive option to the construction of central power plants and high-voltage transmission lines. The use of renewable distributed energy generation technologies such as wind, photovoltaic, geothermal, biomass, or hydroelectric power can also provide a significant environmental benefit.
Clean energy investment in Europe, the Middle East, and Africa, dropped severely for the second year in a row. Investments in Germany are down 55% and Italy 75%. These were vibrant investment areas. Comparably, the Asian region continued to grow steadily in 2013, upwards of 10% with China leading the region, while Japan experienced the fastest investment growth in the world, increasing 80%.
Investment levels decreased in the Americas for the second year in a row with the largest markets - the United States and Brazil - down by 9 and 55%, respectively. Canada's growth increased 45%.
Wind sector investments held relatively steady in 2013. China continued to attract the largest share of wind energy investment, accounting for 38% of the global total. For the fourth year in a row, solar energy technologies garnered the largest share of clean energy investment at 52% of the total. Nonetheless, investment in solar technologies fell by 23%. Steep drops in Germany and Italy were among the reasons that collective investment in the solar sector fell below the $100 billion mark for the first time in seven years. Energy efficient/low-carbon technologies, which include smart meters and energy storage devices, constituted the only clean energy sector with rising investment levels, growing 15%. Investment in biofuels sank by 41%, including geothermal, biomass, and waste-to-energy.
China installed more photovoltaics last year than the U.S. ever has. It is also the world's leading market for wind and solar hot water. The country is a strong force in clean energy deployment due to its leadership approach and future forecasting. Because of this, China is assured to be a leader in the world's clean energy market for many years to come. This sounds real good, except that China is also the world's biggest polluter, consuming almost as much coal as the rest of the world combined.
Although the U.S. is second, lagging performance shows that America needs policies that provide certainty and allows our clean energy sector to compete in the global marketplace.
Clean energy sources include wind and solar power, biomass and biofuels, and geothermal and marine resources. Without clean energy, which accounted for nearly half of new generating systems in 2013, last year's carbon emissions would have pushed the world 12% further away from the 2020 emission reduction targets scientists say are necessary to avert climate disaster.

Spain's largest wind turbine, Arinaga, a five megawatt, 505-foot tall turbine, is pictured at the end of a dike on Gran Canaria in the Spanish archipelago of the Canary Islands.
Spain is the first country in the world to recover the power from wind energy for its top energy source for an entire year. This could be a sign that Spain is ready for a future using renewable power.
India, which has the fifth-highest amount of wind capacity, added 1,700 megawatts in 2013 to cross the 20,000 megawatt threshold. Although this was 25 percent less new capacity than in 2012, India is primed to grow its wind capacity significantly in the future.
In Pakistan, wind capacity doubled to 100 MW in 2013 and will double again when two 50 MW projects go online this year. Thailand doubled its wind capacity in 2013, reaching 220 MW. And the Philippines has seven projects due for completion this year that will expand wind capacity there 13-fold to 450 MW.
Before China's recent surge, Europe led the world in wind capacity, with Germany ranking third globally, producing 34,000 MW. Germany is Europe's largest economy, and produces 8 % of its electricity from wind farms. Poland and Romania each expanded their wind power capacity by 36% in 2013, to 3,400 and 2,600 MW, respectively. And in Turkey, wind capacity grew by 28% to nearly 3,000 MW.
Brazil uses hydropower to supply 80% of its electricity and has the highest wind capacity in South America, close to 3,500 MW. In all of Africa, just one project added capacity in 2013. The final 90 MW of Ethiopia's 120-megawatt Ashegoda Wind Farm went into operation, more than doubling the country's wind capacity to 170 MW. South Africa has 2,100 MW of wind power in the pipeline, including 750 MW to be added in 2014 alone.
Because solar photovoltaic systems are becoming less expensive, total global electricity production generated by renewable solar energy is climbing. For the first time in 2013, more global solar photovoltaic capacity was installed than wind power.
| | |
| --- | --- |
| Countries with the most installed solar energy in MW | MW |
| Germany | 9,785 |
| Spain | 3,386 |
| Japan | 2,633 |
| United States | 1,650 |
| Italy | 1,167 |
| Czech Republic | 465 |
| Belgium | 363 |
| China | 305 |
| France | 272 |
| India | 120 |
Yet, further growth in renewable electricity production will be hard to accomplish. Germany, Spain, Italy and China's wind and solar power sectors have all experienced major growth, but it is not going to be easy to further grow this segment even after integrating new capacities into their grids. Initially, renewable capacity deployment was relatively easy to achieve because production was supported by government incentive-based policies. Further support for these now mature technologies is due for radical change, and they will have to progress without putting a strain on electricity consumers.
Global trends in renewable energy investments – except for major hydropower projects – are lower due to cheaper renewable energy equipment prices. New investments are targeting solar power, while wind power is down 10%, biomass 34%, biofuels 40% and geothermal 44%.
In the up-coming years, energy companies will be forced to research and develop all alternative energy sources. We cannot maintain today's level of fossil fuel usage and eventually we will see an energy crisis - maybe this century. The race is on.
For further information:
Len Calderone - Contributing Editor

Len has contributed articles to several publications. He also writes opinion editorials for a local newspaper. He is now retired.



The content & opinions in this article are the author's and do not necessarily represent the views of AltEnergyMag
---
Comments (0)
This post does not have any comments. Be the first to leave a comment below.
---
Post A Comment
You must be logged in before you can post a comment. Login now.
Featured Product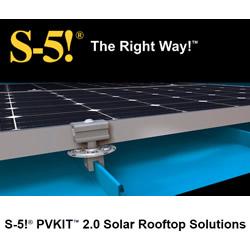 The concept of combining PV arrays with standing seam metal roofing is growing-for good reasons. Metal roofs have a life expectancy of more than 40 years. Shouldn't the mounting system last as long? With S-5! zero-penetration attachment technology and PVKIT 2.0, the solarized metal roof is the most sustainable system available -and without compromising roof warranties! PVKIT 2.0 is the also the best solution for attaching PV modules directly to any exposed fastener metal roof.