Ice Energy has been awarded a five-year contract from Riverside Public Utilities to provide 5 megawatts of behind-the-meter thermal energy storage using Ice Energys proprietary Ice Bear system.
Storing Energy by Making Ice
Mike Hopkins | Ice Energy
Can you discuss both the Southern California Edison and Riverside Public Utilities deals in terms of size/scale of deals and timeframes for installation? Are you currently in negotiations for other major utility deals in California and beyond?
The Southern California Edison (SCE) contracts are for 25.6 megawatts of storage. Approximately 1,800 Ice Bear units will be installed in Orange County beginning in 2016 – enough to power 11,000 homes. To put that in perspective, in our first 12 years, we installed 940 Ice Bears and this one contract will double our install base. For Riverside Public Utilities, this is the utility's first energy storage project and the Ice Bears will be installed starting this year. The contract is for 1 megawatt of storage per year for five years, which will be approximately 30 Ice Bear units per year. Yes, we are growing quickly and are pursuing bids with other major utilities in California and beyond, including PG&E (Pacific Gas and Electric Company) and SDG&E (San Diego Gas & Electric).
How does the Ice Bear work and what does a typical installation look like? What are the benefits for the utilities vs. the building owners where Ice Bears will be installed?
The Ice Bear works by freezing regular tap water at night when temperatures, energy costs and demand for power are low and using the stored ice rather than an attached air conditioning unit to provide cooling, thus eliminating peak electricity demand from its main driver – a/c use. Ice Bears are deployed in smart-grid enabled, megawatt scale fleets in locations such as strip malls, big box retailers, schools, warehouses and municipal buildings. For the utilities, Ice Bears are a long-term (minimum 20-year lifespan) grid asset that they can integrate into the grid to drop load on demand, which directly reduces capital and operating expenses. Instead of having to add peaking generation, upgrade substations or upgrade feeders to support high use customers, the utility's Ice Bears cost-effectively eliminate the excess demand. Building owners benefit from an energy storage device without paying for it, and ultimately consume less electricity and extend the life of their a/c units, plus they get an added comfort benefit as unlike conventional a/c, the Ice Bear has no issues getting cool air no matter the outside temperature.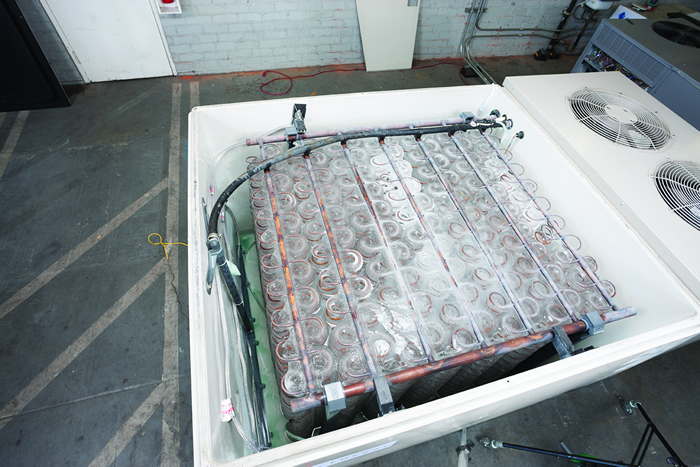 What are the key advantages of Ice Energy's technology vs. other energy storage categories (batteries, pumped storage)?
Compared to batteries, Ice Bear units cost less, are longer lived, are more reliable, suffer no degradation and have no environmental problems. As for pumped storage, building a facility requires long lead times and large amounts of land and capital and they typically are far removed from the demand.
Is there an optimum capacity where Ice Energy Storage becomes cost effective and efficient?
Ice Bear storage is efficient at any scale and can be cost effective even at small scale, though our focus is grid scale.
How big is the energy storage market and what is the projected growth of the space?
The energy storage space is projected by alternative energy experts to reach multibillion dollar levels over the next decade. Ice Energy's sales alone grew more than 1000% in 2014. With renewable energy supplying an increasing (and intermittent) share of the power grid, storage is gaining traction and is poised for tremendous growth.
How does Ice Energy fit into the energy storage market in terms of market share?
While the focus in storage has been on batteries and pumped storage, thermal energy storage technology, like the Ice Bear, offers significant costs savings and will continue to gain market share.
What are the next steps for Ice Energy – residential applications, international opportunities, plans for strategic partnerships or eventual sale of the company?
With over 25 million operating hours completed by the Ice Bear, a residential prototype, which we call the Ice Cub, is currently in the advanced testing phase with installations in Azusa, California. We are currently pursuing international opportunities in the UK, Australia and the Caribbean and seeking strategic partners in energy services with an international footprint. Before considering a sale, we need to continue expansion. While our current fleet is installed in more than 40 utility service territories throughout the U.S., the majority of our deployments are in California.
About Mike Hopkins, CEO, Ice Energy
Prior to joining the company in 2009, Mike practiced law for 18 years as a partner with Bennett Jones LLP, a pre-eminent Canadian law firm and global leader in energy and climate change. He specialized in the development and financing of oil and gas fields and power projects, served on the firm's executive committee and led its utilities, international, and independent power groups.
He left Bennett Jones in 2003 to lead the workout of a private data center developer that resulted in its sale. Next, Mike co-founded a geospatial information services company and assisted several other startups.
Mike is a member of the Law Society of Alberta and the American Bar Association. He has presented to the Energy Bar Association (EBA), the World Energy Engineering Congress (WEEC), the Canadian Petroleum Law Foundation (CELF), the Canadian Bar Association (CBA), the Independent Power Producers' Society of Alberta (IPPSA) and the Canadian Corporate Counsel Association (CCCA).
Mike is a member of the board of chancellors of Juvenile Diabetes Research Foundation International; a member of the board of directors and past chairman of Juvenile Diabetes Research Foundation Canada; a member of the board of trustees, treasurer and past chairman of Sansum Medical Research Institute; a member of the board of directors of Integrated Marine Education and Research Expeditions and a member of the board of directors of Orthoshop Geomatics, Ltd., a spin-off of the geomatics company he co-founded.
He earned B.A. and LLB degrees from the University of Ottawa, an M.A. (Law and Economics) from the University of Miami, and an MBA from the University of Alberta.
The content & opinions in this article are the author's and do not necessarily represent the views of AltEnergyMag
---
Comments (0)
This post does not have any comments. Be the first to leave a comment below.
---
Post A Comment
You must be logged in before you can post a comment. Login now.
Featured Product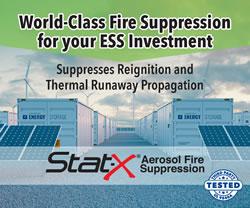 Stat-X® condensed aerosol fire suppression is a solution for energy storage systems (ESS) and battery energy storage systems (BESS) applications. Our Stat-X condensed aerosol fire extinguishing product was tested for efficacy in suppressing li-ion battery fires. It was found that the product successfully extinguished single and double cell battery fires. This testing was conducted in parallel with a large battery fire testing program on behalf of a large energy storage company.