As fuel cells continue to increase sales and installations in existing markets and prove themselves in others, companies in synergistic energy technology sectors will hopefully consider joining FCHEA to become more involved in the industry.
The Fuel Cell and Hydrogen Energy Association (FCHEA)
Morry Markowitz | FCHEA
What is the Fuel Cell and Hydrogen Energy Association?

The Fuel Cell and Hydrogen Energy Association (FCHEA) is the trade association dedicated to the commercialization of fuel cell and hydrogen energy technologies.
FCHEA leads national advocacy to encourage all levels of government to support fuel cell and hydrogen technology research, development, and deployment; provide the industry a voice in shaping international regulations, codes, and standards to enable commercial growth; support widespread deployment of fuel cell systems; and educate the public and key opinion and policy leaders on the economic and environmental benefits of fuel cell and hydrogen technologies.
To achieve these goals, FCHEA operates a number of member-led committees and working groups, including ones focused on Government Affairs, Transportation, Stationary Power, Portable Power, Communications and Marketing, and Solid Oxide Fuel Cells.
Who does FCHEA represent?
FCHEA members represent the fuel cell industry's full global supply chain, including material, component, stack and system manufacturers, hydrogen producers and fuel distributors, government laboratories, federal and state agencies, trade associations, utilities, and end users.
FCHEA works closely with the U.S. Department of Energy, members of Congress, and other federal organizations, as well as state and international groups and industry associations to expand new markets and sales opportunities and advance the interests of our members and the fuel cell industry as a whole.
What is a fuel cell?
Fuel cells utilize a chemical process to generate electricity by converting hydrogen-rich fuel into clean power, without combustion. Fuel cells do not need to be recharged like batteries, but instead continue to produce electricity as long as a fuel source is provided.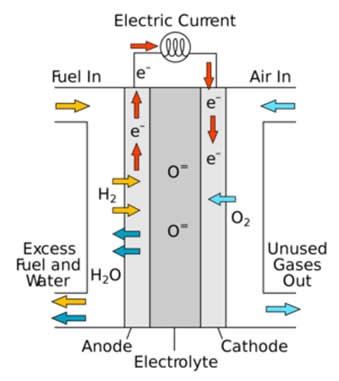 Why fuel cells?
Due to their high efficiency, fuel cells are very clean, and when using pure hydrogen fuel, the only by-products are electricity, heat, and water. In addition, as fuel cells have few moving parts, they operate almost silently.
Fuel cells are scalable – individual fuel cells can be compiled to form stacks which can then be combined into larger systems. Fuel cell systems are being developed in a wide range of sizes and power outputs, from watts to megawatts. This includes portable systems for smartphone battery recharging, to combustion engine replacements for electric forklifts, cars and buses, to back up power for telecommunication sites, prime power for data centers, combined heat and power for residential, retail and other facilities, all the way to large-scale, multi-megawatt installations providing electricity directly to the utility grid.
Fuel cells can also boost the efficiency and runtime of batteries, acting as a range extender, or be integrated with other renewable sources of energy such as solar and wind for energy storage to achieve serious emissions reductions, greater resilience and grid independence.
What kind of fuels do fuel cells use?
Many fuel cells are fueled with hydrogen, which can be derived from an array of sources, both traditional and renewable, including natural gas, methanol, organic waste/biomass, biogas, and from water via wind or solar-powered electrolysis. Today, millions of metric tons of hydrogen are produced and distributed safely in the United States annually, primarily for the petroleum, ammonia for fertilizer, chemical, and food industries.
While some fuel cell systems use hydrogen directly, others rely on natural gas or other hydrogen-rich fuels and reform them within the system.
Is the fuel cell industry growing - if so where and in what sectors is it strongest?
Fuel cells offer a unique combination of benefits that make them ideally suited for a number of applications. According to the U.S. Department of Energy's Fuel Cell Technologies Market Report, in 2013, worldwide fuel cell industry sales surpassed $1 billion for the first time, reaching $1.3 billion, and that number continues to grow.
The technology is making headway in a number of markets in the U.S., including transportation (material handling, passenger vehicles and buses), backup power for telecommunications, primary power for data centers, and CHP for a range of customers, including retail and grocery stores, hospitals, technology providers and many more. Many customers in these markets are becoming repeat customers, coming back and buying more fuel cells for additional sites, and in some cases, other applications.
There are several niche markets that fuel cells are finding success in and proving to be better than alternatives. These include energy exploration sites – both conventional (oil and gas) and renewable (solar and wind) – providing long-lasting and reliable power to remote locations, equipment and communications. Fuel cells are being evaluated by the military to provide uninterruptable power to bases and remote sites, portable power for soldiers, and extended power for unmanned aerial and ground vehicles.
In addition, demonstrations are underway involving fuel cell-powered trucks at ports, baggage tow tractors at airports, and refrigerated trailers used to transport food to grocery stores and restaurants, all potentially viable markets for the industry to pursue.
Can you outline a few of the most successful applications for fuel cells today?
Many companies around the country are adopting fuel cells for primary and backup power generation, including Apple, AT&T, Coca-Cola, eBay, Google, Microsoft, Nokia, Verizon, and Walmart, among many others. Fuel cells can operate in parallel with or independent from the electric grid, greatly enhancing power reliability. This is especially important for critical networks, data centers and emergency response communications during storms and other power outages. Heat from fuel cells also can be captured to provide hot water, heating and cooling via CHP, which raises efficiency even more.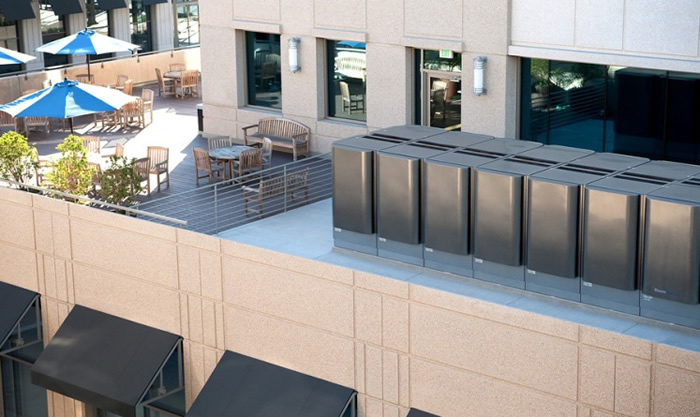 400 kW Bloom Energy fuel cell system at Nokia's U.S. headquarters in Sunnyvale, CA
Major telecommunications companies in the U.S. – AT&T, Sprint, and T-Mobile – collectively have thousands of fuel cells installed at cell towers and switching sites around the country. Fuel cells can be sited in remote locations, on rooftops or indoors, and have a much longer runtime than batteries. They are also quiet and cleaner than diesel generators. Internationally, this market is also growing rapidly in Latin America, the Caribbean, the Middle East, Indonesia, India, and South Africa, and as well as expanding into China and Japan.
The North American materials handling sector, including forklifts and other equipment, is another success story for the industry, marked by rapid growth in sales and a "blue-chip" customer list. Companies such as Walmart, Ace Hardware, BMW, Kimberly-Clark, Procter & Gamble, Sysco, and Volkswagen are saving money, time, emissions and fuel at their warehouses and distribution centers by replacing battery fleets with fuel cells. Fuel cell-powered material handling vehicles reduce operational costs and increase productivity at warehouses through their longer run times and shorter refueling times. Customer sales are expanding through repeat business and purchases for additional sites. Walmart, for instance, has more than 2,000 fuel cells deployed or on order for forklifts at more than 9 facilities in the U.S. and Canada. Sysco has more than 700 fuel cell-powered forklifts operating at sites across the country.
In Japan, more than 100,000 residential fuel cell systems have been sold to provide reliable electricity and heat to customers. In Europe, particularly Germany, the residential market is slowly growing as well, with several demonstration programs underway.
Korea boasts the world's largest fuel cell park, a 59 MW installation, just one of an impressive 18 fuel cell parks operating in thirteen different South Korean cities, generating over 140 MW of power for the Korean electric grid.
Many people have started to see fuel cell electric vehicles (FCEVs) making headlines in the press. FCEVs are zero-emission vehicles – they produce no tailpipe pollution except water vapor – and are capable of traveling 300-400 miles on a tank of hydrogen. Refueling takes just three to five minutes, making FCEVs the only electric vehicle that truly replicates the current customer experience. Several of the world's leading automakers are already leasing FCEVs in Japan, Germany and Southern California, with plans to ramp up production and sales in the next few years.
Some of FCHEA's staff with Toyota Mirai FCEV before test drive in Washington, DC
Are there new technologies on the horizon that will improve the efficiencies or costs of fuel cells in the near future?
In certain markets, such as material handling and critical power, fuel cells are providing a quick return on investment, through reliable, efficient operation and valuable time and fuel savings. Customers in states with high commercial or industrial electricity prices, such as Alaska, California, Connecticut, Hawaii, Massachusetts, New Hampshire, New Jersey, and Vermont, are finding they can generate electricity onsite with a fuel cell that is cost competitive and in some cases cheaper than grid power. Fuel cell power can also cost less where utilities charge extra for electricity at times of peak demand.
There has been tremendous progress in cost reduction, both with fuel cell systems and the components they use, over the years, as well as continued increases in stack and system durability, efficiency and performance. As sales increase and companies begin to scale up production, order materials in bulk and streamline manufacturing processes, the cost will continue to go down.
A very interesting and successful demonstration was the recent tri-generation project at the Orange County Sanitation District's wastewater treatment plant in Fountain Valley, California. It proved the feasibility of a combined heat, hydrogen, and power (CHHP) system where a fuel cell was installed to provide electricity and heat to the wastewater treatment plant, as well as producing renewable hydrogen from biogas that supplied a hydrogen fueling station for FCEVs. This project was a breakthrough to help address future hydrogen infrastructure possibilities once FCEVs become more prevalent.
Name a few of FCHEA's past successes and main priorities for 2015.
This past year has been very exciting for FCHEA and the fuel cell industry as a whole. On top of the great excitement for FCEVs from the auto show circuit, there were more sales and installations in other markets around the world that helped to move the industry forward.
The association made a concerted effort in 2014 to raise awareness of fuel cell and hydrogen technologies within the federal government, as well as organizations with a stake in industry, including: the American Association of Port Authorities (AAPA), Environmental Defense Fund (EDF), National Association for Convenience Stores (NACS), National Conference of State Legislatures (NCSL), U.S. Trade Development Agency, Union of Concerned Scientists (UCS), Western Governors Association (WGA), White House Office of Management and Budget (OMB), and many more.
FCHEA's technical / regulatory working groups continue to lead efforts to overcome barriers to deployment for the full suite of industry technologies. Notable examples include the Portable Power Working Group's achievements in harmonizing national and international standards for transport of fuel cells and fuel cartridges and the on-going work of the Transportation Working Group in establishing an effective regulatory framework for FCEVs and hydrogen refueling stations.
FCHEA joined and actively participated in several coalitions focused on tax-reform issues – the federal fuel cell investment tax credit (ITC) expires at the end of 2016, so renewing it and targeting other tax reform opportunities is a top priority for 2015. The association is focused on increasing sales opportunities for our members and continuing to garner support for the fuel cell industry in the press, in Congress, and among important stakeholders. To achieve that, FCHEA became involved with new groups, including the Telecommunications Industry Association (TIA), the National Association of Manufacturers (NAM) and the U.S. Chamber of Commerce, giving members a greater voice in key issues affecting the industry.
Additionally, FCHEA is the secretariat of H2USA, a public-private partnership focused on expanding deployment of FCEVs and development of hydrogen fueling stations across the U.S. This group has grown more than 300% since its launch in 2013, and we look forward to an exciting year assisting with its continuing progress.
Is FCHEA membership just for U.S. companies or can anyone join?
FCHEA's membership includes fuel cell, fueling and component companies from the U.S., Canada, Japan, and Europe. Membership offers a full range of benefits, no matter where a company is located, especially if they want to expand business in the U.S. or find distributors or partners for sales and funding opportunities. FCHEA's technical specialists also represent members on international codes and standards committees to ensure that fuel cells are including in all relevant regulations affecting the sale, transport, installation and siting of fuel cell and hydrogen technologies.
As fuel cells continue to increase sales and installations in existing markets and prove themselves in others, companies in synergistic energy technology sectors will hopefully consider joining FCHEA to become more involved in the industry. There is also a lot of overlap in the supply chain of FCEVs and battery-electric vehicles, as well as in the construction of fueling stations, manufacturing systems and other sectors of the fuel cell industry where a component supplier could expand its customer base with membership to FCHEA. To learn more about FCHEA or the fuel cell and hydrogen industry, please visit www.fchea.org.
Morry Markowitz, President
Fuel Cell and Hydrogen Energy Association
Morry Markowitz is the President of the Fuel Cell and Hydrogen Energy Association (FCHEA), and leads FCHEA advocacy programs on Capitol Hill and outreach initiatives to target markets and users of fuel cells and hydrogen energy. Morry comes with extensive expertise in the energy field, in addition to sixteen years of association management.
Prior to coming to the FCHEA, Morry was the Group Director of External Affairs at the Edison Electric Institute (EEI) for nine years. Before his work at EEI, Morry was the Vice President of Public Affairs with the Association of International Automobile Manufacturers. Morry brings years of government relations, energy policy, and communications experience to the Association. Morry has worked on Capitol Hill, in addition to the Executive Branch of government.
Morry graduated with a J.D. from George Mason School of Law.
The content & opinions in this article are the author's and do not necessarily represent the views of AltEnergyMag
---
Comments (0)
This post does not have any comments. Be the first to leave a comment below.
---
Post A Comment
You must be logged in before you can post a comment. Login now.
Featured Product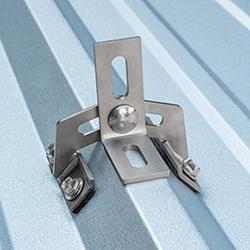 Explore new lines of income for your solar installation business with QuickBOLT's Stone Coated Steel roof mounts designed in partnership with metal roof manufacturers themselves. These SCS roof mounts work on all metal tile profiles and will help you bring in money you're missing out on. By not driving into the roofing material, QuickBOLT's Stone Coated Steel roof hooks maintain the integrity of the roof. Install with ease and confidence knowing your roof is protected against the harsh elements that these hooks are designed for.