Here are three of the more high profile startups in Nuclear Fusion.
Three Nuclear Fusion Startups
Contributed by | Ogmer
Nuclear Fusion is the hot new area backed by several investors to help alleviate the world's energy concerns. Here are three of the more high profile startups in Nuclear Fusion.
General Fusion's Magnetized Target Fusion system uses a sphere, filled with molten lead-lithium that is pumped to form a vortex. On each pulse, magnetically-confined plasma is injected into the vortex. Around the sphere, an array of pistons impact and drive a pressure wave into the centre of the sphere, compressing the plasma to fusion conditions.
General Fusion has built a world-class Magnetized Target Fusion research and development team consisting of over 50 research and development professionals who have demonstrated the ability to quickly and cost-effectively design, simulate, prototype, and test advanced fusion systems. General Fusion's science team includes PhD scientists from leading fusion research institutions L'École Polytechnique in France, the Culham Centre for Fusion Technology in the UK, the Joint Institute for High Temperatures at the Russian Academy of Sciences, and Kyushu University in Japan.
General Fusion is backed by several investment firms including Jeff Bezos's Bezos expeditions & the Malaysian sovereign wealth fund- Khazanah Nasional Berhad
Helion is creating technology it calls "The Fusion Engine," which would use helium from engine exhaust. The helium, along with deuterium fuel from seawater, would be heated to become plasma and then compressed with magnetic fields to reach fusion temperature, which is more than 100 million degrees.
Dr. David Kirtley is the CEO: An NSF, NASA, and DOD fellow, Dr. Kirtley has 13 years of experience in nuclear engineering, fusion, and aerospace and holds Nuclear and Aerospace Engineering degrees from the University of Michigan. He serves as Helion's CEO, and has raised and managed many high technology programs.
Dr. John Slough is the Chief Science Officer: John is the inventor of the Fusion Engine and an award winning, world leading expert in fusion and high ß plasmas. Dr. Slough has conducted more than 30 years of fusion research. As President and Director of Research of MSNW and a Professor at the University of Washington, Dr. Slough has lead million dollar programs and been awarded $15 M in DOE and DOD grants.
Helion is backed by Y Combinator & Mithril Capital Management
TAE utilizes proprietary advanced beam-driven Field Reversed Configuration (FRC) technology to create a superheated plasma environment. Today, this environment is used for technology development. In a future power plant, hydrogen and boron would fuse (p-B11) generating helium and energy. TAE has taken significant steps toward the engineering integration of the FRC technology and operates a national lab-scale machine (C-2U, pictured at right), which in many aspects resembles a future power plant. TAE's technology applies a fundamentally different approach to addressing the historic challenges that have hampered fusion-based electricity generation – the inability to maintain fuel particles (plasma) long enough and at temperatures hot enough to validate the path to fusion power.
The company has raised more than $200 Million dollars from various investors including Paul Allen, Microsoft's co-founder.
TriAlpha was founded by Dr. Michl Binderbauer who is the architect of Tri Alpha Energy's research and development program and is a co-inventor of many of the company's technological advancements. Dr. Binderbauer has dedicated the past two decades to evolving TAE's knowledge and technology. He is an expert in reactor kinetics, equilibrium, and stability of advanced beam-driven Field-Reversed Configurations and aneutronic fusion systems. Recently, he has focused on reactor physics, engineering and enabling technologies, and a wide array of applications of TAE's core technologies — from medicine to isotope production and chemical processing. He holds more than 40 issued and pending U.S. patents and numerous international technology patents, and he has authored or co-authored many peer-reviewed publications in the areas of plasma physics and fusion. Dr. Binderbauer holds a Ph.D. in physics from the University of California, Irvine.
The content & opinions in this article are the author's and do not necessarily represent the views of AltEnergyMag
---
Comments (0)
This post does not have any comments. Be the first to leave a comment below.
---
Post A Comment
You must be logged in before you can post a comment. Login now.
Featured Product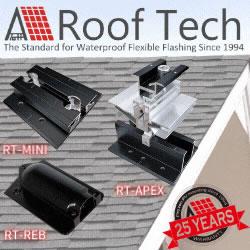 Now Roof Tech brings you the most innovative, watertight mounting systems ever developed for solar photovoltaic systems. Designed and manufactured exclusively for us by Japan's longtime leader in roofing technologies, Roof Tech products are 100% code-compliant and offer fast, simple installation and huge savings on shipping costs due to their compact, rail-less design. Learn more about our full line of versatile PV mounting solutions now available for residential installations. The next generation in rooftop solar mounting solutions."