As the business case becomes more apparent – with fuel cells delivering both economic and environmental value – the list of corporate customers continues to grow.

Jennifer Gangi | Fuel Cell and Hydrogen Energy Association
With global attention focused on the recent COP21 Paris agreement and subsequent international collaboration goals to help reduce carbon emissions around the world, it is easy to overlook what is already happening today. Businesses of all sizes are increasingly adopting cost-effective fuel cell technology to not only improve electrical power reliability and increase efficiency at their facilities, but also to greatly reduce carbon emissions from daily operations.
A new report from the Fuel Cell and Hydrogen Energy Association (FCHEA), The Business Case for Fuel Cells 2015: Powering Corporate Sustainability, highlights recent sales to corporate customers and outlines the series of benefits current users are finding with fuel cells.
Companies are setting ambitious sustainability goals to reduce emissions and environmental impact, but also need to ensure their facilities maintain high quality, reliable power. Fuel cells are helping to deliver on both fronts. In the past year, small and large businesses around the country have purchased or installed more than 13 megawatts (MW) of stationary fuel cells and deployed more than 1,300 fuel cell-powered material handling vehicles. Today, almost one quarter of the top 100 companies on the Fortune 500 list currently use fuel cells for primary or backup power generation, or to power electric material handling equipment (MHE) at warehouses or distribution centers.
Business Benefits
Fuel cells save businesses money on fuel and labor costs, lower emissions, and yield substantial energy savings through increased efficiency and power reliability. They service a range of market sectors and the varied power needs required, including primary, backup, or off-grid power generation scaled to fit any need, as well as material handling and other logistics vehicles.
Fuel cells generate electricity through a chemical reaction of hydrogen (or a hydrogen-rich fuel), not combustion. This chemical process provides inherently more efficient and cleaner electricity than conventional power generation. When pure hydrogen is used as the fuel source for a fuel cell, the only by-products from operating the fuel cell are electricity, waste heat, and water.
Fuel cell systems can be configured for cogeneration or combined heat and power (CHP), where the waste heat is captured and then used in heating or cooling capacities for applications such as hot water, space heating or even refrigeration units. CHP can increase a fuel cell's overall energy efficiency to 90% or higher.
The versatility of the technology is helping attract new customers. Fuel cells deliver high-quality power and can connect to the grid, stand alone, or partner with other power sources and fuels, both conventional (batteries, natural gas, methanol, diesel) or renewable (solar, wind, biogas, biomass). They are quiet and can be sited indoors or outside in a parking lot or on a rooftop.
Because they are rugged, resilient and reliable, fuel cells now boast a proven track record of providing consistent, quality power through inclement weather and power outages. This has helped many customers, including banks, grocery stores, and telecommunications companies keep operations running seamless throughout unpredictable situations, saving them from damaging losses of inventory, customers and money.
Corporations Breathing Easier
Some larger stationary fuel cell systems, like those installed at retail sites, data centers, hotels and others, utilize natural gas, stripping out the hydrogen from the natural gas within the fuel cell. However, even though there is some carbon produced via this process, emissions are far fewer compared to conventional combustion engine power plants.
The emissions reductions have been significant. Verizon operates one of the country's largest fleets of stationary fuel cell systems, with 10.4 megawatts (MW) installed at 13 sites in California, New Jersey and New York. The fuel cells, which are providing reliable power to Verizon's headquarters, office buildings and data centers, eliminate more than 5,376 metric tons of carbon dioxide (CO2) per year, equivalent to planting more than 1,240 acres of trees.
Apple has combined 10 MW of fuel cells with a solar farm to power its Maiden, North Carolina, data center, moving it completely off of the electrical grid. In 2014, Apple reported that the site eliminated 92,306 metric tons of CO2, reducing its emissions to almost zero.
Kellogg's has reduced CO2 emissions at its San Jose, California, Eggo® bakery by more than 1,000 tons a year, thanks to a 1-MW fuel cell.
Fuel cells also help warehouses reduce emissions by powering material handling fleets.
BMW, with its fleet of 350 fuel cell-powered forklifts, the largest fleet at a single site in the world, is lowering the CO2 emissions at its South Carolina manufacturing facility by 1,200 tons a year. As of December 2015, the company reported that the fleet had reached 1 million hydrogen fuelings.
Home Depot purchased 177 fuel cells in May 2015 to power its material handling fleet at a new distribution warehouse in Troy Township, Ohio. The company estimates the fuel cell forklifts will save more than 9,900 tons of CO2 over the course of the deployment.
These savings are part of the reason fuel cells for MHE continued its impressive growth, with more than 1,300 fuel cell forklifts deployed or ordered since the last (2014) Business Case report. Other benefits include improved efficiency, constant, reliable power (even in refrigerated and freezer units), cost and space savings, and fast refueling.
Customer List Growing Longer
Since the last Business Case report, many customers have purchased additional fuel cells after having a positive experience and seeing the benefits firsthand. This includes AT&T, Becker and Becker, Equinix, FedEx, IKEA, Pepperidge Farm, Stop & Shop, Newark Farmers Market and Walmart. AT&T and Walmart use fuel cells to power retail stores, data centers, administrative offices, network equipment facilities, material handling equipment, and cell phone towers.
New companies that purchased fuel cells since the last report include Disney Pixar, Home Depot, Dietz & Watson, IBM, Panasonic Avionics, Johnson & Johnson, FreezPak, and Uline.
Utilities and energy companies that provide electricity to local communities, including business and residential customers, are incorporating fuel cells into their portfolio for grid stability and reliable, constant power. This includes installing fuel cell power parks as well as micro grid projects. The town of Bridgeport, Connecticut, is doing both with a 14.9 MW fuel cell installation (currently the largest in country) that provides power to 15,000 homes, and a 1.4 MW fuel cell system that will be part of a micro-grid at the university.
The new report also highlights recent projects supported by the U.S. Department of Energy through its Fuel Cell Technologies Office's Market Transformation program, demonstrating the feasibility of fuel cells in various market sectors. This includes fuel cell-powered ground support equipment at airports, transport refrigerated units (TRUs), rooftop telecommunications backup power systems, a maritime fuel cell generator for docked ships and landfill gas-to-hydrogen conversion. Companies participating in these projects include Federal Express, UPS, Sysco, Sprint, BMW, Carrier Transicold, Thermo King and many others. These potential markets show great promise for fuel cell technology.
International Appeal
While most corporate fuel cell purchases are U.S.-based, international businesses are beginning to adopt fuel cell technologies. Market growth is varied – many developing countries are turning to fuel cells to expand telecommunications networks; fuel cells for MHE is starting to gain traction in Europe; and large-scale stationary units, some in the MW range, are being installed in Germany and Japan to supply power to business and production facilities.
This growing interest around the world is helping the U.S. fuel cell industry, as several American manufacturers are forming partnerships and exporting units to international partners.
Fuel cell technology is gaining in recognition as well-known companies invest in fuel cells and trust the technology to power its most valuable assets, operations, and facilities, with many expanding their use of fuel cells to multiple locations. As the business case becomes more apparent – with fuel cells delivering both economic and environmental value – the list of corporate customers continues to grow.
The free report, The Business Case for Fuel Cells 2015: Powering Corporate Sustainability, can be downloaded at http://www.fchea.org/reports/.
The content & opinions in this article are the author's and do not necessarily represent the views of AltEnergyMag
---
Comments (0)
This post does not have any comments. Be the first to leave a comment below.
---
Post A Comment
You must be logged in before you can post a comment. Login now.
Featured Product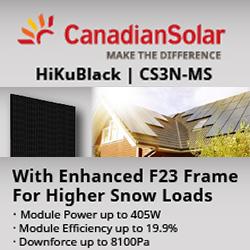 Aesthetic appearance for residential systems: With black backsheet & black frame, Power range 380 ~ 405 W, Low power loss in cell connection. Enhanced reliability: · Low temperature coefficient (Pmax): -0.34 % / °C, LID LeTID less than 2.0%, Lower hot spot temperature, Better shading tolerance.