Here is a summary of what Tradeshows, Conferences & Exhibitions to look forward to in the coming months.

Brandon Hetherington for | AltEnergyMag.com
Here is a summary of what Tradeshows, Conferences & Exhibitions to look forward to for the start of 2017.
---
February:
FEB 13 - 14 2017, BOSTON, MA
Solar Power Northeast, formerly known as PV America, attracts well over 1,000 northeast PV leaders, manufacturers, and service providers looking to grow their business in the Northeast US.
FEB 14 - 16 2017, SAN FRANCISCO, CA
Breakthroughs in new battery chemistries, novel electrode and electrolyte materials, and system integration for large-scale applications have paved the road toward an emerging stationary market with unlimited potential. Will lithium-ion and alternative-chemistry batteries deliver on the promise of power, energy, cost and safety? Cambridge EnerTech's 7th Annual Next-Generation Energy Storage 2017 convenes leading experts in the fields of battery materials, systems design & integration, and manufacturing & commercial applications, along with utility planners, electrical, transmission, distribution, modeling, and protection engineers who address emerging issues driving this pivotal time in the battery industry.
FEB 20 - 22 2017, AUSTIN, TX
Smart Energy Summit focuses on the intersection of the utility and consumer technology markets, which is creating new opportunities for energy providers, energy management companies, home control platforms and services, and the integration of new connected devices. This event examines the impact of the Internet of Things on utilities and consumers.
FEB 25 - 26 2017, MEXICO CITY, MEXICO
Mexico's goal for the year 2024 is to reach 35% of generation of electric energy to come from clean sources. Each MW from wind avoids the emission of 2.900 tons of CO2 per year into the atmosphere, which contributes significantly to slowing down climate change. Investment in the wind sector in Mexico not only generates benefits by offering competitive electric energy prices, but it also promotes the creation of a value chain for national manufacturers and products. In its sixth edition, MEXICO WINDPOWER 2017 has emerged as the most important international business summit of renewable energies in our country, proving to be the only event of its kind with significant and steady growth.
---
March:
MAR 01 - 03 2017, TOKYO, JAPAN
Japan's largest B-to-B international exhibition specialised in PV industry. The latest technologies, materials, manufacturing technologies, and solar cell/module will be exhibited from across the globe.
MAR 20 - 23 2017, FORT LAUDERDALE, FL
The 2016 program united 700 battery industry professionals from around the world with particularly strong representation from China, Japan, and Korea. Spanning four days in 2017, the expanded meeting agenda will include nine pre-conference workshops, eight conference tracks divided into four streams, 120+ technical presentations, an exhibit hall of 70+ companies, breakout discussion groups, and dedicated poster viewing and networking sessions. Thought leaders will present best practice case studies and joint partner presentations relevant to the technologies, research, and regulatory issues of battery technology advancements.
MAR 23 - 23 2017, BROOKLYN, NY
Seldom before have future prospects been more promising for the eastern U.S. solar and energy storage markets. New York City for example just set its new target for solar capacity to 1 GW of solar PV by 2030, its first energy storage deployment target to 100 MWh by 2020. Almost half of the US solar companies (i.e. approx. 3,000) are located on the East Coast. Intersolar's Summit USA East 2017 is your chance to get connected with the U.S. East Coast solar and energy storage industry.
---
April:
APR 03 - 05 2017, FREIBURG, GERMANY
The 7th International Conference on Silicon Photovoltaics will be hosted by Fraunhofer ISE, Europe's largest solar energy research institute, and will focus on advanced technologies, materials and concepts for crystalline silicon solar cells and modules. As in the last two years, the nPV workshop will take place successively to the SiliconPV conference with one overlapping day and a joined conference dinner. This will give you a complete overview of all trends, innovations and developments of n-type technology.
APR 18 - 20 2017, DENVER, CO
Our conference this past April was record-breaking in many ways – we featured the first-ever multi-country reverse trade mission in collaboration with USTDA, and had more than 1,700 attendees, 130 speakers, 40 educational sessions, six site tours to cutting-edge installations and multiple workshops led by renowned experts. ESA will continue to build on that momentum when we bring the conference to Denver, April 18 – 20, 2017. As one of the largest renewable energy markets in the country, as well as the home of NREL and numerous leading energy storage companies, Denver will provide the perfect location for ESA to expand the conversation about storage and the transformation of the power sector.
APR 24 - 28 2017, HANNOVER, GERMANY
150 companies from 25 countries will present their products at the 5.000 m² large exhibition area in Hall 27 of HANNOVER MESSE 2017. The 15.000 m² Ride & Drive open air site offers everyone a chance to test-drive fuel cell cars themselves. Already for the 23rd time international exhibitors will showcase the entire spectrum of these technologies - starting with hydrogen generation, via stationary and mobile fuel cell applications. The focal point of the Group Exhibit will be on hydrogen generation as a solution to store renewable energy from, e.g., photovoltaic and wind systems. This event will be held in Hanover, GERMANY.
---
The content & opinions in this article are the author's and do not necessarily represent the views of AltEnergyMag
---
Comments (0)
This post does not have any comments. Be the first to leave a comment below.
---
Post A Comment
You must be logged in before you can post a comment. Login now.
Featured Product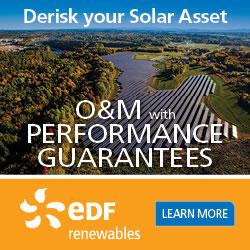 EDF Renewables offers the same innovative solutions that maximize the performance of our own 5.2 GW of installed projects. Because we're not an equipment manufacturer, our recommendations are transparent and data-driven. We cover the entire project lifecycle: from pre-commissioning support, through warranty and post warranty operation, to late stage and decommissioning.