Microgrids that combine on-site generation, energy storage, and smart, responsive energy loads, will prove to be an increasingly viable means to address the growing challenges at any airport.
Airports, Microgrids and Resilient Power
Contributed by | Burns Engineering
At 12:55 p.m. on December 17, 2017, an electrical substation fire caused a major power outage at Hartsfield-Jackson Atlanta International (ATL), the world's busiest airport. Over the next few days, as operations returned to normal on the ground, and as the National Airspace System recovered from thousands of canceled or diverted flights, airport directors and managers around the country were looking in the mirror and asking themselves, "Could that happen to us?"
The unsettling, but honest answer was often, "Yes."
While ATL's outage might be considered a rare event, recent outages at other major U.S. and European airports suggest otherwise. Amsterdam's Schiphol airport - Europe's third busiest - was temporarily closed in April when a large power outage hit all operations. McCarran International Airport in Las Vegas, Nevada, experienced an outage in mid-June resulting in a ground stop, delayed flights, and baggage and screening system shut downs. Hamburg Airport, one of Germany's busiest, lost power in early June and was forced to close, leading to flight cancellations that affected 30,000 passengers.
The consequences of these and other outages have airports examining the potential of a catastrophic power failure, and what measures, plans and strategies might serve to mitigate that risk. And airports are hardly alone in their introspection and concern. Faced with more frequent extreme weather, cybersecurity and terrorism concerns, and an aging electric grid, other essential infrastructure and mission critical facilities are exploring and increasingly implementing energy resilience solutions like microgrids.
Defining microgrids
Microgrids are local energy networks that can separate from the larger electrical grid during power outages resulting from major storm events or grid emergencies, and provide power to crucial public services and infrastructure such as hospitals, military bases, first responders, water treatment facilities, and essential transportation systems. Microgrids incorporate smart technologies, and diverse power generation and storage systems, to provide a degree of power continuity that exceeds what simple backup generators can offer. Microgrids also enhance power quality and add the ability to interact with the macro-grid in ways that can generate energy savings and, in some cases, create new revenue streams. The good news is, that in many instances, clients can have resilience with a payback. And since microgrids often incorporate low- and no-carbon energy generation technologies, they can also yield significant environmental benefits.
Airports are regional economic engines and high-energy users, and are great examples of mission-critical facilities that can benefit from microgrids. Some airports exploring the feasibility of on-site generation and resilient microgrids include San Diego, Pittsburgh, Denver, Los Angeles, and Atlanta's Hartsfield-Jackson.
Burns, a Philadelphia-based engineering company recently helped Denver International assess a microgrid as part of a larger Energy Master Plan and a look into potential zero net carbon strategies. Pittsburgh is in the midst of procuring on-site generation with the potential to be sized and configured as a resilient microgrid, with Burns helping to manage the RFP process. In both cases, these airports are seeking to leverage their strengths. Pittsburgh has active natural gas wells on airport property, so one option is to utilize low-cost natural gas to power engine generators and combined heat and power systems as the core technologies of their microgrid. Denver International has the advantage of being located on 54 square miles of land, so incorporating a large solar farm with utility-scale battery storage into a potential microgrid, together with reciprocating engine technology, could provide both resilience and significant carbon reductions.
Some airports have identified and explored strategies to mitigate single point of failure (SPOF) risk. For example, Burns is working with a major airport where the fuel farm receives power from a chronically-overloaded utility substation, leaving the airport vulnerable to a major substation failure. Based on the company's evaluation, it determined that a microgrid tied to the fuel farm substation would significantly reduce SPOF risk, decrease overloading of the local utility's substation, and save the airport money.
The challenge of ensuring adequate electric supply is growing. With air travel expected to double over the next 20 years, many airports foresee future power supply constraints as they build new terminals and increase electric load. Due to its location, San Francisco International Airport has limited options to bring in additional electric feeders, and is exploring how on-site generation may help meet the expected need. Los Angeles International Airport, in addition to enduring outages and power quality problems for close to two decades, anticipates load growth to almost double in the next 10-15 years, from 60MW to more than 100MW. It too is considering on-site generation and energy storage as part of an overall strategy to improve power quality and resilience.
Electrical service and infrastructure at airports can be very site-specific, as can the power reliability, resilience and supply issues they face. Over time however, microgrids that combine on-site generation, energy storage, and smart, responsive energy loads, will prove to be an increasingly viable means to address the growing challenges at any airport.
The content & opinions in this article are the author's and do not necessarily represent the views of AltEnergyMag
---
Comments (0)
This post does not have any comments. Be the first to leave a comment below.
---
Post A Comment
You must be logged in before you can post a comment. Login now.
Featured Product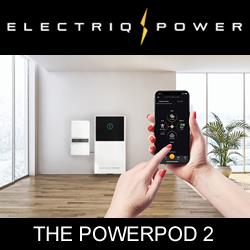 The Electriq PowerPod 2 is a fully-integrated home energy storage, management, and monitoring system powered by LFP batteries. The high-performance, cobalt-free product includes a hybrid solar/battery inverter controlled by intelligent software. The PowerPod 2 provides backup power and can self-consume or export excess power back to the grid.