Several contributions from the farmers, research institutes and the industry has led to the production of biogas as a mature technology, the purification process of biogas has been made simpler and a wide variety of substrates or raw materials are being used in the process.
Biogas as a Blending Gas to Decarbonize Natural Gas Networks
Article from | MBP Solutions
With the worldwide emphasis on the reduction of carbon emissions, biofuels may serve as an important alternative to conventional fuels. One of the biofuels is biogas or biomethane which has a variety of advantages including substitute to automotive fuels, agricultural waste management, reduction of landfills, reduced burden on the incineration plants, production of organic fertilizers for farms and promoting the circular economy. Further, it could be used as an alternative to natural gas in small scale applications such as cooking fuel, localized heating and/or electricity production. Figure 1 shows the schematic of the production of biogas and its different applications.
Figure 1: Biogas production and applications [1]
Over the past 20 years, several contributions from the farmers, research institutes and the industry has led to the production of the biogas as a mature technology, the purification process of biogas has been made simpler and a wide variety of substrates or raw materials are being used in the process.
For large applications in power generation or in the chemical industry, the current biogas production is not sufficient and the price is not competitive to natural gas because of lower volumes. Further, depending on the type of agricultural feed/ substrate being used and ambient weather conditions, there may be issues related to the consistent quality of biogas being produced for a sufficient longer period (10-15 years) [2]. However, these problems are being addressed gradually with the technical and commercial expertise and experience that enables to evaluate how substrates proposed for any individual plant would interact with the rest of the substrate and how the substrate can be managed within the biogas plant in order to get an optimized output of biogas to be used in large applications.
The blending of biogas with conventional natural gas could also upscale the biogas production and utilize the already existing robust infrastructure of the energy sector [3]. Additionally, this will result in the decarbonization of the natural gas networks, make the biogas competitive to the natural gas and as the 'green' regulations become more stringent, biogas may be used as an alternative to natural gas even in 'large' applications. The reliability and quality of the biogas production is important for natural gas grids to prevent sharp variations which could upset the biogas injection process. To avoid it an emphasis needs to be put on material sourcing, quality control and substrate logistics. Figure 2 shows a schematic diagram on biogas injection into the natural gas grid.
Figure 2: Biogas injection into the Natural Gas grid [4]
Some of the countries such as Germany, Austria, Netherlands and Denmark have already started feeding biogas into their natural gas grids and have announced 'subsidy' programmes to promote the production of biogas [5,6]. Further, it has been reported that the blending of biogas could also result in the use of off-spec natural gas which will reduce flaring in the industry contributing to lesser carbon emissions [7]. Industries have also started working on the removal of carbon dioxide from biogas using a 'methanation' process to enhance the quality of 'green gas' and thus its associated use in the end applications. In methanation, usually hydrogen (produced from electrolysis) is added to biogas which results in additional methane production. Figure 3 shows the comparison between the conventional biogas production process and with the methanation step to produce 60% more renewable/green gas.
Figure 3: Comparison of conventional biogas production and with methanation step [8]
Therefore, the blending of biogas with natural gas can play a significant role in decarbonizing the worldwide natural gas networks with additional advantages as summarized in Figure 4

Figure 4: Advantages of Biogas delivered via the Natural Gas grid [9]
About MBP Solutions
MBP Solutions has an extensive track record and experience with a variety of substrates for biogas and biomethane production and is one of the major players in the area of industrial (non agricultural) feedstocks . As a part of their sustainability policy, substrates and co-substrates are produced only from waste and by-products, not from crops.
References
1. Zafar S, Trends in Utilization of Biogas (2020) https://www.bioenergyconsult.com/utilization-of-biogas/
2. https://www.homebiogas.com/Blog/141/Advantages_and_Disadvantages_of_Biogas
3. Cavana M., Leone P., Biogas blending into the gas grid of a small municipality for the decarbonization of the heating sector, Biomass and Bioenergy 127 (2019) 105295
4. Anaerobic Treatment and Biogas Production from Organic Waste, (2012)
5. Banja et al., Support for biogas in the EU electricity sector – A comparative analysis, Biomass and Bioenergy 128 (2019)
6. Report on the biomethane injection into national gas grid, ISAAC Project, WP5 (2016)
7. Adding gas from biomass to the gas grid, Swedish Gas Centre (2001)
8. Kunz A., Strategic integration of biomethane into gas grid, Energie 360 (2017)
9. https://www.accenture.com/us-en/blogs/blogs-greening-gas-grid
The content & opinions in this article are the author's and do not necessarily represent the views of AltEnergyMag
---
Comments (0)
This post does not have any comments. Be the first to leave a comment below.
---
Post A Comment
You must be logged in before you can post a comment. Login now.
Featured Product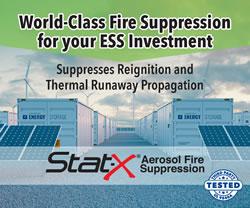 Stat-X® condensed aerosol fire suppression is a solution for energy storage systems (ESS) and battery energy storage systems (BESS) applications. Our Stat-X condensed aerosol fire extinguishing product was tested for efficacy in suppressing li-ion battery fires. It was found that the product successfully extinguished single and double cell battery fires. This testing was conducted in parallel with a large battery fire testing program on behalf of a large energy storage company.