When solar or shore power is available, the solar inverter charger can use the solar or shore power to charge the lithium iron phosphate batteries and keep the batteries topped off.
All-in-One Energy Storage System
Q&A with Daniel Bruwer, Marketing Supervisor | Renogy
Tell us about the LYCAN 5000 Power Box and how does it work?
The LYCAN 5000 Power Box is an all-in-one energy storage system specially designed for emergencies, power outages and off-grid homes. LYCAN consists of a 48V 3500W solar inverter charger and two 48V 50Ah lithium iron phosphate batteries. When solar or shore power is available, the solar inverter charger can use the solar or shore power to charge the lithium iron phosphate batteries and keep the batteries topped off. When there is an emergency or power outage, or off-grid power is needed, the solar inverter charger can convert the DC energy stored in the battery into usable AC power and run most home appliances.
How does the LYCAN 5000 compare to other backup power generators? Advantages and Disadvantages.
The LYCAN 5000 Power Box is one of the largest capacity mobile battery powered generators on the market. It has a massive 4.8KWh capacity and can easily power most heavy-duty home and outdoor appliances with a continuous power output of 3500W.
Advantages:
Wheels and handles make it easy to move or transport
Large capacity - 4.8KWh
Exceptional life span of more than 4,500 cycles
Fast charging – full charge in 2.5 hours with solar panels, in 3 hours with AC outlets, and 1.5 hours with both solar and AC power.
Pass-through charging capability – can bypass AC power to home appliances while keeping the battery fully charged and ready for power outages.
Integrates to existing electric power systems easily with a pre-wired design and plug-n-play connectors.
Equipped with surge protection devices and circuit breakers for safe operation.
Comes with a Bluetooth module for real-time operation status monitoring via the Renogy DC Home App.
Can be used off-grid or used as backup power for grid-tied homes.
IP55 rating and weatherproof design can withstand harsh outdoor environments with rain cap, rubber seals, and rugged enclosure.
Can be expanded to up to 19.2KWh capacity.
Components are replaceable, which makes repair and maintenance simple.
Disadvantages:
Weight - although it is light compared to other units of this capacity, it is still a heavy piece of equipment and can be difficult to transport by oneself.
Requires a certified electrician for hookup to a grid-tied home via a transfer switch.
Share with us the setup of the LYCAN 5000, how can it be charged using solar panels?
The LYCAN can accept up to 2 solar arrays with a total input power of 4400W. To charge the LYCAN with solar panels, users connect the panels in series and/or parallel to form solar arrays. Then, users connect the solar arrays to the LYCAN's solar connectors. From here, charging will start automatically.
Why are lithium iron phosphate batteries used in the LYCAN 5000 Power Box? What are the advantages?
Lithium iron phosphate batteries are much safer than other lithium batteries. With a high thermal runaway temperature, lithium iron phosphate batteries are less likely to cause extreme heat or fire. These batteries also have a very high energy density and long lifecycle. With these features, the lithium iron phosphate batteries make the LYCAN safe to operate, reliable to use for more than 10 years, and able to run heavy-duty appliances.
What appliances can the LYCAN 5000 power and what are their estimated run times during a power outage?
The LYCAN 5000 can power most appliances that are rated at 120V AC and under 3500W.
Here are some typical appliances that can be used with the LYCAN and their run times:
Refrigerator (135W) – 60 Hours
TV (120W) – 34 Hours
Room Air Conditioner (1000W) – 6.2 Hours
Washing Machine (500W) – 8 Hours
Dryer (2000W) – 2.7 Hours
Heater (1750W) – 2.9 Hours
Is the battery capacity of LYCAN 5000 Power Box expandable? Explain how
Yes, the LYCAN's capacity is expandable using Renogy 48V 50Ah Smart Lithium Iron Phosphate Batteries. Detailed instructions are supplied with each unit and our technical service team can support users via phone or in person at our headquarters in Ontario, CA.
What other uses do you see for a product like the LYCAN 5000.
Besides acting as a battery backup for emergency situations, the LYCAN 5000 power box can be used in a variety of off-grid situations such as powering gear and tools at construction sites or powering film and camera equipment in rural locations.
The content & opinions in this article are the author's and do not necessarily represent the views of AltEnergyMag
---
Comments (0)
This post does not have any comments. Be the first to leave a comment below.
---
Post A Comment
You must be logged in before you can post a comment. Login now.
Featured Product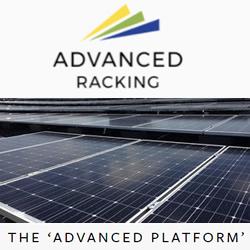 The 'Advanced Platform' simplifies the installation process by using universal mounting hardware that works perfectly across all roof types. Smart roof connection kits then connect to the specific roof's surface. The Advanced Platform is versatile: Our common design can be your single solution for all roof types.