We've actually secured a training event room on the first day of the show (February 14th) and will be holding product training sessions the entire day.

Q&A with | Morningstar
Tell us about your company.
Most people know Morningstar for "the worlds leading solar controllers." That's a title given to us by our customers over the past 30 years since we were founded back in April 1993. We've earned it, with over 4 million sold and in over 100 countries, used in mission-critical solar applications of every type.
What's new this year is we are following through with a "second act" so to speak and a line of inverters inspired by the quality and reputation of our solar controllers. These new SureSine off-grid inverters in our Professional Series are built to industrial-grade standards, in keeping with our key markets and segments. Moreover, we've also "reimagined" our core product category, the solar charger, with a revolutionary GenStar MPPT line leading our new Integrated Series of products. We can't think of a better way to kick off our 30th Anniversary!
Your company will be exhibiting at Intersolar, what is it that makes this an important event for your company?
A number of factors, starting with timing. InterSolar North America is the first significant solar industry event of the year, and with new products in production for early 2023 delivery it's perfectly timed to showcase them. Another is focus– by that we mean that IS-NA seems well suited for off-grid brands and a good venue for them to stand out, as a manageable, accessible show. Location also enters into it, since so much of the solar business in North America is concentrated on the West Coast.
What makes your booth a must visit for Intersolar Attendees?
As we mentioned, we have our first full line of inverters with the new SureSines, and the GenStar DC Solar charging system which incorporates our most advanced thinking, design and engineering in our 30-year history. Both will be on display in our booth, following their launch last fall. For many of our followers, it will be their first time to see them in-person and up close.
Intersolar has many educational sessions, forums & Demo's, is your company involved in any of them this year?
We've actually secured a training event room on the first day of the show (February 14th) and will be holding product training sessions the entire day. Brad Berwald, our Sr Product Manager, will be presenting both the SureSine Off-Grid Inverter as well as our new GenStar Integrated DC System Controller. Both sessions will be held multiple times in the morning and afternoon. We've also added a new training format for the GenStar this year. In addition to the product presentation and feature overview, we've created a session that will take the attendees through an example remote power system specification, complete with the technical requirements and expected outcomes . This will demonstrate the GenStar's ablity to be adapted to a wide variety of needs and to solve each requirement. Think of it as a case study, step-by-step from proposal to resolution, where we don't just tell you what the product can do, but how to "apply" it. We're exicted about this new format for our integrating partners.
When you get a chance to walk the exhibit hall floor yourself, what is it you will be most interested to see? Any educational sessions, pavilions etc. you plan on attending?
There are a few areas of the show's focus we are particularly interesed in as we see key parallels in how we addresss remote power needs.
First, the role of software in system optmization. While the grid clearly can benefit from TOU data, market prices and TCOO from a utility supply standpoint, we're optimizing systems using similar intelligence at the edge of remote power systems as well. The intermittant supply of the solar array, the economics of the fuel from auxiliary charging sources and the planning of energy storage reserves must be carefully measured and acted upon. We do this but without the utility connection to fall back on, which in some ways makes it even more challenging.

Second, we'll be looking for new storage providers with a focus on remote and industrial power. We continue to strenghten and grow the relationships we have with key energy storage manufacturers. With the release of our BMS Ready Block, we're becoming tightly integrated (digitally) with storage management systems and how this information is intertwined with our operational decisions. For this reason, there is no better chance to engage with technology and thought leaders than on the show floor as we seek out these partners.
Alternative Energy is undertaking rapid advancements, be it Solar Power, Energy Storage, or Smart Grid. Data and Automation is a huge part for many companies, give us an idea on how your company and product is utilizing advancements in data and automation.
Data aggregation and smart automation is a central feature of our new Integrated Series of products - starting with the GenStar. The solar charge controller has "grown up" and there's now many more functional demands placed on this once simple device. In fact, we refer to the Genstar as a "DC System Controller" to capture the true breadth of its capabilities. The GenStar– flagship of Morningstar's new Integrated Series– is the heart of the off-grid and hybrid system with the ability to measure and control all aspects of operation. Scheduling, logging, and automation functions allow the user to precisely define the desired behavior, even when remote connectivity isn't an option. Additionally, the novel snap-in ReadyBlocks provide flexibility in the types of instrumentation and interfaces to meet the system requirements. In sum, our new Integrated Series of products was purpose-built for the next wave of data and automation needs.
Give us your thoughts on what the future holds for the Alternative Energy Industry.
One thing we've learned over the past 30 years of being in renewable energy products is that the only constant is change. When Morningstar started in 1993, who would have thought we'd see the widespread adaptation of solar electric systems in everyday industrial applications? Solar modules went from being something you pointed out to something you drive past daily.
So without the benefit of a crystal ball, here are a few things we see happening in the near future:
Greater consolidations, mergers and acquisitions as the solar market matures and penetrates even more "mainstream" applications. We're long past the point, for example, where solar's initial capital expense (CAPEX) is more than offset by its superior operational expense (OPEX). Solar has been saving oil & gas operators, telecommunications providers, traffic and signaling firms, security companies, and other industrial and commercial users billions of dollars as the most cost-effective, very low maintenance remote powering solution of choice. That makes solar electric powering solutions more attractive as investments and "strategic bets."

Some "thinning out of the herd"— as one result of the above—solar earning its place in a wide range of more critical applications—there will be a greater emphasis on high-quality, more dependable products and systems, and less on price sensitivity. The quality leaders will continue to edge out lesser competitors in the process. Innovation will also be a key factor in maintaining a healthy business. Morningstar, for example, practices a policy of continuous improvement and development. We have core products that are now three or more generations advanced, as opposed to competitors who have relied on the same designs for several decades. That gap will widen as demanding industrial users will want to be assured of maximum compatibility in communications and control networks and insist on up-to-date technologies on-board

A continued drive to more "appliance-like" solutions that reduce labor and integration headaches. We see more and more of our products integrated into complete "packaged" systems that can be replicated at scale for a variety of applications requiring remote power. Recently one of our integrator customers put into production a series of "solar skids," with one of the main project requirements being that each had to be able to be deployed by two men using a pick-up truck to deliver and set them up in very remote, hostile desert locations. Pre-configured systems require less installation time up-front and generally enjoy lower maintenance costs. We expect this trend to continue We expect to see more of them

Ubiquitous data connectivity and control empowers installers and end users alike. Intelligent data metrics drive better business decisions, deliver lower operational costs, and ensure more predictable system performance. Future systems will prioritize more secure control and communications features, using a number of industry protocols, for more seamless integration (benefiting installers) and operation (benefiting end users).
The content & opinions in this article are the author's and do not necessarily represent the views of AltEnergyMag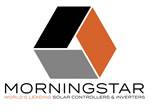 Morningstar Corporation
With over 4 million products installed and sold since 1993-in some of the most extreme environments and mission-critical applications in the world-Morningstar Corporation is the world's leading supplier of solar controllers and inverters. The US-based, privately-owned company is headquartered in Newtown, Pennsylvania, with an engineering research and development center in Maryland, and a global network of dedicated, best-in-class distribution and manufacturing partners. With some three decades of consistent, independent ownership and management behind it, Morningstar today enjoys stability and staying power unique in the industry- a result of the high morale, independent culture carefully cultivated by its founders and their original vision.
Other Articles
There are over 1,600 off-grid inverters out there now in our power class, and coming out with 6 more means we had to make them exceptional. They are– the polar opposite of "me too" thinking, designed for "mission-critical" industrial applications.
GEL, AGM (Absorbed Glass Mat), and Flooded batteries are all lead-acid batteries. The primary difference is how the electrolyte is handled. Each type of battery has its own optimal charging characteristics.
Each monitoring station must be equipped with a backup battery system with the capacity to provide four days of continuous operation in order to continue monitoring via local record.
---
Comments (0)
This post does not have any comments. Be the first to leave a comment below.
---
Post A Comment
You must be logged in before you can post a comment. Login now.
Featured Product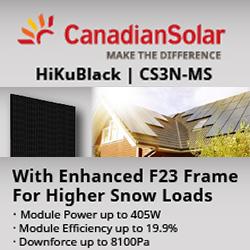 Aesthetic appearance for residential systems: With black backsheet & black frame, Power range 380 ~ 405 W, Low power loss in cell connection. Enhanced reliability: · Low temperature coefficient (Pmax): -0.34 % / °C, LID LeTID less than 2.0%, Lower hot spot temperature, Better shading tolerance.