Manufacturing

Marketing Partner
---
Advanced Racking Solutions
Advanced Racking Solutions(ARS) delivers cost competitive mounting solutions designed to work with the roof. Years of refinement through structural and wind tunnel testing created products which present the right balance of integrity and price point. ARS delivers VICERACK & VICERAIL tilted mounting for low pitch metal roofs and SKYRACK rail based flush mount for pitched shingle, and metal roofs. 30MW installed on metal roofs in North America, certified to UL 1703 and wind tunnel tested by RWDI.
---
Mailing Address:
P.O. Box 113
Daleville, VA 24083
United States of America
Tel: 540-491-4091
Fax:
Email: jonathan@advancedracking.com
Website: http://advancedracking.com
Company Category: Solar & Wind
Geographic Region: USA - North East
Company Sector: Manufacturing
Keywords: Metal roof pv mounting, solar racking, roof mounts
Partner Status: Marketing Partner
---
Products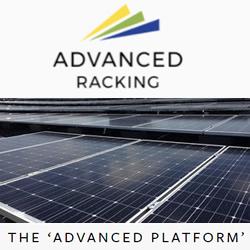 The 'Advanced Platform' simplifies the installation process by using universal mounting hardware that works perfectly across all roof types. Smart roof connection kits then connect to the specific roof's surface. The Advanced Platform is versatile: Our common design can be your single solution for all roof types.
---
Articles
This Company does not currently have any Articles
---
White Papers
This Company does not currently have any White Papers
---
Press Releases
This Company does not currently have any Press Releases
---