Manufacturing

Marketing Partner
---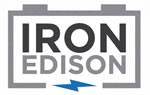 Iron Edison Battery Company
As the online leader in Nickel-Iron batteries, Lithium-Iron batteries, solar power and renewable energy products, Iron Edison is providing people with off-grid, clean energy solutions. Whether you need to replace batteries for your current system or a fully-customized package renewable energy solution, Iron Edison can help.
---
Mailing Address:
2480 W 4th Ave, Unit 22
Denver, CO 80223
United States of America
Tel: (720)-432-6433
Fax:
Email: info@ironedison.com
Website: https://ironedison.com
Company Category: Energy Storage & Grids
Geographic Region: USA - South West
Company Sector: Manufacturing
Keywords: battery, lithium, energy storage, off grid, nickel
Partner Status: Marketing Partner
---
Products

The Iron Edison Lithium Iron solar battery is fully compatible with popular battery-based inverters and is housed inside a rugged steel enclosure with integrated Battery Management System. Standard capacities range from 2 kWh to 42 kWh, with custom high-capacity and high-voltage models available for commercial applications like peak load shaving and UPS. The battery is designed and assembled at the company's headquarters just outside of Denver, Colorado. The Iron Edison Lithium Iron battery is an ideal replacement for lead-acid battery, with longer cycle life, smaller footprint, and maintenance-free operation. Residential applications include solar battery backup, grid-zero and off-grid energy storage. Commercial applications include high voltage battery backup, off-grid telecommunications power and peak load shaving. If you have any questions, please call us at 720-432-6433. We are happy to help!
---
Articles
My favorite feature of the RE-VOLT battery is the LCD display located on the front of the battery. The LED screen gives the State of Charge, Cell Voltages, and Fault Code information with just a few clicks through the menu.
There are several key differences between the Iron Edison Lithium Iron battery and the Tesla Powerwall. First, an Iron Edison Lithium Iron battery is available in traditional nominal voltages of 12V, 24V and 48V, making it fully compatible with common battery-based inverters and charge controllers from major manufacturers like Outback, Schneider Electric, Magnum, MidNite Solar and SMA.
---
White Papers
This Company does not currently have any White Papers
---
---