Manufacturing

Marketing Partner
---

Kipp & Zonen USA Inc.
Kipp & Zonen offers high quality solutions for the measurement of both natural and simulated solar radiation, from the ultraviolet to the infrared, for both photovoltaic and thermal solar energy systems.
---
Mailing Address:
125 Wilbur Place
Bohemia, NY 11716
United States of America
Tel: 631 589 2065
Fax: 631 589 2068
Email: info@kippzonen.com
Website: http://www.kippzonen.com/Default.aspx
Company Category: Solar & Wind
Geographic Region: USA - North East
Company Sector: Manufacturing
Keywords: solar, monitoring, Smart SMP Pyranometers, instruments
Partner Status: Marketing Partner
---
Products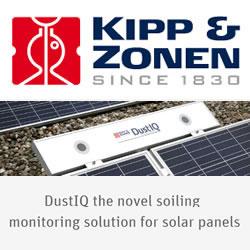 Soiling of the panel glass is one of the major problems in the rapidly expanding solar energy market, with the attendant loss of efficiency and reduction in performance ratios. Now, there's a new, simple and very cost-effective alternative. Based on Kipp & Zonen's unique Optical Soiling Measurement (OSM) technology, DustIQ can be easily added to new or existing solar arrays and integrated into plant management systems. The unit is mounted to the frame of a PV panel and does not need sunlight to operate. It continuously measures the transmission loss through glass caused by soiling, so that the reduction in light reaching the solar cells can be calculated.
---
Articles
With an interactive demo we invite everyone to test this new technology. Our new innovation for the measurement of soiling of PV: DustIQ. It's a technology that's completely new to the PV industry and is unique in its maintenance free operation.
Due to extreme weather, high solar radiation, high UV index and the salinity of certain areas, the Atacama Desert in Chile presents conditions that contribute to the early degradation of instrumentation, communication and energy systems.
One of the main parameters affecting the real-world measurement of solar radiation by pyranometers is temperature response.
---
Press Releases
We proudly present the new Smart SHP1 pyrheliometer. The smarter way to measure direct normal irradiance (DNI). Based on our well-known CHP 1 model, but improved and 'smarter'. It has additional interfaces, faster response and improved temperature specifications
---