Manufacturing

Marketing Partner
---
Roof Tech
We offer a range of PV mounting solutions designed specifically for residential applications. For installers, homeowners, and solar panel manufacturers, Roof Tech represents the next generation in reliability, innovation, and ease of installation.
---
Mailing Address:
333 H St. Suite 5000
Chula Vista, CA 91910
United States of America
Tel: 619-551-7029
Fax:
Email: info@roof-tech.us
Website: http://www.roof-tech.us
Company Category: Solar & Wind
Geographic Region: USA - South West
Company Sector: Manufacturing
Keywords: solar mounts, roof, solar, PV mounting, rail-less
Partner Status: Marketing Partner
---
Products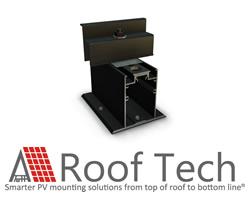 The most compact versatile rail-less PV mounting system under the sun. Instead of placing solar panels on top of long rails, simply attach E Mount AIR to rafters or the roof decking. Once panels are fastened to the roof, the system array is electrically bonded. The result is a visually seamless PV installation that stands the test of time. - Truly "One With The Roof". - PE stamped cert. letters available, UL 2703 Classified, ASTM 2140 fully waterproof. The one and only with integrated flexible flashing certified by the ICC! All the best quality. Only from Roof Tech
---
Articles
Booth #538 - For SPI 2018, Roof Tech will be introducing an innovative mounting base for conventional rail installations on asphalt or metal roofing. Our new product – the RT MINI – is a self-flashing base for traditional rail mounting PV systems.
Roof Tech will be showcasing the Gen II (Roof Tech's second generation) rail-less PV mounting system with the same Integrated Flashing certified by the ICC (International Code Council), however with fewer parts, more adjustability and an improved 20yr. limited warranty
The current suggested guideline by the NRCA (National Roofing Contractor Association) for the installation of a PV system on a steep slope asphalt shingle roof as far as the flashing of the PV system stanchions, shows the metal flange to be applied underneath the roofing paper.
---
White Papers
This Company does not currently have any White Papers
---
---