Manufacturing

Marketing Partner
---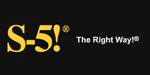 S-5!
In 1992, S-5! invented the very market space of manufactured roof attachment solutions. S-5!'s clamps and brackets are engineered for a variety of applications, including residential and commercial solar installations on exposed-fastened and standing seam metal roofing. The company has a portfolio of more than 5+ GigaWatts of rooftop solar arrays, including many Fed-Ex and Walmart buildings; 700 Costco stores in eight countries; international airports; and corporate headquarters for Google, IBM, NATO, NREL and Apple. S-5! Technologies are also affordable for domestic applications with more than 15,000 such solar installations in 50 countries.
---
Mailing Address:
500 W. Highway St.
Iowa Park, TX 76367
United States of America
Tel: 8888253432
Fax:
Email: info@s-5.com
Website: http://www.s-5.com
Company Category: Solar & Wind
Geographic Region: USA - South West
Company Sector: Manufacturing
Keywords: mounts, metal roof, solar, pv mounts, clamps, brackets, rack
Partner Status: Marketing Partner
---
Products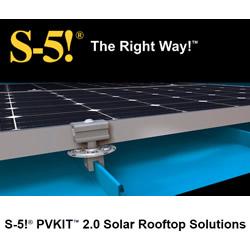 The concept of combining PV arrays with standing seam metal roofing is growing-for good reasons. Metal roofs have a life expectancy of more than 40 years. Shouldn't the mounting system last as long? With S-5! zero-penetration attachment technology and PVKIT 2.0, the solarized metal roof is the most sustainable system available -and without compromising roof warranties! PVKIT 2.0 is the also the best solution for attaching PV modules directly to any exposed fastener metal roof.
---
---
White Papers
METAL ROOFING & PV SOLAR SYSTEMS PARTS 1,2 & 3
A three-part series on metal roofing and solar PV. Part 1 focused on Solar/Roof Service Life comparisons. Part 2 explains the common types of mounting systems for metal roofs, associated risks and pros/ cons of each. Part 3 will dig into more detail and the critical technical factors for solar PV systems specific to mounting on metal roofs.
---
---